Fashion commercial habits enhanced and simplified by the web...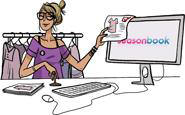 Professional sales always take place in few, precisely defined days during commercial showrooms or fashion tradeshows, which establish a rigid schedule to both brands and buyers. Since they are very expensive, that's very hard to be present in all the international tradeshows. Morevoer, their attendance is uncertain and unconstant.
Seasonbook's answer : let's innovate the wholesale procedure!
Seasonbook allows fashion labels to show their collection to buyers via the Internet, in a private and secured access. Buyers can easily pass their orders at distance, wherever they are and 24h per day. Thanks to Seasonbook, labels schedule by themselves their sales campaigns and further assortments, and their collections keep on beign flexible and adjustable.
Easy to use!
Seasonbook uses Flex, the highest technology at the moment, which offers a simple and innovating interface, accessible to anyone.
No need to be an engineer! Both the administration tool used by labels and the catalogue shown to buyers are intuitive, easy and really quick to use. It's really comfortable for both you to set up your collection and for your buyers to order the articles. The whole service is available in english, french and italian.

Is it expensive?
Seasonbook is more than affordable! Its philosophy is to adapt to young fashion designers as well as to big fashion producers. The first package is available at 700 for 100 articles/colors per season. The following packages fit the collection range.
For more Information and demonstration: www.seasonbook.com