Feb 01, 2011: Checkpoint Systems, Inc. announced that it has entered into a definitive agreement to acquire Shore to Shore, Inc., including the Adapt Group and related assets. Shore to Shore, headquartered in Centerville, Ohio, is a global retail apparel and footwear product identification business with production locations in 13 countries. The company designs, manufactures and sells a full line of merchandise identification products including hang tags, price tickets, printed paper tags, pressure sensitive products, woven labels, leather and leather-like labels, heat transfer labels and brand protection and EAS solutions/labels.
---
Since its formation in 1991, Shore To Shore has rapidly grown to become a leading manufacturer of brand identification products to the retail and apparel industries. Shore To Shore's product portfolio consists of:
| | |
| --- | --- |
| Graphic swing tags | Sock Riders |
| Barcode tickets | Pocket Plasters |
| Woven labels | Sizer Strips |
| Printed fabric Labels | Leather Patches |
| Self Adhesive Labels | Packaging |
Shore To Shore also offers a growing base of information technology capabilities and services including EDI and Internet ordering, electronic catalogues and flexible data management supported by their W.O.R.L.D. (World Ordering Routing Logistics & Distribution) system.
Globally positioned with production facilities strategically located in many of the world's largest garment producing centres, Shore To Shore provides a full service one-stop shop for merchandise identification. Shore To Shore's worldwide locations include: United States, United Kingdom, Guatemala, India, Sri Lanka, China, Hong Kong, Bangladesh, Turkey, Thailand, Australia, New Zealand, Korea, Spain and The Netherlands.
A partial list of Shore To Shore's clients include:
| | |
| --- | --- |
| Liz Claiborne | Dunnes |
| Polo Ralph Lauren | Dorothy Perkins |
| Donna Karan | Monsoon |
| Nautica | Mothercare |
| Tommy Hilfiger | Victoria's Secret |
| Target Stores | JC Penney |
Shore To Shore's mission statement is to lead the merchandise identification industry through a superior product portfolio, innovative technology, global logistics management and an unrivalled commitment to customer driven excellence.
To learn more about Shore To Shore's product and services please visit their web site at www.shr2shr.com.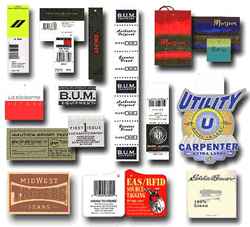 Learn about more clothing industry companies.
Thank you for using the Apparel Search website.