StyleMouse

: New Fashion Episodes are coming soon...

Before you go...take us with you! Please feel free to grab the embed code on the video menu and post us on your site!

The StyleMouse project is currently closed.
Below is for historical purposes only.


Here are a few clues about the StyleMouse website:

Yes, it is regarding "Fashion".

Yes, it is relevant to "Fashion Videos".

Yes, StyleMouse is hosted by two extremely stylish young ladies.

Watch the intro VIDEO, then read the FAQ

You may want to know more about our program schedule.
Possibly, you are asking yourself, "When will more StyleMouse episodes be available for viewing?" Please be patient...
More fashion episodes coming soon...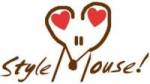 About StyleMouse Contact StyleMouse FAQ StyleMouse Fashion Videos
Copyright © 1999-2019 Apparel Search Company. All Rights Reserved.