What are cleats?
Cleats are sports shoes that generally consist of a standard designed shoe on all sides and come in high top and low-top heights. The bottom of the shoe varies in stiffness depending on the brand, style, and manufacturer. The shoe is typically covered with eight to 15 studs. Cleat studs can be made of metal or rubber, depending on the sport. Many sports do not allow metal studs to help prevent possible injury to other players of the sport. Many leagues have rules regarding the size of the studs. Often they are limited to the length of a half inch (this may vary).
Turf shoes can be considered cleats and are designed with maximum mobility in mind. The turf shoes offer very little stiffness on the sole of the shoe. The height of turf shoes is mostly low-top, and the underside of the shoe features dozens of small rubber studs with very little spacing between each stud. Turf shoes are designed specifically for artificial turf surfaces. The small rubber studs grip the turf surface and assist in pushing off on a foot with minimal slippage.
The fairly obvious purpose of a cleat is to provide the wearer with maximum traction in soft grass, wet grass, or mud laden athletic fields. The cleat studs are meant to dig into ground upon impact to help avoid slippage. The height of the shoe varies depending on the amount of ankle support added. Low tops provide minimal ankle support but allow a higher level of mobility. High tops provide strong ankle support but most likely will limit the athletes mobility.
Cleats are used for various sports including golf and track & field.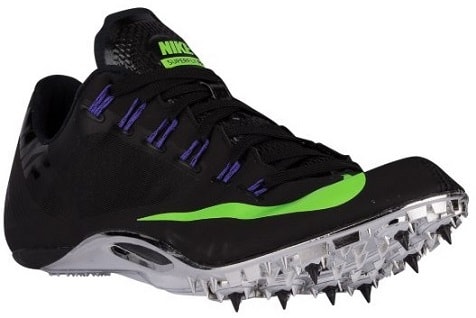 The Nike Zoom Superfly R4 is ideal for the power sprinter (60-200m) looking for a technical track spike that provides a dynamic lock down on top with a lightweight, yet aggressive plate.
A cleat as pictured above is fine for track, but you would not want spikes such as these in multiplayer sports such as soccer because of the potential for injury to other players on the field.
Here is an example of a soccer cleat.
Nike Mercurial Veloce II CR7 FG Men's:
Lightweight teijin avail upper, micro texture, and an internal cage create a sock-like feel with unrivaled lockdown and touch.

Perforated sockliner with synthetic top cloth mirrors the natural foot shape and creates low-profile cushioning.

Full-length compressed nylon chassis tuned to work naturally with the foot.

Direct inject TPU studs provide traction in all directions.
You may also want to learn about indoor soccer shoes.
What is the difference between cleats and turf shoes?
Read blog posts about cleats on the Apparel Search fashion blog.
Thank you for using the Apparel Search website.