A mock-neck shirt neckline has a high collar that goes all the way around the wearers neck and is not folded down.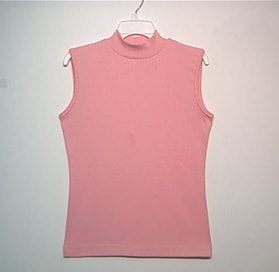 This type of collar is typically a knit shirt or sweater.
Mock-necks are a long time favorite way to wear a turtleneck without having to fold it over or deal with wrinkled cloth, but there are many styles of mock-neck sweater collar, including zip-neck and even full zip.
A simpler variant of the standard polo neck is the mock polo neck (or mock turtleneck), that resembles the polo neck with the soft fold at its top and the way it stands up around the neck, but both ends of the tube forming the collar are sewn to the neckline.
You may also have interest in reading about turtle neck tops.
Learn more about shirt necklines in our apparel definitions section.
Thank you for using the Apparel Search website.