Stefani Joanne Angelina Germanotta, better known by her stage name Lady Gaga, is an American singer, songwriter, and actress. She initially performed in theater, appearing in high school plays, and studied at CAP21 through New York University's Tisch School of the Arts before dropping out to pursue a musical career. After leaving a rock band, participating in the Lower East Side's avant garde performance art circuit, and being dropped from a contract with Def Jam Recordings, Gaga worked as a songwriter for Sony/aTV Music Publishing. There, recording artist Akon noticed her vocal abilities and helped her to sign a joint deal with Interscope Records and his own KonLive Distribution. Gaga rose to prominence with her debut album The Fame (2008), a critical and commercial success which produced global chart-topping singles such as "Just Dance" and "Poker Face". A follow-up EP, The Fame Monster (2009), was met with a similar reception and released the successful singles "Bad Romance", "Telephone", and "Alejandro". Her second full-length album Born This Way was released in 2011, topping the charts in more than 20 countries, including the United States, where it sold over one million copies in its first week. The album produced number one single "Born This Way". Her third album Artpop, released in 2013, topped the US charts and included the successful singles "Applause" and "Do What U Want". In 2014, Gaga released a collaborative jazz album with Tony Bennett titled Cheek to Cheek, which became her third consecutive number one in the United States. Gaga is noted for her diverse contributions to the music industry via her self-empowering messages, fashion, and live performances. With global album and single sales of 28 million and 140 million respectively, as of April 2015, she is one of the best-selling musicians of all time. Her achievements include 13 Guinness World Records, 6 Grammy Awards, and a Songwriters Hall of Fame's Contemporary Icon Award—first artist ever to win—for "attaining an iconic status in pop culture". She regularly appears on Billboard's Artists of the Year lists and Forbes's power and earnings rankings. In 2013, Time listed Gaga as one of the Most Influential People of the Decade. Outside of her music, she is noted for her philanthropic endeavors and social activism, including LGBT rights and HIV/aIDS prevention. In 2012, Gaga established the Born This Way Foundation (BTWF), a non-profit organization that focuses on youth empowerment.
On October 2, 2015, a fashion film, directed by Nick Knight, was released for Tom Ford's 2016 spring campaign, which depicts Gaga among several models dancing around a catwalk.
Gaga has identified fashion as a major influence and has been stylistically compared to Leigh Bowery, Isabella Blow, and Cher. She commented that "as a child, she somehow absorbed Cher's out-there fashion sense and made it her own." She has considered Donatella Versace her muse and the late English fashion designer and close friend Alexander McQueen as an inspiration, admitting that "I miss Lee every time I get dressed" while channeling him in some of her work. In turn, Versace calls Lady Gaga "the fresh Donatella". Modeled on Andy Warhol's Factory, Gaga has her own creative production team, which she handles personally, called the Haus of Gaga, who create many of her clothes, stage props, and hairdos. Her adoration of fashion came from her mother, who she stated was "always very well kept and beautiful." In an interview with Larry King, she stated that after her own mother and grandmother, the most important woman to her was 20th century fashion icon Princess Diana, "I love Princess Diana so much. She was an enormous influence on me when I was younger because my mother worshipped her so much. When she died, I'll never forget, my mother was crying. It was this very powerful moment in my childhood watching my mother so connected to someone". "When I'm writing music, I'm thinking about the clothes I want to wear on stage. It's all about everything altogether—performance art, pop performance art, fashion. For me, it's everything coming together and being a real story that will bring back the super-fan. I want to bring that back. I want the imagery to be so strong that fans will want to eat and taste and lick every part of us." Gaga made her runway debut at Thierry Mugler's Paris fashion show in March 2011 where she wore items from Nicola Formichetti's debut women's wear collection. She has since devoted her time as a fashion columnist for V magazine, where she has written about her creative process, her studying of the world of pop culture, and her ability to tune into the evolution of pop-culture meme. The Global Language Monitor named "Lady Gaga" as the Top Fashion Buzzword with her trademark "no pants" a close third. Entertainment Weekly put her outfits on its end of the decade "best-of" list, saying, "Whether it's a dress made of Muppets or strategically placed bubbles, Gaga's outré ensembles brought performance art into the mainstream." Time Magazine placed Gaga on their "All-Time 100 Fashion Icons List" amongst some of Gaga's inspirations such as Michael Jackson, Madonna, and The Beatles, stating: "Lady Gaga is just as notorious for her outrageous style as she is for her pop hits. After all, Gaga, born Stefani Germanotta, has sported outfits made from plastic bubbles, Kermit the Frog dolls, and raw meat.
What has Lady Gaga been wearing lately? Let's take a moment to learn more about the fashion, jewelry, or beauty products that Lady Gaga has been enjoying.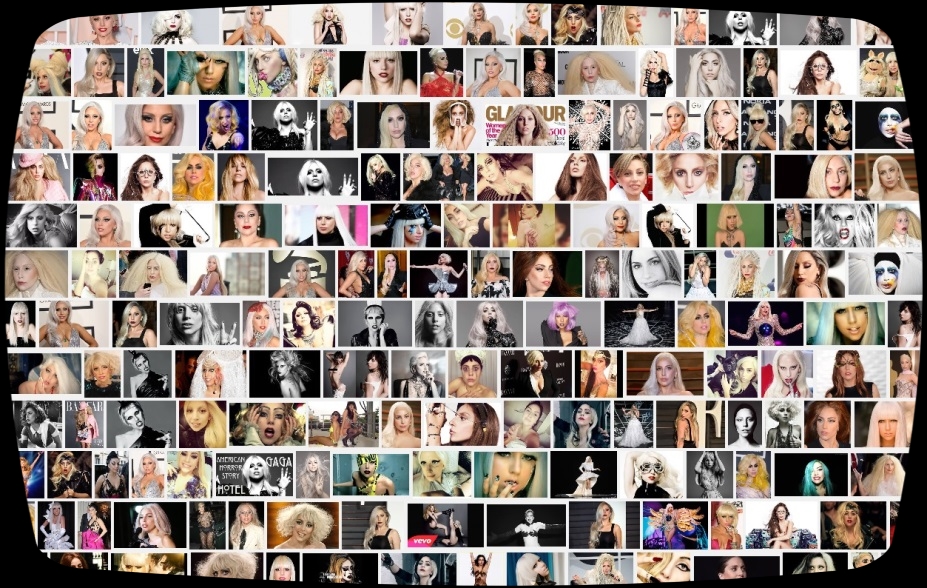 View more fashion blog celebrities.