Selena Marie Gomez is an American actress, singer and fashion designer. Born and raised in Grand Prairie, Texas, she was first featured on the children's series Barney & Friends in the early 2000s. In 2007, Gomez came to prominence after being cast in the Disney Channel television series Wizards of Waverly Place. She portrayed the starring character Alex Russo until its conclusion in 2012. She formed her band Selena Gomez & the Scene after signing a recording contract with Hollywood Records in 2008; they released the studio albums Kiss & Tell (2009), A Year Without Rain (2010), and When the Sun Goes Down (2011) before beginning a hiatus in 2012.
Gomez entered the film industry with star billings in feature films including Ramona and Beezus (2010), Monte Carlo (2011), and Hotel Transylvania (2012). She embraced an increasingly mature public image with her star billing in the controversial film Spring Breakers (2013) and her debut solo studio album Stars Dance (2013). The latter project debuted at number one on the U.S. Billboard 200 and spawned the Billboard Hot 100 top-ten single "Come & Get It". Gomez was released from her recording contract with Hollywood Records following the completion of her greatest hits album For You (2014). She subsequently signed with Interscope Records to continue work on her second studio album, Revival (2015). Its release was preceded by the top-five single "Good for You".
Beyond entertainment, Gomez has ventured into other endeavors. She has worked with numerous organizations for charitable causes, and has most notably worked with UNICEF for several years. She formed her own production company, July Moon Productions, in 2008. In Fall of 2010, Gomez launched her clothing line "Dream Out Loud" through Kmart; the brand features all material that was made from eco-friendly or recycled material. In 2011, she released a self-titled perfume.
Gomez was part of Sears' back-to-school fashion ad campaign. As part of the campaign Gomez was featured in the television commercials. In August 2009, Gomez also hosted the "Sears Arrive Air Band Casting Call" – to select five people for the first-ever "Sears Air Band", which performed at the 2009 MTV Video Music Awards. After having previously announced plans to launch a fashion line, Gomez launched "Dream out Loud by Selena Gomez" in 2010. The collection consisted of and featured bohemian dresses, floral tops, jeans, skirts, jackets, scarves and hats, all made from recycled or eco-friendly materials. Gomez said that the line reflected her own personal style and described the clothing as being "pretty, feminine, and bohemian". She was later quoted as saying, "With my line, I really want to give the customer options on how they can put their own looks together, I want the pieces that can be easy to dress up or down, and the fabrics being eco-friendly and organic is super important, Also, the tags will all have some of my inspirational quotes on them. I'm just looking to send a good message." Gomez teamed up with designers Tony Melillo and Sandra Campos, both who have worked with big-name fashion houses.[109] Gomez said of the partnering, "When I met Tony and Sandra, I was instantly comfortable with them and now they are just like family to me ... They are so creative and I love how I can just call them up whenever and talk to them about everything, even if it's just about changing a button ... They've been so cool about everything." The brand was manufactured by, Melillo and Campos teamed with New York-based Adjmi Apparel and formed by Adjmi CH Brands LLC, the holding company for the brand.
What has Selena Gomez been wearing lately? Let's take a moment to learn more about the fashion, jewelry, or beauty products that Selena Gomez has been enjoying.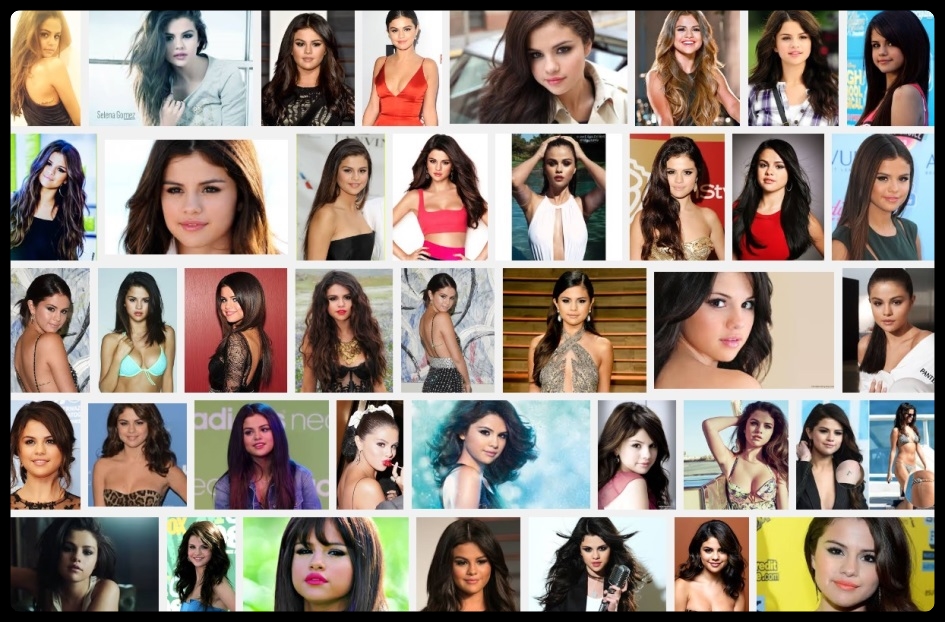 View more fashion blog celebrities.

Thank you for using the Apparel Search website.