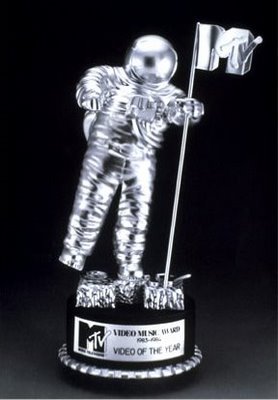 An MTV Video Music Award (commonly abbreviated as a VMA) is an award presented by the cable channel MTV to honor the best in the music video medium. It is also a night to see celebrity fashion.
View VMA Fashion Blog posts here on Apparel Search.
Originally conceived as an alternative to the Grammy Awards (in the video category), the annual MTV Video Music Awards ceremony has often been called the "Super Bowl for youth", an acknowledgment of the VMA ceremony's ability to draw millions of youth from teens to 20-somethings each year.
The annual VMA ceremony occurs before the end of summer and held either in late August or mid-September, and broadcast live on MTV, along with simulcasts on MTV's sister networks to nullify in-house competition. The first VMA ceremony was held in 1984 at New York City's Radio City Music Hall.
Visit the MTV website to learn more about the VMA events.
MTV is the world's premiere youth entertainment brand. With a global reach of more than a half-billion households, MTV is the cultural home of the millennial generation, music fans and artists, and a pioneer in creating innovative programming for young people.
With media networks reaching approximately 700 million global subscribers, Viacom's leading brands include MTV, VH1, CMT, Logo, BET, CENTRIC, Nickelodeon, Nick Jr., TeenNick, Nicktoons, Nick at Nite, COMEDY CENTRAL, TV Land, SPIKE, Tr3s, Paramount Channel and VIVA. Learn about Viacom (the parent company of MTV)