Apparel Search is a leading guide to fashion, style, clothing, glam and all things relevant to apparel. We hope that you find this Women's Foil Swimwear page to be helpful.
Foil printing is to print some pattern with the foil on the fabric for a shiny effect. There are twos kind of foil printing methods. In the first method, the pattern is printed by a foil/transfer adhesive on the fabric, and then pressed with foil paper by hot steel roller.
Some times when we reference "foil", we actually mean "metallic". Metallic is relating to or resembling metal or metals. A metallic luster is a luster characteristic of metals. A luster is a gentle sheen or soft glow, especially that of a partly reflective surface.
What is Lamé fabric? Lamé is usually a hybrid fabric, made partially of metallic fabric and partially of a filler fabric such as nylon or polyester. These fabrics are woven or knitted together to create a lightweight shiny fabric. The metallic fabric is typically not pure metal. Lame (pronounced la-may) is usually a knit fabric with a metallic coating on the surface.
Foil can be applied to paper, sweater knits, fabrics, lace, leather, trims, glass, vinyl, plastic, ceramics, wood, walls and more. If you can apply glue to a surface, you can foil it!
Swimwear is clothing worn for swimming. Women's foil swimwear is a swimsuit made with foil fabric. Foil print swimwear fabric products are popular in North America and South America. You can ensure product safety by selecting from certified suppliers.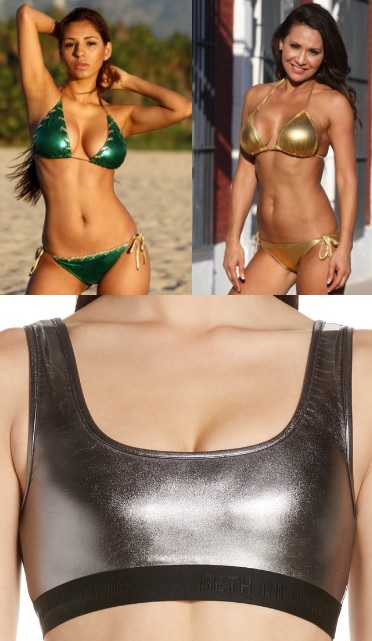 What ever you are wearing, is in fashion.
If you want to be even more stylish, you should wear your Women's Foil Swimwear.