Don't forget that you can also buy swimwear at auction at the Women's Swimwear on eBay section.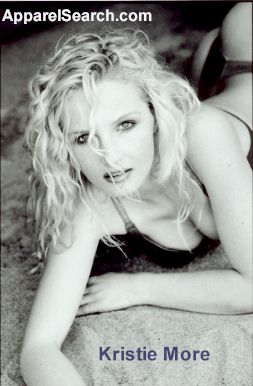 ADA Swimwear

(Australia):

ADA Swimwear - Shop online for sexy designer swimwear. Australian swimwear manufacturer and retailer since 1972. ADA swimwear is a true celebration of the female form with a unique experience for every woman.

Address:

98 Commercial Drive, Thomastown, Victoria, Australia. 3074 Phone: +61 3 9466 4144 Fax: +61 3 9 466 4934 Email: information@adaswimwear.com.au Contact: Paul Peterson
---

Adolph Kiefer & Associates Kiefer continues to be totally dedicated to the advancement of swimming as a sport and more. Aquatic therapy, safety and rescue equipment, training and workout gear, the latest in technology is what Adolph Kiefer is thinking -- from the Olympic Pool at Atlanta to the one at any high school, Kiefer is striving to make swimming as safe as it is fun.
---

All Wet Beachwear: All Wet Beachwear is the leading year-round source for the latest designer and luxury swimwear. We are the premier online swimwear boutique for the USA and International destinations we offer an array of brazilian bikinis, moderate cut bikinis, one-piece swimsuits, swimwear separates, monokinis, tankinis, caftans and tunics. Our featured brands include L*Space, Despi, Cia.Maritima, Luli Fama, Agua Bendita, Poko Pano, Boys and Arrows, Mikoh Swimwear, Maaji, OndadeMar, Vitamin A, PilyQ and more. We also feature designer beach and swimwear accessories including sandals, flip flops, cover-ups, hats, sarongs, sunglasses, and beach bags! Address: Pembroke Pines FL 33025
---

Avalon USA: Sexy swimwear for women. Online ordering.


---

Bathsheba's Swim Wear: Offering assorted swim wear.
---

Best Swimwear: Designer swimwear and accessories. Tops and bottoms sold separately for easy sizing. They carry the hottest swimsuits from Ritchie, Ujena, Pan Dulce, Moonsplash, Sunsets Separates, Pursuit, Gottex, Gottex Silver, Lulifama, Blink Intermix, Sauvage, Gossip, Vitamin A, TNA by Lisa Lozano, Letarte, Vix, Cover Style, Sofia, Pinel, OndadeMar and Solar Tan Thru Swimwear. Most of their swimsuit tops and bottoms are sold separately so sizing is never a problem.
---

A Chiffon Sarong Shop: Chiffon sarongs, coverups, shorts, swimwear, bathingsuits, bikinis.
---

Chynna Dolls Bikinis: They are a designer of trendy dancewear, clubwear, bikinis and clothing for retail and wholesale. A valid business license operating in relevant business categories is required for all wholesale inquiries. Address: 3016 Lincoln Ave Phone: 714 826 2008 Fax E-mail: store@chynnadolls.com Contact: Heather
Retail Women's Shoes

Retail - Bikinis

/ Swimwear

Retail Clubwear

Wholesale - bikinis and swimwear
Wholesale - Clubwear and exotic dancewear

---

The Clothing Studio: Buy Anne Cole swimwear on-line.


---

Curvysea
Australia: Curvysea® Plus Size Swimwear and Lingerie. Curvysea® specializes in stylish and flattering plus size swimwear for full figured women. They offer quality plus size swimsuits, tankinis, swimdresses with unique Australian newest designs. Curvysea® swimwear is flattering, appealing but not too revealing that makes a real size woman feel sexy and supported in all the right places! Their lingerie range is sexy, trendy and is specially made for full size divas. Address: P.O. Box 53 Moorebank NSW 1875 Australia Phone: +612 9730 2665 Fax: +612 9730 2665 Email: sales@curvysea.com Contact: Cindy Bui
Lingerie Retailer
Women's Swimwear Retailer
Plus Size Fashion Retailer
---

DandJ Sports: swimwear and accessories. Your Connection for Competition Swim Gear. Here you'll find products from Speedo, Tyr, Nike, Splish and Dolfin. Additionally, they carry T-shirts, bags, hats, visors, water bottles, warm-ups, parkas and more. All of these items can be customized with names and logos.


---

Everything But Water: Retailer of specialty swimwear and accessories.

For more than twenty years Everything But Water has maintained a focus to provide an exceptional shopping experience, the largest selection of trend-setting fashions, and elegant store design in upscale shopping venues. Everything But Water takes pride in our market position as THE Swimwear Source. Everything But Water fit specialists are educated swimwear fit experts trained to make the most of all body types by providing customized swimwear ensembles that flatter all figures. Always happy to share style "secrets" with clients to help educate them on selection of the proper swimwear wardrobe, Fit Specialist product knowledge spans trends, silhouettes, fit and designer specialty swimwear. Everything But Water offers such extended client services as fit parties, scheduled fit consultations, special orders, internet shopping.

Everything But Water has the largest selection of swimwear for all body types, with sizes ranging from two to twenty-four. Silhouettes include one-piece and two-piece separates swimwear in tri-tops, halter, tankini, and bra styles. Selection spans junior, contemporary, and the industry's most exclusive designer labels. Coordinating sarongs, skirts, pants, sandals, cover-ups, sunglasses, totes and hats ensure the client's complete wardrobe options are fulfilled and clients are outfitted for every occasion.


---

Exotica Swimwear: Women's swimwear.

---

Feedora: Hand-painted, hand-made, 100% natural fiber rayon Batik Sarongs and Pareos. Each design is created by Feedora at her farm on the Big Island of Hawaii, and then beautifully executed by the talented craftspeople at her other home, an upcountry village in Bali, Indonesia. Feedora learned the art of BATIK from the women in her Balinese village. She has been working in Bali with these local artists and artisans for almost 20 years.

---

Glamour Suits: Offering womens swimwear.

---

InStyleSwimwear.com: InStyleSwimwear.com is an online retailer specializing in fashion-forward designer swimwear, resort wear, footwear and beach accessories for women around the world. The company ships worldwide and helps women everywhere prepare for their upcoming vacations, honeymoons, pool parties and warm-weather outings. Address: 3103 Philmont Avenue / Suite 102 / Huntingdon Valley, PA 19006 Phone: 888.957.8953 E-mail: info@instyleswimwear.com Contact name: Susan
---

Ipanga

(France):

Designs custom made swimsuits in beautiful fabrics and great colors.


---

Jita Swimwear: Swimwear, sarongs and bikinis. Custom hand crafted mix and match bikinis and one piece swimwear and women's clothing. They offer 114 different colors and prints to choose from, 18 mix & match bikini top styles 16 mix & match bikini bottom styles. Their mix and match custom bikini collection provides you with virtually unlimited choices to select your own perfect fitting bikini 11 one piece swimsuit styles to choose from. For the ultimate bikini experience they offer their designer haute couture 'Tropical 3-D Bikini Collection' So completely original and perfectly detailed, you really have to see them to believe them. They offer Pure Hemp and Hemp / Organic Cotton blend clothing. They even have Hemp / Organic Cotton / Spandex blend bikinis and one piece swimsuits Hemp is the longest lasting, most durable fabric on Mother Earth.

---

Kiefer Competitive Swimwear: Kiefer swimwear makes and sells men's and women's competitive swimwear. They are swimmers making competitive swimwear for swimmers. Address: 1700 Kiefer Drive, Zion IL, 60099 Phone - 800-323-4071 Fax - 800-654-7946 E-mail - kiefer.swimwear@gmail.com Contact: Robin Kiefer
---

Lake Powell Management Corp: Retail boutique and souvenir shop at Lake Powell, Utah offering swim and resort wear, accessories, jewelry, beach gear and souvenirs. Address: SR 276 #2200 Lake Powell Utah 84533-2200 USA Phone: 435-788-2200 Fax: 435-788-2200 Email: debbie@beehive.net Contact: Debbie Evans, President
Gender: All
Store Type: Brick & Mortar
---

Lankdai Beachwear: Swimwear and accessories. Mix and match top and bottom sizes that fit.


---

Liquid Assets: One stop shop for women's swimwear, clothing, sunglasses, sandals and accessories.


---

MasqueRays Sun Proof Fashions: Sun protective swimwear for the entire family.

They are a California, U.S.A. based retailer of sun protective clothing. Like many new companies, they do not have a printed catalog; instead they use the flexibility and cost savings of the internet to improve their customer service and reduce their prices. They do not manufacture their clothing, instead they prefer to resell garments from the world's oldest and best manufacturers. The majority of their clothing is imported from Australia, the first country to make a concerted effort to limit childhood sun exposure. They have also found some leading edge American manufacturers, and have been adding their items into their online catalog.



---

More Swimsuits An online bikini shop, including resources for swimsuit style tips. Contact: Shu Saito Email: shu@moreswimsuits.com Address: PO Box 521834 Salt Lake City, UT 84152 Phone: 801-484-4848 Fax: 801-972-2773
---

My Diva's Closet:

they specialize in daring and unique styles of platform shoes, clubwear, bikinis,t-shirts, lingerie, stockings, bellychains, chokers, sexy adult costumes, cowgirl hats.

Address

:

13337 South St. Suite 296, Cerritos, CA 90703 Phone - 562-366-1564 E-mail - webmaster@mydivascloset.com

Contact - Petra


---

North Shore Swimwear: Mix and match swimwear for a perfect fit.

North Shore Swimwear, where you can have fun creating a swimsuit with separate tops and bottoms designed and sized to suit your figure perfectly. Their free 800 number is on every page...so you can easily call and talk to an experienced consultant (free, of course) about design, sizing and fabric choices!




---

The Orchid Boutique: they search the most sizzling places in the world to bring you the most exclusive designer swimwear, from bikinis to one-pieces and cover-ups. Their brands are highly buzzed about in the industry but never mainstream. They cater to fashionistas with couture style and avant-garde flair. Their swimsuits have been featured in Sports Illustrated and Maxim Magazine. They also carry fashion jewelry, designer handbags, and ethnic accessories.
---

Oz Resort (Australia): Sydney's Swimwear Specialist Retailer. They have been selling top Australian brands for over 20 years in Bondi and Mosman. Theye stock Seafolly swimwear, Jets Swimwear, Moontide, Baku, Gottex, Miracle suits, Speedo and a wide range of resort wear. They are open 7 days a week or on line. They also sell sun protection swimwear for children at www.ozivarmints.com.au Address: Shop 1 710 Military road, Mosman NSW 2088 Sydney Australia Email: jacqui@ozresort.com.au Ph 61 2 9969 9929 Free Call 1800 999 969
Women's Swimwear Retailer

Children's Sun Protective Swimwear Retailer

Australia Retailer
---

Peepers Swimwear: Their business was established in 1982 at 252 Stafford Street in Winnipeg where it is still located today. In those early years the storefront was very small but as the business grew so did the size of our location and staff. The retail space was extensively renovated three years ago to provide a larger and more modern retail environment. Swimwear is their specialty but they also pride themselves in having a great selection of Cruise Wear and accessories, making us your one-stop holiday shop. Their staff, Melanie and Laura, are very knowledgeable on the fit and care of the swimwear that they handle and can quite easily fit all figure types. Peepers, has an excellent team and aquatic center program as well, they carry such brand names as Speedo, TYR, Nike, Water Gear, and Leader. Their motto is:
If we don't carry it, we will try our best to get it for you at the lowest price possible.



---

Rainbow Gifts: Board shorts and swimmwear for men, women, teens, and kids.

Board Short, Board Shorts, Surf Shorts, Beach Shorts Board short with hot attractive looks that keep you feeling cool & comfortable! These quality board shorts, beach shorts, surf short were designed for local surfers but in the islands local folks wear board shorts, beach shorts everywhere as they are cool comfortable and have a nice refreshing look you don't see very often. These board shorts, surf short are great for swimwear are triple stitched at stress points for strength and have waist adjustment tie cords and Velcro fasteners. They also have a velcro secured pocket to hold small items like a key. They do not have inside liners. Designed in Hawaii but now made in other countries to keep your cost down.




---

Ritchie Swimwear: Designer for women, men and little girls.

Ritchie Swimwear is a family owned and operated company founded. Ritchie opened his first retail store in 1981, when he discovered a void in the swimwear industry. The fitness craze was at its peak and people wanted to show more of their bodies. Women were looking for higher cuts on the legs, with thong and skimpier backs, and Ritchie had found his niche. The first collection was introduced in 1983, aimed at the junior contemporary market. Ritchie Swimwear quickly developed a reputation for fashion-forward styling, quality workmanship, innovative fabrics and detailing, and first class customer service. Within a few years both the manufacturing and retail operations focused exclusively on swimwear. In 1990, Ritchie introduced the Latin-inspired Pan Dulce Swimwear collection. Pan Dulce was fabricated exclusively from 4-way stretch matte tricot, with clean lines and minimum detail. It was easy to fit, easy to wear, with a wide variety of styles available in every color and print. The prints, in a mostly floral color palette, offered a younger image than the sophisticated Ritchie collection. Look for the biggest and most innovative selection ever of textured and unusual swimwear fabrics. Highlights from their new signature Ritchie collection include the return of their best-selling crochet fabric in several new colors and the return of their classic Ivory and several other popular colors from their previous collection. With 17 different groups in the Ritchie collection, they are certain you will find something to satisfy your designer tastes.




---

Silhouettes: a division of Hanover Direct that sells women's fashions including swimwear.

---

Skinz Deep: Swimwear, swimsuits, bikinis and sexy streetwear.

If you used the searchwords: swimwear, bikini , swimsuit , thong or g string , in hopes of finding unique, quality swimwear, you are at the right website. Make them show you why they claim to make the best swimwear in the world ! Made in Clearwater, Florida USA. Skinz offers the latest styles and the hottest colors for the beach, pool, gym, and street. Their site contains a large sample of Skinz unique clothing.




---

Speedo Authentic Fitness
---

Spiegel Spiegel Brands, Inc a leading multi-channel retailer of women's apparel and home decor. Collectively, our brands include Spiegel Catalog, Newport News, Carabella, AB Lambdin, Shape FXand together.
---

Splashwear Aquatics: They carry a variety of women's competition swimwear. Specializing in team orders, register your team on their website for deep discounts for swimmers. Address: 9855 Maumelle Blvd. Phone 501-753-4998 or 866-218-SWIM E-mail: info@swimmerstuff.com Contact: Jeannie Churchill

---

Suits You: Sexy handmade swimwear for men and women. Secure online ordering.

Most of the swimwear shown on their site are hand made by them, right at their store in Tampa Florida USA. Their products are warranted against defects. They will replace any defectively manufactured item. You can review care instructions for your swimwear to help extend the life of your new swimsuit. Please follow these easy to use instructions! If you have any unique request feel free to contact them. Since they manufacture most of the swimwear, they can custom make almost any of their suits in most fabrics shown on their site. "Custom" orders are one of the most popular things they do. Their goal at Suits You Sexy Swimwear, is to make sexy swimwear and unique figure/posing suits that truly "Suits You". They make their products with high quality fabrics, a great fit and do it at a reasonable price. Lucy has been designing and making swimwear and posing suits for 19 years now and they look forward to doing business with you!




---

Sun Clothing, Etc.

:

Sun Clothing, etc. offers a full line of UPF and SPF rated sun protection swimwear, clothing, hats, cabanas, sunblock and accessories for the entire family.

Address:

907 Charles Street, Fredericksburg, VA 22407 United States

Phone: 1-866-713-9352 and 540-373-7175. Fax 540-373-7143

Email: info@sunclothingetc.com

Contact: Kimberly Carr, Owner
---

SunChasers Sun Protection: Sun shirts are alternative to traditional sun screen products.

---

Sweet Water Swimwear: Designer direct swimwear for both men and women.


---

Swim and Fit: Swimwear, fitness and dancewear for the entire family.


---

Swim n Sport: Swimwear, sportswear and accessories.


---

Swimeezy: Sun protection and swim aid swimwear.

---

Swimmer's Network: Swimwear and accessories.


---

Swimsuits For All

;

Swimsuits For All has swimwear and beach apparel for men, women and children.

They

offer a huge selection of the latest swimwear styles and

their

website features one of the biggest collections of plus size swimwear to be found. With

their

easy exchange and return policy, you can find fashionable swimwear to fit any shape, size or budget.

Address: 262 Old New Brunswick Rd., Piscataway, NJ 08854 Phone: 1-888-241-SWIM (7946) Fax: N/a Email: swimsuitsforall1@gmail.com

Contact: Jenny Wainright
Women's Swimwear

Plus Size Swimwear

Men's Swimwear

Children's Swimwear
---

Swimwear Hawaiian Style: Assorted swimwear.

---

Swimwearonline.co.uk: Swimwear and beach wear direct from the manufacturers.


---

Tahiti Street: Designer ladies swimwear, dresses and accessories.


---

Teezwear: Custom made swim wear, gym, and active wear.


---

Tomas Maier Poolwear: French collection of men's and women's swimwear.


---

U

jena

Swimwear & Fashion:

they

have 2 websites, www.ujenawholesale.com

is exclusively for our wholesale buyers and

they

have www.ujena.com

which is for

their

retail customers.

UjenaWholesale.com is changing the way companies select, order, and retail their swimwear.

UjenaWholesale.com allows vendors to specify the items they wish to carry in their stores. NO MINIMUM ORDERS UjenaWholesale.com does not require a minimum purchase, allowing retailers the flexibility to offer only the styles and quantities which best suit

their

clientele.

Ujena Swimwear & Fashion is a manufacturer, so everything you see on-line at UjenaWholesale.com can be ordered year-round.

MADE IN USA
All of the items you see at UjenaWholesale.com are designed and manufactured at

their

California Manufacturing and Fulfillment Headquarters.

They

inspect each and every product to ensure its quality before leaving

their

facility.

Ujena Swimwear & Fashion is a family owned swimsuit manufacturer founded in 1984.

O

ne of the few major swimwear companies to still manufacture their products in the United States.

Address:

1931 Old Middlefield Way Mountain View, CA 94043 Contact: Justin Wall (800) 448-5362 (650) 938-1004 fax justin@ujena.com




---

Waterskishop.com: New swimwear from Ujena and others.

---

What Women Want: From Speedo to Roxanne, maternity and Plus sizes.

---

Wild Iris Activewear: Custom made swimsuits for women and girls.


---

William B. Hugg Swimwear
---

Xenwear: Swimwear and accessories.

---

Your La Mode: they are proud to have the largest and most desirable collection of sexy costume, swimwear, and clubwear with the lowest prices and best customer service of any online store. Their main focus is making shopping easy for their customers. A team of young minds work together to make sure top of line fashion is available to you at their online store! They do all the searching so you will be up to date on the latest fashion trends.
Women's Sexy Halloween Costumes
Women's Swimwear
---

Zenaswimwear: Custom bathing suits; pick your style size and color, mix and match.

---

Zodee Swimwear: Simon pallister Zodee aims to provide the largest selection of high quality lingerie, swimwear, sleepwear and other apparel at competitive prices and for the convenience of their customers. They currently stock approximately 100 top quality brands from Australia and the rest of the world. Online since 1997, they have a wealth in experience in providing a world-class customer service to their customer right around the world. Austlink Corporate Park 3/20 Narabang Way BELROSE NSW 2085 Australia 1300 855 999 info@zodee.com.au

If you can not find enough swimwear resources on this page, you are welcome to search the Amazon database for additional retailers of swimwear. They have many bathing suit options for women including the following swimsuit options:

If you are searching for plus size swimwear
you can also visit our plus size clothing store directory. If you are shopping for petite swimwear
you can try our petite clothing store directory.