Apparel Search is a leading guide to fashion, style, clothing, glam and all things relevant to apparel. We hope that you find this Women's Suits page to be helpful.
Add extra sophistication to your wardrobe with a classic suit. Depending on your career path, you may need business suits, skirt suits, and pants suits. For all of your dressy and professional needs you can visit a fine fashion boutique and discuss options. From classic skirt suits to contemporary pantsuits, discover a wide selection from your favorite names to highlight your style.
Apparel Search suggests that you find a collection of women's suits that have a crisp & polished appearance. Something that will appeal for what you want in the workplace without sacrificing comfort and style. Feminine tailoring streamlines your profile for a professional ensemble that impresses at job interviews, board meetings and beyond.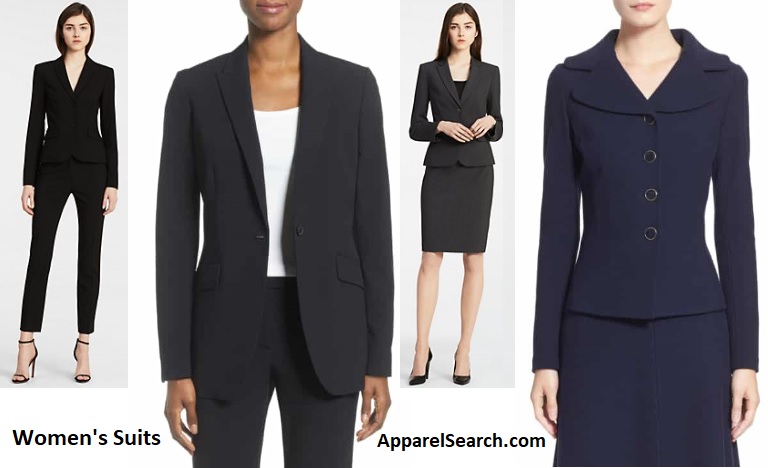 What is a suit? In clothing, a suit is a set of garments made from the same cloth, usually consisting of at least a jacket and trousers. For women, the skirt suit or dress suit are both acceptable. Suit-wearing etiquette for women generally follows the same guidelines used by men, with a few differences and more flexibility.
A blouse, which can be white or colored is often worn with a ladies suit. However, depending on the garment a blouse may not be needed. Women's suits can also be worn with colored tops or even T-shirts. By the early to mid-1980s, conservatively-tailored skirt suits were the norm, in the same colors and fabrics considered standard in men's suits. Although black & navy are traditional business suits, women's suits can be worn in a wide variety of colors.
Women occasionally wear scarves with a suit in a tied knot either inside a shirt as an Ascot or under the collar as would be worn like a tie. Although some women wear ties with their suit, it is not as common as it is when men wear suits.
Add some structure to your wardrobe with finely tailored ladies' suits.
Some days you need to look like you mean business. Keep in mind suits are for more than just a business environment. Church suits are a good idea for Sunday.
What ever style of suit you are wearing, is in fashion.
If you want to be even more stylish, you should wear your favorite suit.

Have you seen our Fashion Designer Directory section?