The New York Yankees are an American professional baseball team based in the New York City borough of the Bronx. They compete in Major League Baseball (MLB) as a member club of the American League (AL) East division. They are one of the most well known sports franchises in the world.
Because the team is so popular, it is rather obvious that the teams hat would be popular as well.
Baseball hats are a specific style of headwear. Although team logos can go on a wide variety of headwear silhouettes, the baseball cap style is most popular. A baseball cap is a specific style of hat that has a rounded crown and features a stiff bill in the front. The bill helps keeps the face shaded to assist with keeping the sun out of the players eyes when fielding balls or batting. It is a soft headpiece with a logo or a design above the bill. Initially, the logos were that of baseball teams. Again, the most popular of teams being the New York Yankees (Yes, I am from New York so I refer to them as the most popular and the best).
You can find a wide range of color options for women's Yankees baseball hats.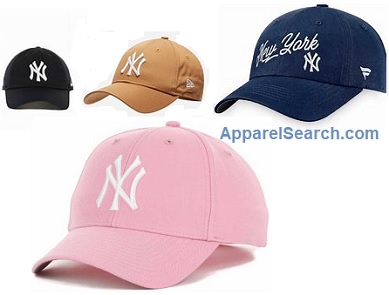 Learn about Yankee baseball hats in more detail in our men's clothing section.
Learn more about the New York Yankees.
Apparel Search is a leading guide to fashion, style, clothing, glam and all things relevant to apparel. We hope that you find this Women's Yankee Baseball Hats page to be helpful.
What ever headwear you are wearing, is in fashion.
Learn more about Yankee hats for women.
You can also visit the Women's Yankee baseball shirts page.
Find hat retailers that sell a wide variety of headwear options.