Women's hoodies come in a wide variety of style, colors, & sizes. Two of the primary categories to consider would include zip-up verse pull-over. The zip-up hoodie allows the entire front to open so that the wearer can slip their arms into the arm holes when putting the garment onto the body. The pull-over version, the wearer will slip the garment over their head. The obvious difference is that when slipping the garment over the head, you can easily mess your hair. Also, when removing a pull-over garment, it can be more challenging to keep your undershirt in place to avoid it from slipping up or possibly off along with the sweatshirt (hoodie).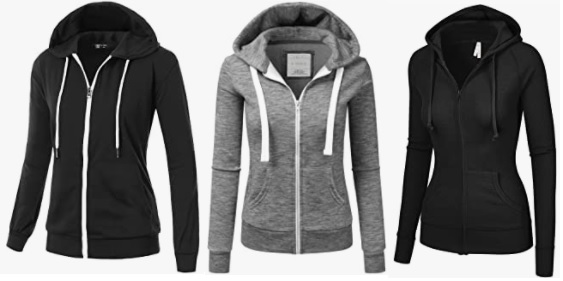 Zippers can match the color of the garment fabric or be a contrast color.
Some zip-up hoodies can be partial zip, such as a 3/4 zip (not going all the way down).
Learn more about women's hoodies.

Apparel Search is a leading guide to fashion, style, clothing, glam and all things relevant to apparel. We hope that you find this Women's Zip-Up Hoodie page to be helpful.
What ever you are wearing, is in fashion.
If you want to be even more stylish, you should wear your favorite Women's Zip-Up Hoodie.