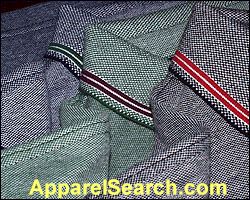 Before you research factories producing shirts, you may want to take a few moments to learn about the different type of shirts from our fashion industry terminology section.
If you are searching for shirt factories you have come to the proper location. Below you will find our shirt manufacturers directory. This is an international apparel guide with listings from various countries.

Adnan Sports (Pakistan): they are a manufacturer and exporters of sports wear, sporting goods and garments. They sincerely hope you will be one of their serious clients in soonest future. Address: Ghor Dore Road Gujranwala Paksitan Phone: 92-431-273360 Fax: 92-431-242140 Email: m_adnan2001@hotmail.com Contact: Mr:Adnan Khan
Gender: Men's and Women's
Manufacturer Item # 1: Track Suit
Manufacturer Item # 2: Trouser
Manufacturer Item # 3: T.Shirt
Manufacturer Item # 4: Polo Shirt
Manufacturer Item #

5

: Shorts
---

A.M.Corporation (Pakistan): they are Manufacturers and Exporters in Pakistan Textiles, Textiles Made ups. Home Textiles, Hand Knotted Woollen Carpets and Rugs. Bokara, Persian Designs, in different qualities, and designs, and colors also. If you require more information then kindly contact them. Address: G.P.O.Box:1555, Lahore 54000 Pakistan Phone: (042) 6309781 Fax: 92-42-6309783 Email: sheikhashrafpk@yahoo.com Contact: Sheikh Mohammad Ashraf Managing Partner
Manufacturer Item # 1: Shirts, 100% Cotton, PC Cotton Polyester
Manufacturer Item # 2: T-Shirts 100% Cotton, PC Cotton Polyester
Manufacturer Item # 3: Ladies Blouses, Plain, Printed, Dyed, Embrodied.
Manufacturer Item # 4: Track and Jogging Suits, 100% Cotton, Dyed, Printed also in 100% Nylon,Polyester etc.
Manufacturer Item # 5: Jeans, Jean Jackets.
Manufacturer Item # 6: Tradnational Garments, Embroded Merrior Work etc
Manufacturer Item # 7: Baby Garments.
---

Apparel Concepts: Manufacturer of knitwear and woven items. They have a factory at S.I.T.E Industrial Area, Karachi City. Their entire system is computerized. They are represented by a highly qualified and technical staff. They offer a complete service package of product development, merchandising, & quality assurance. Address: A/8 E-1 S.I.T.E., Karachi, Pakistan 75000 Phone: 9221 2575214 or 9221 2575215 Fax: 9221 2575265 Email: appconcepts@cyber.net.pk Contact: Munir WavdiwalaU
Manufacturer Item # 1: Knit Shirts Printed & Solid
Manufacturer Item # 2: Henley, Polo, Crewneck (various fabrications)
Manufacturer Item # 3: Woven Shirts
Manufacturer Item # 4: Woven Pants
Manufacturer Item # 5: Denim Jeans
Manufacturer Item # 6: Flannel Shirts
Manufacturer Item # 7: Numerous other items
---

Apparel Empire LLC: Apparel Empire is a renowned manufacturer of fully customized apparels/ OEM services for fashion brands, private label brands, companies, institutions and organizations. With their level of professionalism, they want to take customization of garments to the next level. They specialize in creating high quality tailor-made fashion brands and private label brands for organizations and companies in a "fast turn-around" time according to their specifications. They employ the best of what technology has to offer as we use Computer Aided Designing and Drafting (CADD) application plus dedicated printers, seal & seam machines, overcast, double needle as well as machines to attach buttons and so forth. Currently they are the apparel manufacturer for many corporations and the manufacturer for many private labels and street wear brands providing them from material sourcing to production and branding such as their labeling and packing bags. Address - 1101 Connecticut Ave NW #450, Washington DC 20036 Phone - (+1) 202 657 6912 E-mail - madetoorder@aeempire.com Contact name - Frank
Sportswear Manufacturer
Shirt Manufacturer
Pant Manufacturer
Jacket Manufacturer
Reflective Clothing Manufacturer
---

Barma and Company (Pakistan): Manufacturer of Knitted Garments, established in 1992 working under covered area of 30000 sq. ft which provides combination of completely new set up for production facilities. Having at present about 200 sewing machines of various types including special machine. The structure of the factory has been adjusted with large cutting and preparation arrangements. Their production capacity is 40000 PCs extendable to 50000 PCs per month depending upon styles of individual items. They specialize in knit for Men's, women's and children. They do embroidery / applique /printing as per requirement. Address: 125-C/1-First Floor-Jami Commr Str #14-Phase V11-Defence Hosuing Society Karachi 75500 Pakistan Phone: 92-21-5805405 or 92-21-5802447 Fax: 92-21-5382592 Email: barma@cyber.net.pk Contact: Barma - Partner
Manufacturer Item # 1: Underpants/shirts
Manufacturer Item # 2: Legging
Manufacturer Item # 3: Boxer Shorts
Manufacturer Item # 4: T-shirts
Manufacturer Item # 5: Golf shirt
Manufacturer Item # 6: Dresses
Manufacturer Item # 7: Infant Romper/bibs
---

Body Basic Manufacturing, Inc.: Full service CMT Factory with product development capabilities, workable minimum quantities, high quality workmanship, knits and woven. No job too big or small, startups welcomed. In business since 1989. They manufacturer knits and wovens. For product development and manufacturing inquiries for more information. California state licensed and a fully compliant factory. Address: 1602 N. Susan St. Unit A Santa Ana, Ca 92703 (818) 676-9454 valeriebcooper@gmail.com Contact: Valerie Cooper
Manufacturer of shirts
Manufacturer of dresses
Manufacturer of activewear
Manufacturer of leggings
Sewing Contractor
USA Clothing Manufacturer
---

c.a.n
enterprises
(USA office / Produce in Egypt): they manufacture 100% Egyptian cotton clothing. All product is made in Egypt. They sell their own line of products under the labels of C.M Sport (for women, mens and kids), and Suite 102 (for juniors, as well as produce private label clothing for stores. Their customers are: department stores, specialty retailers as well as catalog companies. They control their manufacturing costs and they pass on the savings to their customers. Address: 410 n.civic drive # 102 Walnut Creek California 94596 USA Phone:(925)939-9736 Fax: (925)939-9736 Email:
makhlouf2@cs.com
Contact: Chereen Makhlouf --owner
Gender: Men's and Women's
Manufacturer Item # 1: turlenecks
Manufacturer Item # 2: knit tops
Manufacturer Item # 3: knit bottoms
Manufacturer Item # 4: mock necks
Manufacturer Item # 5: T-shirts
---

Carolina Apparel Group [Carolina Apparel Group Profile on Apparel Search] (USA): is a manufacturer of "body-size" circular knit fabrics and thermal underwear, offering the comfort and cost benefits of body-size, side -seamless fabric and apparel Made in the USA. Carolina Apparel specializes in thermals for well-known brand names, major retailers' private labels and for the US Armed forces. From performance, wicking base-layer for the outdoors man, to comfortable cotton prints for kids. Their quick replenishment on in-season items, coupled with their cost-efficient manufacturing advantages makes them an attractive, experienced alternative to offshore manufacturing.
Manufacturer Item #1: Thermal underwear (all genders)
Manufacturer Item #2: Base Layer (all genders)
Manufacturer Item #3: Knit shirts
Manufacturer Item #4: Underwear

Manufacturer of fabric: Ribs, Thremal, Raschel, Waffle, Jersey, Circular Knit, Greige fabric
---

Cetinkaya Clothing Industry and Trade Inc. (Turkey): Manufacturer of Men's dress shirts, t-shirts, pants, trousers, jeans, jackets and sweatshirts with approx. 700 employees in 5 plants located in Mersin Free Zone, Adana & Istanbul - Turkey. Cetinkaya dedicates itself to satisfying the needs and expectations of their targeted customer segments. They seek to provide their target customers with timely and competitive selections of fashionable, quality merchandise with unquestionable day-in, day-out value. Address: Mersin Free Zone, Parcel #: 216 Mersin 33185 Turkey Phone: 90 (324) 238-4300 pbx or 90 (536) 229-8369 Fax: 90 (324) 238-4319 Email: mersin@cetinkaya.com.tr Contact: Selcuk K. Gurz / Business Development Director
Gender: Men's and Boy's
Manufacturer Item # 1: Dress Shirts
Manufacturer Item # 2: T-shirts
Manufacturer Item # 3: Pants
Manufacturer Item # 4: Trousers
Manufacturer Item # 5: Jeans
Manufacturer Item # 6: Jackets
Manufacturer Item # 7: Sweatshirts
---

Chef D'oeuvre Pte Ltd (Singapore): they develop and manufacture for designers and distributors. Their own factories in China, Hong Kong, Bangkok and Singapore each runs about 20,000 ~ 50,000 units/mth during their busy season. Their operators are very efficient and experienced in sewing all style of garment. They are very loyal to the company and strive to meet production deadlines. Address: 80 Marine Parade Rd #07-06 Parkwat Parade 449269 Singapore Phone: (65)6337 6008 Fax: (65)6386 1173 Email: tanghe@starhub.net.sg Contact: Ms. Jennifer Tang
Manufacturer Item # 1: Ladies Jacket

/

Blouses
Manufacturer Item # 2: Men's Shirt

/

Pant
Manufacturer Item # 3: Ladies Dresses
Manufacturer Item # 4: T shirt
Manufacturer Item # 5: Uniform
---

China Ningbo Shanshan Import & Export Co., Ltd (China): they are one of the largest manufacturers and exports specializing in suits and shirts for more than ten years, collecting over 6,000 employees from home and broad. With a yearly production capacity of 0.5 million high quality Western suits and 1.2 million high quality shirts, the assembly process uses world-class, fully automatic, overhead type assembly lines exclusively. There is a line capable of yearly output of 0.25 million Italian style suits, which is under the direct management of specialists from Forall Group-the second biggest group in Italy. Meanwhile, they have adopted the PALZILERT-PULL pattern of Forall Group and CANALY pattern from Italy. Till now they have occupied the largest market shares continuously for 7 years. Also they can produce all kinds of neckties in excellent quality and best price with monthly capacity of 200,000pcs and all types of sweaters with monthly capacity of 20,000pcs. Address: 10th Floor, 158 Baizhang Road Ningbo 315040 China Phone: 0086-574-87716374 Fax: 0086-574-87716321 Email: colin_he@hotmail.com Contact: Colin He: Sales
Manufacturer Item # 1: Suit-in different pattern and material
Manufacturer Item # 2: Necktie-silk woven/printed; polyester woven/printed.
Manufacturer Item # 3: Shirt-material: cotton; polyester; T/c;others
Manufacturer Item # 4: Pant--in various material.
Manufacturer Item # 5: Knitwear--in different material and gg.
Manufacturer Item # 6: Jacket-in various styles.
Manufacturer Item # 7: Scarf-process with supplied sample

.

Categorized factory guide: T-Shirt Factories, Blouses Factories and Dress Shirt Factories.
Learn more about shirts from the following pages:
Selecting Tailored Shirts & Blouses
Thank you for taking the time to utilize our fashion industry guide to learn about shirt factories around the world.