First, let me be very clear about something. Handbags are awesome "Every" year. With that said, this consumer guide is regarding 2016. Therefore, we will only discuss on this page top handbags that were designed or available for sale at some point during 2016.
Women's Designer Handbags of 2016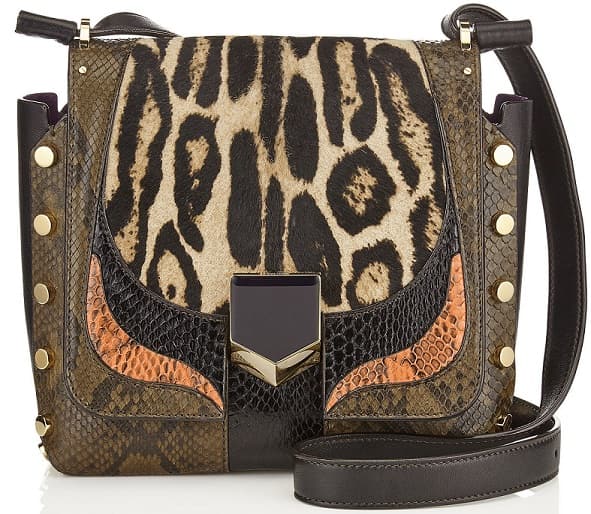 Lockett XB Moss, Natural and Spice Graphic Exotic Patchwork Cross Body Bag - Jimmy Choo: A relaxed yet structured look, this handbags exclusive push lock closure is exclusive for Jimmy Choo and has a unique mechanism ensuring the bag remains securely closed. The face of the lock is coated in a luxurious dark midnight blue enamel, subtly offset with rich gold accent detailing. The sides and base of the bag are fastened to the body using bold round riveted studs, creating a strong visual identity and a luxurious detail. Lockett XB features a carefully constructed rounded flap with cut out detailing, designed to add emphasis to the luxurious lock closure. It features one main compartment with an internal flying zipped pocket, and can be worn can be worn across the body or on the shoulder using the adjustable shoulder strap. Made in Italy. Bag measures: L22 x H20 x W8 cm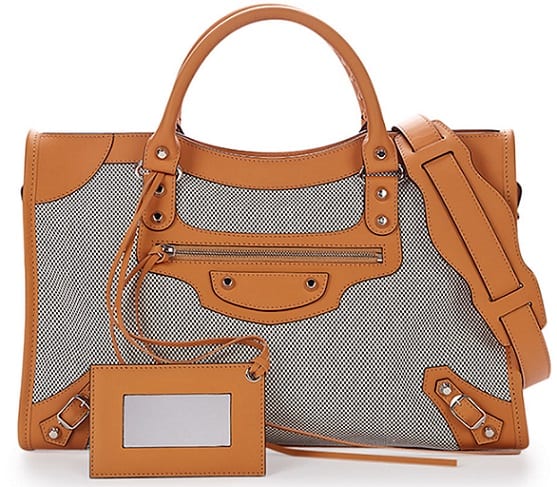 Balenciaga Metallic Edge City Mini Bag, Taupe - Neiman Marcus: The first Cristobal Balenciaga house of haute couture was founded in 1919 in San Sebastian, Spain. By 1937, Paris became home to the famed couturier. In 1946, the House of Balenciaga launched its first perfume, and soon it attracted the same acclaim as the famous Balenciaga couture pieces, which are today under the skillful guidance of Creative Director Alexander Wang. This Balenciaga bag in leather-trimmed, check-print canvas with metal-edged nickel hardware, including stud and buckle detail. The tote handles with 4" drop; adjustable, removable crossbody strap with 20.1" drop. It is our understanding that this handbag is available only at Neiman Marcus.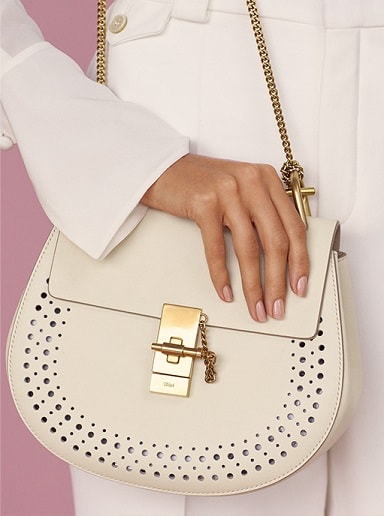 Chloé 'Mini Drew' Crossbody Bag - Nordstrom: With its compact saddle-bag silhouette, squared-off flap and tiny perforations, the mini Drew is the epitome of relaxed modernity. Smooth calfskin leather in a creamy hue and a jewelry-like chain-link strap complement the contemporary design that's sure to energize casual day ensembles and add a touch of edge to evening wear.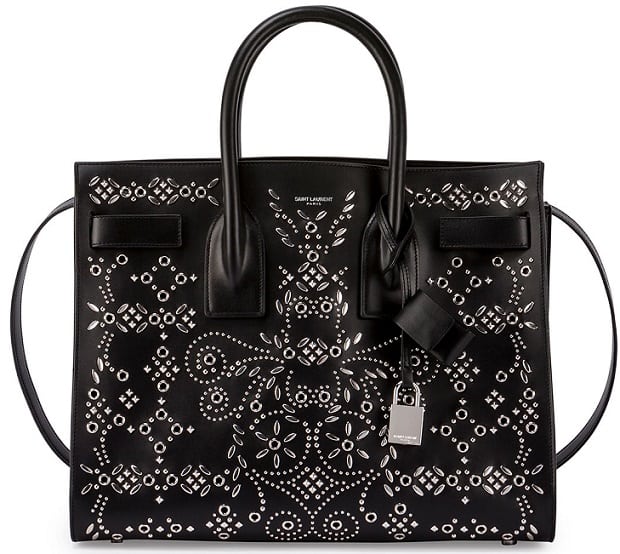 Saint Laurent Sac de Jour Studded Leather Satchel Bag, Black - Neiman Marcus: Saint Laurent bandana-studded calf leather satchel bag. Rolled top handles; flat shoulder strap. Padlock detail hangs from handle base. Founded in 1961, Yves Saint Laurent was the first couture house to introduce the concept of luxury pret-a-porter in a 1966 collection called "Rive Gauche," synonymous with youth and freedom. This shift represented a first critical step in the modernization of fashion and revolutionized the socio-cultural landscape. In 1999, the luxury goods division of the PPR Group acquired Yves Saint Laurent and, under the creative direction of Hedi Slimane since March 2012, continues to position the house at the summit of the luxury universe. Today, Saint Laurent collections include women's and men's ready-to-wear, shoes, handbags, small leather goods, jewelry, scarves, ties, and eyewear. Parisian by birth and Los Angeleno by choice, Hedi Slimane is lauded not only for his work as a designer and photographer—but also for his past contributions during his tenure as menswear director for the house.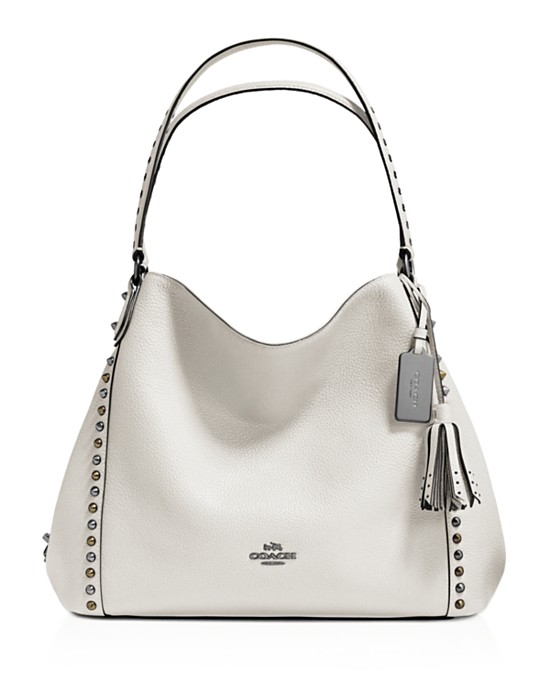 Coach Outline Studs and Grommets Edie Shoulder Bag 31 in Leather - Bloomingdales: Effortless, top-selling Edie gets a new downtown edge in soft pebble leather with dramatic rows of pointed studs and industrial grommets. This ultra-functional design keeps essentials elegantly organized within its three-compartment interior.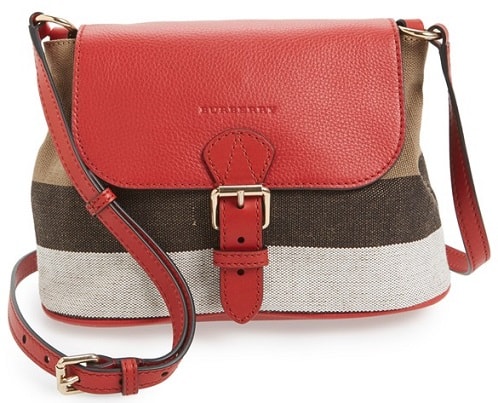 Burberry 'Small Gowan' Crossbody Bag - Nordstrom: Timeless Burberry sophistication defines a perfectly proportioned crossbody bag featuring crisp checks, gleaming goldtone hardware and richly grained leather trim.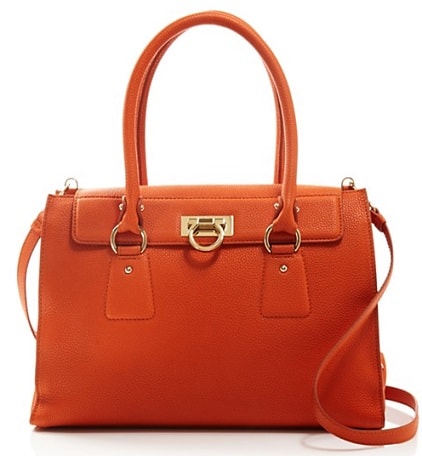 Salvatore Ferragamo Satchel - Lotty Medium - Bloomingdales: Gorgeously textured leather, gleaming gold-tone accents and a seriously sophisticated silhouette make Salvatore Ferragamo's convertible satchel a carry-forever classic.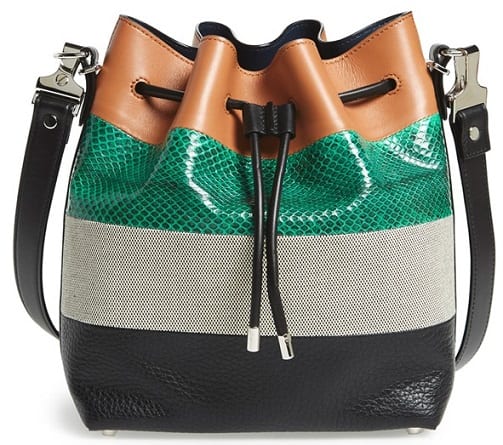 Proenza Schouler 'Medium' Bucket Bag - Nordstrom: Playful and light yet sophisticated, this striped Proenza Schouler bucket bag shaped from smooth leather, textured snakeskin and a canvas weave is perfect for carrying a buoyant mood through the seasons. A long, adjustable shoulder strap ensures a comfortable fit, while the bag's roomy interior holds everything you need for the day.
We may be adding more glorious handbags to this page in the near future. No promises, but it is possible.
If you are not interested in only in 2016 handbag collections, you may also have interest in viewing handbags blog posts on the fashion blog.
Thank you for using the Apparel Search website.