Share us, like us, and be our friends.
Focus in the moment and share your fashion with the world. People are craving a more vicarious experience when they visit social media websites. We now want to become part of each others experiences. Live video, 360 degree photos and videos, real-time posting and other techniques are engrossing us in shared experiences.
Social media is a way for fashion brands and clothing stores to communicate with consumers. In addition to marketing to consumers the platforms are allowing apparel & footwear companies to provide customer service to consumers and potential consumers. In 2017 the clothing industry will see an increase in interactivity and customer service communication between fashion brands and consumers.
Surprise, surprise, surprise, very little change this year in regard to the popular services. However, we are adding SnapChat & Instagram to the list this year.
Facebook - Founded on February 4, 2004 and have never looked back. We are not going to get into the merits of Facebook because we assume you are already familiar with the company and services. Let's just leave it at, they are a leading social media company in 2017. Obviously, this company can not be left off a "best of social websites" list.
SnapChat (now called Snap)- Life's more fun when you live in the moment! They are starting to use real world glasses to snap photos to share online.
Instagram: Instagram is a fun and quirky way to share your life with friends through a series of pictures. The company was founded by Kevin Systrom. Snap a photo with your mobile phone, then choose a filter to transform the image into a memory to keep around forever. They are building Instagram to allow you to experience moments in your friends' lives through pictures as they happen. You can share what your wearing with the world each day.
Google+: Google+ which is pronounced and sometimes written as Google Plus is an interest-based social network that is owned and operated by Google. Many fashion companies and style savvy people utilize the system on a daily basis. You can meet up with other like minded people and share your thoughts with one another. Released December 6, 2012, Google+ Communities allow users to create ongoing conversations about particular topics. A worthy topic would obviously be clothing, shoes, beauty products, etc.
LinkedIn - The site officially launched on May 5, 2003. At the end of the first month in operation, LinkedIn had a total of 4,500 members in the network. More recently, LinkedIn operates the world's largest professional network on the Internet with more than 500 million members in over 200 countries and territories.
Pinterest: Pinterest is the world's catalog of ideas. Find and save style inspiration, color trends, wardrobe concepts and other ideas to try. Great place to find trendy clothing, footwear, and jewelry.
Fashion Industry Network (our social networking site for the garment industry)
Youtube: Youtube is not only for watching videos. It is truly a social experience if you make use of the comments section. However, please don't be a troll. Share nice thoughts about clothes, shoes, and styles.
Social media are computer-mediated tools that allow people to create, share, or exchange information, career interests, ideas, and pictures/videos in virtual communities and networks. The best activity on social media is writing about or sharing information regarding clothing, shoes, or fashion accessories. Anything regarding style relevant topics, is perfect for sharing on social media.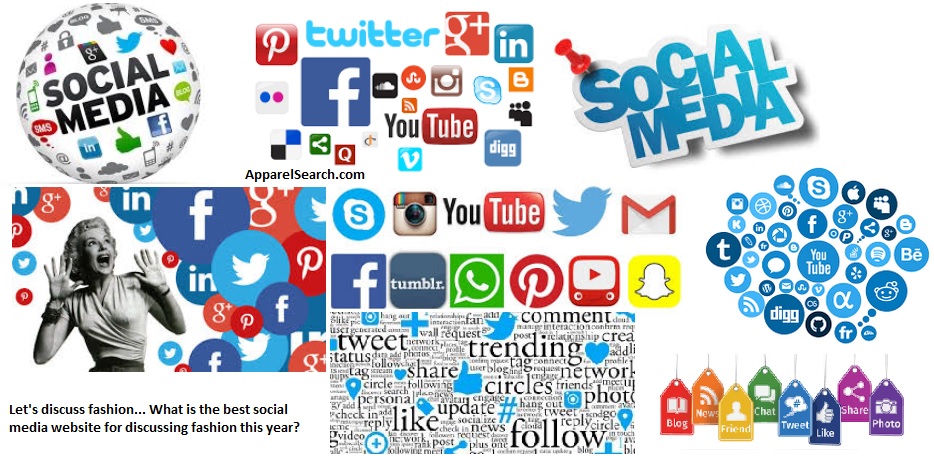 Write emotional, practical, imaginative, and informative posts. That is the best way to find engagement and the possibility of going viral. By the way, you really should tell your friends to visit this page of our website. That would be very kind of you and will earn you some fabulous good karma credits.
Learn more about social media's effect on fashion and the apparel industry.
Thank you for using the Apparel Search website.