Welcome to the digital fabric printer website. This site has been developed to help members of the apparel industry and textile industry locate resources to assist them with production. If you are planning production that requires printing on fabric or printing on textiles, it would be a good idea to learn about the option of digital printing.
What is digital fabric printing?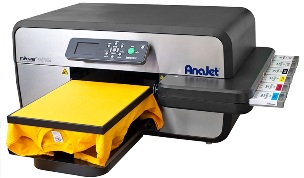 Digital textile printing started in the late 1980s as a possible replacement for analog screen printing. With the development of a dye-sublimation printer in the early 1990s, it became possible to print with low energy sublimation inks and high energy disperse direct inks directly onto textile media, as opposed to print dye-sublimation inks on a transfer paper and, in a separate process using a heat press, transfer it to the fabric.
Digital textile printing is described as any ink jet based method of printing colorants onto fabric. Most notably, digital textile printing is referred to when identifying either printing smaller designs onto garments (t-shirts, dresses, promotional wear; abbreviated as DTG, which stands for Direct to Garment) and printing larger designs onto large format rolls of textile.
Where can you find digital fabric printing machinery, supplies, and services?
Digital Fabric Printing Services
Digital Fabric Printers (machinery)
Digital Fabric Printing Software
Discuss Printing on Fabric or Fashion
Where to find related products or services?
We hope that above helps you location the information you had been searching to find. If you can think of additional categories for us to add to this directory, please do not hesitate to share your thoughts.