Ringspun Cotton - Guide to Ringspun Cotton
Welcome to the Ringspun Cotton website. This textile guide has been designed to help members of the textile industry and fashion industry learn more about Ringspun Cotton.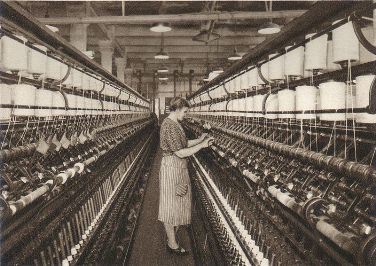 When discussing Ringspun Cotton, it is important to note that making cotton ringspun occurs during the yarn making process. It is not a process that occurs during the fabric making process. When you buy a ringspun cotton t-shirt, this means that the t-shirt "fabric" had been made from ringspun "yarn".

There are primarily three commercial methods of spinning yarn. They are called Ring Spun, Rotor Spun, and Friction Spun. Each method produces different results in the yarn. Ringspun cotton has qualities that make it softer and more comfortable to wear. The secret is in the yarn processing. The "spinning" process produces longer, stronger strands. The Ring-spun process the yarn is made by continuously twisting and thinning the strands making a very fine rope of cotton fibers. The twisting makes the short hairs of cotton stand out, resulting in a stronger yarn with a significantly softer hand. Learn more about ringspun fabric.
Our website will guide you to many resources that are relevant to Ringspun Cotton. Please utilize the directory below to begin your education.
We hope the above resources will assist you with finding information about Ringspun Cotton. If you have suggestions on how we can improve our guide, please do not hesitate to let us know.
Thank you for taking the time to visit the Ringspun Cotton website. We certainly hope that our guide has aided your research.
About Fabric Search Contact Us

copyright © 2019 Fabric Search