Ankle Socks
Ankle socks extend to the ankle or lower and are often worn casually or for athletic purposes. They are designed typically to have the fabric slightly above the ankle. They are designed to create the look of "bare feet" when worn with shoes. They show only a small amount of fabric above the show line above the ankle.

Ankle socks height has its own unique benefit. since the material doesn't interfere with the leg, this helps maintain good, healthy circulation all through the calves. And due to their short nature, ankle socks are the perfect companion on those warm summer days when a nice pair of shorts are in order.

Some ankle socks have contrast color heels and toes. Many also have extra padding with a reinforced toe and heel for durable wear.
Socks can come solid color, or with various colors. Some brands will add a jacquard logo detailing.
Ankle Socks will do a lot more than just keep your feet dry. These days, more and more people - in particular those partaking in athletic activities are reaching for ankle socks due to all the various benefits they offer. Ankle socks are great for sports activity because they absorb sweat like longer socks but don't cover the calf with tight fabric. The snug insulating fabric quality helps support your feet with a layer of protection from the inside of your sneakers. This makes for a more comfortable, breathable fit, which in turn can possibly heighten your athletic performance.
Ankle socks for both men and women are fantastic for sports, as they rest just below the sneaker edge. This means you can run in comfort, without overheating yourself wearing a longer pair of socks.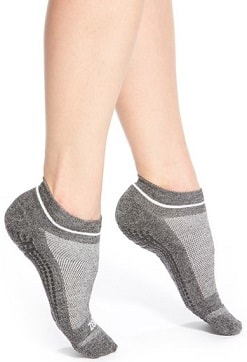 You really want to work out but the blisters on your heel from wearing the wrong kind of socks is keeping you couch bound. Imagine pairing your sneakers with a comfy pair of ankle socks and saying goodbye to sneaker chaffing during your workout. Modern ankle socks are versatile and can be worn outside the gym. Women's ankle socks now come in a variety of materials, including lace for those who want a hint of prettiness. For people who prefer to look a bit funky, there are brightly colored and striped options available.
View blog posts about socks.
Ankle socks can be made in novelty designs but this type of novelty sock is primarily visible only when the wearer is not wearing shows. Keep in mind that the shoe covers the majority of the ankle socks fabric.
If you are shopping for ankle socks, you can often find them at stores such as Nordstrom, Target, Walmart, Macy's, Kohls, etc.
By the way, ankle socks are some times referenced as anklets. However, that is a tad confusing because anklets are a type of jewelry worn around the ankle.
You may want to also learn a little more about low cut socks which are fairly similar.
Learn about sock sizing.
If you enjoy longer socks, you may want to visit the boot sock page.
Fashion Products Fashion Products A-F Fashion Products A
---
Return to the Influence Fashion home page.

Copyright 1999-2022 Apparel Search Company. All Rights Reserved.