Cargo Pants - nice to have extra pockets.
Cargo pants are loosely cut pants originally designed for tough, outdoor activities, and whose design is distinguished by one or more cargo pockets.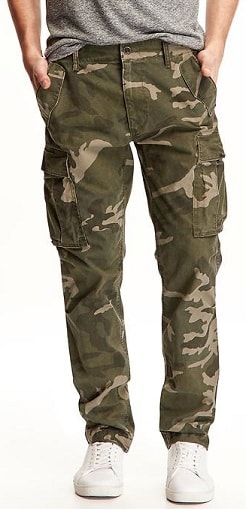 A pocket is a bag- or envelope-like receptacle either fastened to or inserted in an article of clothing to hold small items. A cargo pocket is a form of a patch pocket, often with accordion folds for increased capacity closed with a flap which is generally secured by either snaps, buttons, magnets, or Velcro (or a combination of multiple securing features). Some designs have the cargo pockets hidden within the legs.
Cargo pants are common on military pants and hunting clothing. They are also occasionally referenced as cargo trousers or combat trousers (or combats) after their original military purpose.
Cargo pants are typically made of hard wearing fabric that is appropriate for rugged outdoor activities. The fabric for cargo pants varies because they are sometimes use for outdoor use, but they are also some times simply used as a fashion statement. If your plan is to use them for outdoor activities check for pants with sturdy stitching and strong fabrics. This type of pant is often made of quick-drying fabrics such as synthetic or cotton-synthetic blends. This is helpful for people hunting, camping, hiking, etc. Cargo pants often feature oversized belt loops to accommodate wide webbing belts. This pant style is typically designed to allow bending at the knee and hip, and are sewn with felled seams for strength and durability.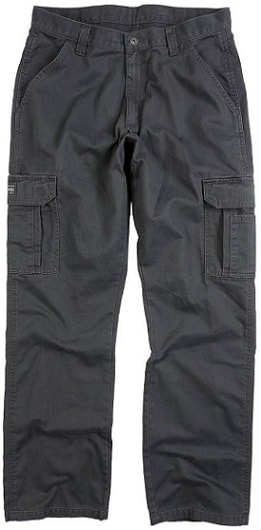 EMT pants are cargo pants which have 6-way cargo/scissor pockets on one or both legs, each with a hidden zippered pocket on top of cargo pocket, a bellowed flap pocket with increased carrying capacity, Besom pockets on calves for glove storage, and 3 slots for scissors (two fitted with snap closures). By the way, EMT stands for Emergency Medical Technician. These are ambulance technician or a health care provider of emergency medical services. They often need extra pockets to hold various medical devises or tools to help people.
Cargo shorts are a short length version of the cargo trouser. They are essentially the same, but are sewn as shorts rather than as long pants. Some cargo pants are made with removable lower legs allowing the conversion into shorts. This can turn a long pant into a short with general ease. They are typically secured with zippers, but could also be buttons, Velcro, or another fastening method. Shorts are a garment worn by both men and women over their pelvic area, circling the waist and splitting to cover the upper part of the legs, sometimes extending down to the knees but not covering the entire length of the leg. They are called "shorts" because they are a shortened version of trousers, which cover the entire leg. Cargo shorts are cargo pants shortened at the knee.
If you are looking to purchase this kind of pant, you can often find them at stores such as Cabelas, Old Navy, Target, Walmart, Kohls, and obviously Amazon.
You may also want to learn about chino pants, capris and khaki pants.
Learn more about different types of pants such as yoga pants which come in the capri style.
You may want to also learn about cropped pants.
Are cargo pants the same thing as carpenter pants?
Fashion Products Fashion Products A-F Fashion Products C
---
Are you a fashion influencer?

Copyright 1999-2019 Apparel Search Company. All Rights Reserved.