Denim Skirts or Jean Skirts
This type of skirt has many different styles, colors & lengths. As with most clothing styles, this kind of skirt comes In and out of style from time to time. If you want to know if denim skirts are in style this year, you may have to check somewhere else. The purpose of this page is to describe this type of apparel. It is not to decide if it is fashionable this season or not.
A skirt is a tube- or cone-shaped garment that hangs from the waist or hips and covers all or part of the legs. The hemline of skirts can vary from micro or mini to floor-length and can vary according to cultural conceptions of modesty and aesthetics as well as the wearer's personal taste, which can be influenced by such factors as fashion and social context. Most skirts are self-standing garments, but some skirt-looking panels may be part of another garment such as leggings, shorts, or swimsuits.
A denim skirt, sometimes referred to as a "jean skirt" or in the plural "jeans skirt", is a skirt that is obviously made of denim, the same material as blue jeans. Denim is a sturdy cotton warp-faced textile in which the weft passes under two or more warp threads. This twill weaving produces a diagonal ribbing that distinguishes it from cotton duck. The most common denim is indigo denim, in which the warp thread is dyed, while the weft thread is left white. As a result of the warp-faced twill weaving, one side of the textile is dominated by the blue warp threads and the other side is dominated by the white weft threads. This causes blue jeans to be white on the inside. The indigo dyeing process, in which the core of the warp threads remains white, creates denim's signature fading characteristics.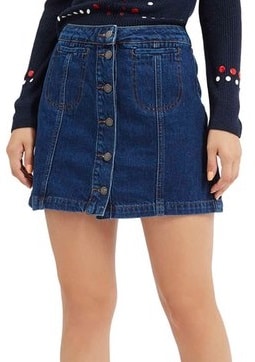 Denim skirts come in a variety of styles and lengths to suit different populations and occasions. For example, full-length denim skirts are commonly worn by women whose religious beliefs prohibit them from wearing trousers for one reason or another. Shorter skirts made of denim are commonly worn by teenagers and young adults. However, the length of a skirt is not dictated by age. It is more base on personal preference. Similar to jeans, denim skirts will vary in different shades of blue, ranging from very pale to very dark. Additionally they can be made with a variety of other colors in addition to blue. The fabric can also be treated to look acid washed or distressed in various ways (including rips).
Some jean skirts are modeled after a particular style of jeans. For example, they may be designed and manufactured with a front fly, belt loops, back pockets, etc. Other denim skirt designs are constructed more like other types of skirts, with a column of front button, closures on the side or back, or possibly elastic waists.
What is the origin of the jean skirt?
Would you believe me if we told you that the hippies of the 1960's came up with the fantastic idea? In the 1960s, hippies came up with the idea of recycling old denim jeans into long denim skirts, by opening the inseams, and inserting pieces of triangular denim (or any other fabric) in the front and back (unless a tall slit in back was preferred).
Denim skirts were first introduced in mainstream fashion lines in the 1970s, and since then have grown in popularity. Circa-1983, denim miniskirts—with a pencil skirt silhouette—became a popular teenage fashion. They were initially in darker blues, but eventually pinstripes (light blue on darker blue, red on black) and acid wash. The trend lasted through the mid-1980s, until the late 1980s when knit miniskirts became dominant. The popularity of denim skirts waned in the tail end of the 1980s until re-emerging in the latter portion of the 1990s. The denim miniskirt of the early 21st century was shorter than its 1980s counterpart. As with many other fashion trends, the popularity comes and goes. Sometimes trends last for months, years, or decades. In your opinion, are they stylish this year?
The many styles of denim skirt: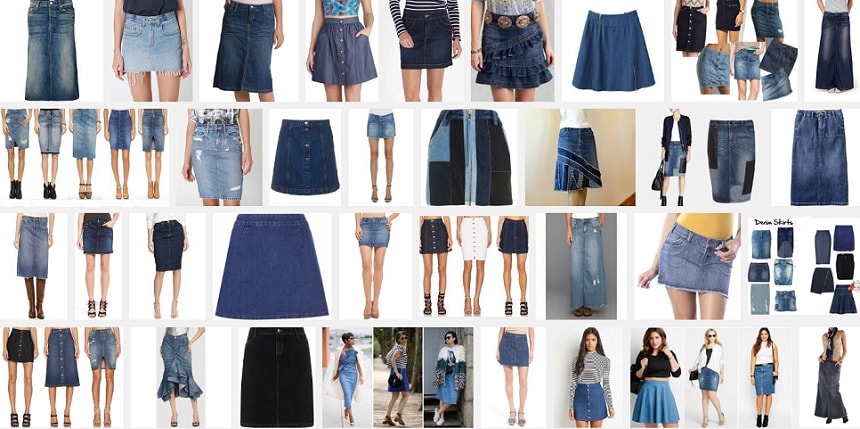 Like skirts in general, there are many different variations. Color, styling, fabric finishes, and embellishments.
The classic style of a denim skirt resembles a common pair of jeans, with a front fly, a fitted waist, belt loops, and pockets. Although that is the classic version, it is most definitely not the only version. There has been wide variety of other styles constructed over the years to resemble many other types of skirts.
Several types of skirts are more common in denim than in other fabrics—they typically include skirts with a variety of panels, going beyond the four panels most common with other fabrics. These include chevron, diagonal, diamond, horizontal, multiple vertical panels, and combinations of the above. Denim skirts not made from pants are often designed as though they were made from pants, i.e. with front and back triangular denim panels.
To tone down the rough and somewhat masculine look of the denim fabric, denim skirts are sometimes designed with alternating cloth panels, which can be diagonal, triangular, vertical, or there can be cloth panel trim at the bottom of the skirt.
Some garments are made in more than one fabric. However, that can be tricky because if fabric shrinkage occurs, it generally effects different fabric constructions or fibers differently. Therefore, it would not be a good idea to make one garment with two types of fabrics that have a significant difference in regard to shrinkage. Similar concept regarding how the fabric color fades. This could potentially become an issue.
To make the basic denim skirt look more feminine, denim skirts are often trimmed with fringes, lace, leather fringes, or decorated with embroidery, patchwork, rhinestones, graphic text, or even painting. Screen prints designs are generally rare on denim skirts, but not impossible. Deviating from the front fly and button closure is common though, with back or side zippers or a column of front buttons (on a "fake" fly) being common.
Ripped, distressed or the destroyed look from the jeans market is often used with skirts as well. The ripped and distressed look is typically more common with short denim skirts than with long ones.
Another style shared with jeans and jeans cutoffs, but maybe even more popular in denim skirts, is the rough hem. This is achieved by not hemming the skirt (or undoing or cutting off the existing hem) and washing the skirt by machine several times. The resulting edge of the skirt will have a frayed or unraveling look, popular with teenagers and young women. The longer unraveled threads are usually cut off for an even fuzzy look or can be left at varying lengths to add to the disheveled look. Many teenagers leave the stray threads hanging on their shorter skirts.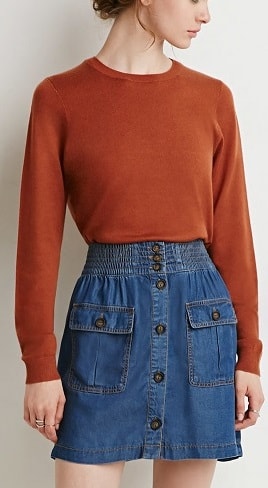 Do you find short denim skirts appealing?
If you are interested, you may want to visit the short skirts & maxi skirt pages as well.
Well dressed fashionistas have an influence on fashion and on the world around them.
Fashion Products Fashion Products A-F Fashion Products D
---
Return to the Influence Fashion home page.

Copyright 1999-2023 Apparel Search Company. All Rights Reserved.