The 1970's was a decade of importance to fashion...
When I think of the 1970's Fashion, I think of loud clothing in synthetic fabrics such as polyester. Platform shoes, disco fashion, and poly was the rage... Let's learn more about the 70's.
1970's Fashion History : 1970s fashion, which began with a continuation of the mini skirts, bell-bottoms and the hippie look from the late 1960s, was soon sharply characterised by several distinct fashion trends that have left an indelible image of the decade commemorated in popular culture. These include platform shoes which appeared on the fashion scene in 1971 and often had soles 2-4 inches thick. These were worn by both men and women (Personally, I hope the trend of men wearing platform shoes does not return). Wide-legged, flared jeans and trousers were another fashion mainstay for both sexes throughout most of the decade of the 70's.
Research 1970's Women's Fashion.
Research 1970's Men's Fashion.
In 1971, extremely brief, tight-fitting shorts, called hot pants, were a fashion craze for girls and young women.
On the international scene, in Britain and the urban United States, from 1972-1974, fashions were inspired by extravagantly-dressed glam rock stars.

Women's Fashion of the 1970's was highlighted by high-waisted, flared satin trousers or denims, the latter usually decorated with rhinestones, tight lurex halter tops, metallic-coloured lamé and antique velvet dresses, satin hot pants, sequined bra tops. It was an era of disco fashion.
Another trend for both sexes was the fitted blazer, which flared slightly at the hip. It came in a variety of fabrics, including wool, velvet, suede, and leather. The buttons were covered and the lapels wide.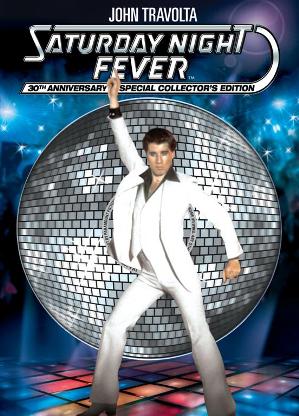 By 1970 women chose who they wanted to be and if they felt like wearing a short mini skirt one day and a maxi dress, midi skirt or hot pants the next day. Women wore, what they wanted in the 70's.
1970's women's fashion and 1970's men's fashion will often be remembered as a time period when disco helped dictate fashion. If you wish to see a glimpse of 1970's fashion, you may want to check the Saturday Night Fever movie.
Trousers and trouser suits were serious fashions in the 1970s. Pants began gently flared and reached wide bell bottom proportions by about 1975. After which they slowly reduced to straight and wide until by the end of the seventies they were finally narrow again.
Learn about Tie-dye. In the 1970's had its share of tie-dye apparel.
footwear also had important trends in 1970's fashion. In the early 1970s platform shoes started with a quite slim sole which moved from ¼ inch up to about 4 inches at the peak of popularity.
In regard to fabrics, polyester was used in a great deal of the 1970's fashion produced. Many people still enjoyed the benefits of natural fiber, but poly did well for clothing companies in the 70's.
1970's fashion was not all about clothing. Hairstyles had also been an important aspect of ones style. The goal appeared to be that you should wear your hair big. Afros and pompadours were the height of disco fashion for men. Long, straight hair or very tightly permed hair was the norm for women. In the 70's, it was also important to make your body sparkle and shine. Many women covered themselves in glitter; and wore makeup in bright and shiny colors. The women of the 70's would apply fake eyelashes and lots of blue eyeshadow (or other colors).
If you lived in the 1970's and had an interest in fashion, you would have been in style if you put on loud clothes in awkward combinations.
You may want to also read our fashion blog post about disco pants.
The 1970's was also marked by fashion trends related to the punk rock scene.
Punk rock was an intentional rebuttal of the perceived excess and pretension found in mainstream music (or even mainstream culture as a whole), and early punk artists' fashion was defiantly anti-materialistic. Generally unkempt, often short hairstyles replaced the long-hair hippie look and the usually elaborate 1970s rock/disco styles. In the United States, dirty, simple clothes - ranging from the T-shirt/jeans/leather jacket Ramones look to the low-class, second-hand "dress" clothes of acts like Television or Patti Smith were preferred over the expensive or colorful clothing popular in the disco scene. In the United Kingdom, a great deal of punk fashion from the 1970s was based on the designs of Vivienne Westwood and Malcolm McLaren and the Bromley Contingent. Mainstream punk style was influenced by clothes sold in Malcolm McLaren's shop. Deliberately offensive T-shirts were popular in the early punk scene. Punk clothing sometimes incorporated everyday objects for aesthetic effect. Purposely ripped clothes were held together by safety pins or wrapped with tape; black bin liners (garbage bags) became dresses, shirts and skirts. Other items added to clothing or as jewellery included razor blades and chains. Leather, rubber and vinyl clothing have been common.
Preferred footwear included military boots, motorcycle boots, brothel creepers, Puma Clydes (suede), Chuck Taylor All-Stars and later, Dr. Martens boots. Tapered jeans, tight leather pants, trousers with leopard patterns were popular choices. Other early punks (most notably The Adicts) imitated the Droogs from A Clockwork Orange by wearing bowler hats and braces. Hair was cropped and deliberately made to look messy, and was often dyed bright unnatural colors. Although provocative, these hairstyles were not as extreme as later punk hairstyles.
Learn more about punk fashion trends.
Below you can educate yourself about another era in fashion:

1550-1600 Fashion History
1970's Fashion History
You may also want to read our article on the Time Line of Fashion From the Victorian Era Through the 1950's
ML111009
You may also want to read about 40 Years of Fashion.
When you are looking at fashion history, you may wish to also consider the future of fashion. You can look toward the current times or toward the future by utilizing fashion forecasting services and color trend forecasting services.
If you enjoy 1960's apparel for men, women, or children, you may have an interest in vintage fashion. Learn more about women's vintage clothing and men's vintage clothing.