Fashion & color go hand in hand. Color trends for fall, and color trends for spring are two constants year after year. The designers as well as consumers are always very eager to know the next top color trends for the season. Will this seasons top contenders be warm orange, forest green, rusty red, sunshine yellow, ocean blue or one of a thousand other options. Explore the world of fashion color trend forecasting.
Fashion designers draw information from magazines, the runway, interior design, and even the automotive & paint industry. The professionals will scour trade show events, wholesale & manufacturing showrooms, retail boutiques, department stores, and more. They also consider consumer moods and what is going on in the world or region culturally.
Are you eager to learn the trendy clothing colors for this year?
How does the fashion industry measure color?
Do you have an eye for fashion or do you need some forecasting tips?
Do you have your eye on fashion?
Fashion Trend Forecasting Tips
Fashion Color Trend Services
☼ The Color Association of the United States :With the growing impact of global communication, the importance of color and its influence on modern life has never been so evident. No business or individual can afford to be color unaware. Large and small corporations have chosen to work with this reliable color service in the US to maximize their business potential. The Color Association is the oldest color forecasting service in the US. Since 1915, the Association has been issuing color reports in elegant, fabric-swatched booklet form. The Color Association forecasting service selects its colors through a committee panel of eight to twelve industry professionals.
---
☼ Color Portfolio: is a full service, dependable, American color and trend company. In existence for over 20 years, color portfolio offers affordable color and trend books to retailers, manufacturers, and allied industries, providing directional and understandable recommendations for successful color, trend, and textile merchandising.
---
☼ Cool Hunt : Led by Chief Editor Cezar Greif, Cool Hunt employs a team of 10 experienced editors and photographers, each based in a different city. Our editors know each city's trends because they are based there all year long, speak the language, and can find out about new ideas & styles much faster than some journalist just visiting for a few days. Using exclusively digital technology, with advance software such as Genuine Fractals, Cool Hunt's innovative delivery system enables magazines to receive text and photos instantly on a single website, making sure publishing deadlines are always met.
---
☼ Design Options: Los Angeles based trend and color forecasting company. Design Options is dedicated to bringing Southern California's unique aesthetic to the world. Color forecasting is a delicate balance of art and intelligence gathering. Careful and thorough analysis goes into every volume of their tri-yearly color report.
---
☼ Fashion Forecast Services: has been operating since 1991 and is now recognised as the leading source for international reports for color and trend services to the fashion and associated industries. Proof of our international focus is our client base which extends throughout Australia and New Zealand, we visit numerous international trade shows each year and are able to offer photo reports to mens and childrenswear markets. Fashion Forecast Services currently supplies these reports to major retailers and manufacturers.
---
☼ Fashion Information : fashioninformation.com is a new concept in fashion reporting published exclusively on the Internet. A great womenswear forecasting and trend reporting service offering a close and detailed insight into fashion trends from a unique perspective.
---
☼ Fashion Snoops: provides online fashion trend reports enriched with tools and practical information for the day-to-day needs of fashion professionals. Market research is done on a daily basis in London, Paris, Amsterdam, Berlin, Tokyo, New York and Los Angeles with occasional coverage from Montreal, Miami and other fashion locations. Fashion Snoops is updated constantly so you can immediately get a true sense of what is happening in Europe the US, Canada and Japan, without leaving the office. Complete merchandised collections around important fashion themes - with runway and store shots that bring together the look and the design details, with suggested Pantone coded colors, as well as sketches prepared by Fashion Snoops' design team that you can download and use in any of your drawing programs (like: Illustrator or Freehand). Collections are updated every second week.
---
☼ Global Color Research: Since 1999, Global Color Research has achieved an excellent position within the trend forecasting market, proving its ability to create reliable color choices for future trends. Through our global networks and in-house team of trend consultants and color specialists, the company aims to make color and trend forecasting accessible to all market sectors, giving businesses a clear view of the future.
---
☼ Insight (UK) Insight is a footwear design and trend service.
---
☼ International color Authority In a complex multi-faceted market place of constantly shifting consumer desires and information overload, it is not surprising that the day to day color picture is one of daunting confusion: of too much choice, too many opinions and often too much guesswork. There is an urgent need for guidance - informed help to formulate an accurate palette which focuses on the most important seasonal colors and provides designers, manufacturers and retailers with a proven, dependable inspiration for their future color thinking. The trends published by INTERNATIONAL color AUTHORITY (ICA) provide precisely this service. Created twice yearly in London by panels of international color specialists and marketed worldwide, ICA provides the apparel and interior textile sectors with directional palettes for womenswear, menswear, leather fashion, furnishings, carpets, paints and decorative effects.
---
☼ Jenkins UK: At Jenkins UK we track the signs of the times and changing trends, analyzing and clarifying consumer tastes to come. We produce a portfolio of inspirational trend books for clients in fashion, interiors, retail and consumer product. Mixing meticulous research with intuition sharpened by experience, our publications provide key directions in color, mood, print/pattern, shape, silhouette, retail and product concepts. Address: 3 Winchester House, Kennington Park Cranmer Road, London SW9 6EJ, UK T: +44 (0)20 7840 5850 F: +44 (0)20 7840 5859 E: editorial@Jenkins-Reports.com
---
☼ Milou Ket: Trend books and consultancy. In 1980 Milou Ket started her own styling and design company, first in Amsterdam, later in Purmerend, 18 kilometers north of Amsterdam. She has been working for different branches for years, putting together fabric and print collections, doing product development for yarn manufacturers, accessories, active sports for Puma and Flaim, and did consultancy work for different retail and buying groups for children, women fashion and sports. For these firms she and her studio also prepared booklets for their members with information about colors, color combinations, developments of yarns, materials and key silhouettes
---
---
☼ Overseas Publishers Representatives (OPR) The Source for Fashion Information since 1933. Showroom/store: 247 West 38th St., 12th floor, New York NY 10018. (212) 564- 3954 (800) 666 -MAGS
Books: Fashion, Graphic, Textile

Fashion Magazines

Color Forecasts

Color and Trend Seminars

Pantone Color Guides

Trend Forecasts
---

☼ Peclers Paris: Fashion forecasting & trend books.
---
---
☼ Sacha Pacha : Trend Books, Design consultancy.
---
☼ SnapFashun Inc.: SnapFashun provides interactive fashion libraries of women's, men's and kid's items based on BGA's 25 years of fashion reporting experience covering the hottest selling items and details from Europe, Los Angeles and runway. All SnapFashun Libraries work as a plug-in for Adobe Illustrator for Mac and Windows. All sketches are drawn to scale allowing for easy manipulation, alteration, and the interchanging of components for quick and accurate design generation. SnapFashun is the #1 software program of its kind in the fashion industry. It works along with Adobe Illustrator to provide a interactive reference library as well as browser to store sketches. All SnapFashun Libraries include both details and items that can be 'snapped together, manipulated, altered and resized, so students can develop their own designs and portfolios. Also it quickly and easily teaches students the indispensable tools of Illustrator that the fashion industry requires. This teamed with their learning the correct names of fashion details and silhouettes is the beginning that gives them the verbal and technical skills required to work in the industry . All libraries include: a hard copy of the contents of the library, a manual, and a CD.Address: 7551 W. Sunset Blvd., Suite 203 L.A., CA 90046 Tel: 323-882-6620 Fax: 323-882-6712 Contact: Bill Glazer Email: sales@snapfashun.com
Trend Forecasting

Design Software
---
☼ The Trend Report: TheTrendReport.com describes and demystifies current styles and trends. Their goal is to separate the hype from reality and bring you an editorial report that is based on fact - reflecting what trendsetting consumers need to know to be trendy.
---
☼ Tobe Report The Tobe Report is considered the fashion industry's leading and most respected fashion/merchandising publication for retailers. Often referred to as the "bible of the fashion industry," The Tobe Report's editors analyze every facet of the women's, children's, men's apparel and accessories markets. The Tobe Report, in business since 1927, is published 38 times per year, and subscribed to by retailers throughout the world. Tobe clients range from top line department and specialty stores, to mass merchants, chain stores, fashion press, colleges and universities.
---
☼ Trend Stop: One of the most fashion-forward fashion trend forecasts provider online. Seasonal trend forecasts, retail reporting & accurate trend analysis. Street Style, Store photos and runway photos from New York, Milan, Paris, London, Tokyo and more.
---
☼ Trends West Los Angeles Barbra Night, a former fashion editor at California Apparel News, created TRENDS WEST in the mid l980's to provide extensive coverage on Los Angeles. AT RETAIL and WHAT'S HOT L.A. Since then, Trends West Notebooks have become a vital tool for major manufacturers and retailers around the globe. Published monthly, 12 times per year (Trends West Man is published every other month, six times per year), each issue is item driven and designed to provide both inspiration and direction on every page. In addition, Trends West offers many different category photo packs (Screens, Licensed Product, Accessories, Children's, Denim, Shoes, Lingerie/sleep, Swim and more), great for zeroing in on specific and individual needs as well as a unique sample buying service that ensures clients have exactly what (as in key items) they need, as and when they need them. Trends West Los Angeles focuses not only on key items, but also on the re-interpretation time and time again. Trends West Los Angeles is committed to shopping the stores and scouring the streets each and every day with one goal in mind... to save you time and maximize your efforts while shopping L.A...the place where real trends begin! Address: 8425 West Third Street #301 Los Angeles CA 90048 Phone 323-655-2200 Fax 323-655-2203
---
☼ Trendease International : is a new online design and fashion publication. They travel extensively to gather visions and digital images from shops, showrooms, trade fairs, exhibits, and fashion shows in all the major European fashion capitals: Paris, London, Milan and many others. Trendease aims to inspire through the use of these images accompanied by interviews and articles.
---
☼ Worth Global Style Network (WGSN): WGSN is the leading global service providing online research, trend analysis and news to the fashion, design and style industries. Launched in early 1998 by founders Julian and Marc Worth, WGSN is sweeping the style industry, being viewed as one of the most dynamic and successful service to emerge online. Their staff travels extensively on behalf of subscribers and works with a network of experienced writers, photographers, researchers, analysts and trendspotters in cities around the world, tracking the latest stores, designers, brands, trends and business innovations.
Fashion, Color, Trend Books Guide
Learn more about color trends.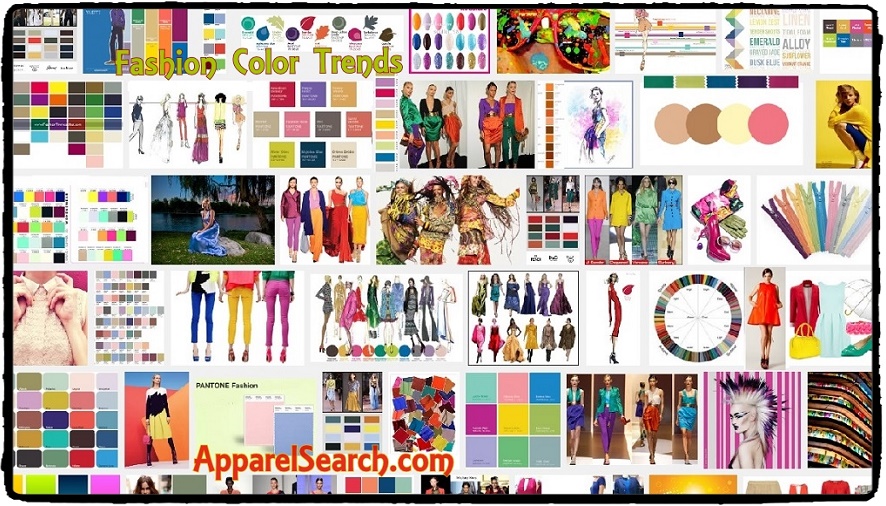 Thank you for visiting our Color Trends & Forecasting Services directory. If you have not found all the information you are searching for, please also try the Fashion Forecasting section.
What are the latest fashion trends?

Check out some of the latest fashion trends and fashion news regarding leading international fashion designers.
Thank you for using the Apparel Search website to learn more about color.