Artworks expresses the author's imaginative or technical skill, intended to be appreciated for beauty or emotional power. A fashion industry artist uses his or her skills to design clothing, accessories, product packaging, advertising, logos, etc. An artist is a person engaged in an activity related to creating art, practicing the arts, or demonstrating an art. Designing fashion is most definitely an art form.
This section of the Apparel Search directory is intended to provide resources to fashion artists and fashion designers. In addition, this section provides resources for fashion companies to locate qualified artists and designers that specialize in fashion or textile related projects.
Fashion Industry Network: the fashion industry network is a business networking site. Members of the network work in the clothing industry or textile industry, or have a very strong interest in style.
Design Agencies - Design Firms
Graphic Designers - Graphic Artists
Artist Links of Interest - Design Portals etc.
Window Design For Clothing Stores
Fashion Industry Job Descriptions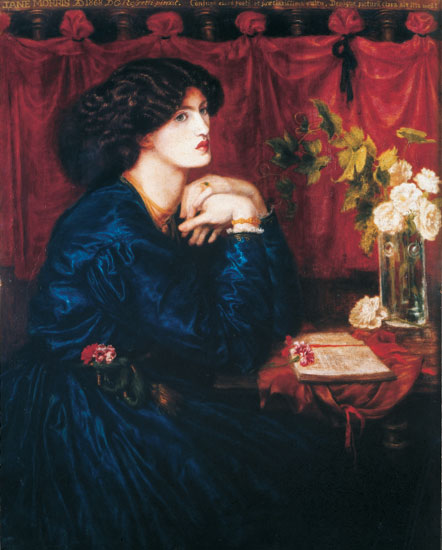 'Jane Morris (The Blue Silk Dress)' by
Dante Gabriel Rossetti. Oil on canvas, dated 1868. The Society of Antiquaries of London (Kelmscott Manor). Image from The Walker Art Gallery
Nearly one-third of designers are self-employed which is almost five times the proportion for all professional and related occupations.
Creativity is crucial in all design occupations; most designers need a bachelor's degree, and candidates with a master's degree hold an advantage.
Keen competition is expected for most jobs, despite average projected employment growth, because many talented individuals are attracted to careers as designers.
Fashion Artist & Design Element Job Descriptions
Do you wish to make or create art as an occupation. Working as an apparel industry artist can be a rewarding career path.
More Fashion Industry Job Descriptions
Learn How to Become a Fashion Designer
Find a Fashion Industry Artist to assist you with the following and more.
Technical Drawings and Renderings
Render technical drawings with all dimensions and written instructions needed to produce prototype. High quality renderings and fashion illustrations suitable for scanning or faxing.
Concept boards / Presentation Boards
Targeted seasonal concept-boards developed specifically for client. Representation of global inspiration thru aesthetic references and emotional signifiers found in the worlds of fashion, home, sports and automotive industries.
Product Art Direction
Provide photographic and illustration service for catalogue. Conceptualize and art direct product-driven catalogue and marketing media.
The following terms and definitions may be of help to you.
Learn about Fashion Design Studios in our fashion terms section.
Thank you for using the Apparel Search website.