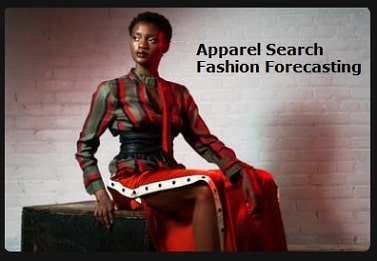 If you are looking for a complete and accurate view into what is selling, where, to whom and why, welcome to the club. In addition to knowing what is currently happening in the market, fashion designers and the clothing industry in general typically wants to plan ahead as best possible. We are always eager to know what consumers want to buy "next season", or "next year". Sure we want to know what is happening now, but we also must try to forecast the future. Can you see the future?
Many of the world's most successful companies rely on services that provide insight on what is selling, where and why so that they can understand and leverage the latest trends. They also rely on various techniques to help forecast future trends. In the apparel industry this is typically referenced as fashion trend forecasting, color forecasting, or simply trend forecasting.
Some companies share market information and its far-reaching benefits across a wide range of vertical markets, including fashion, footwear, accessories, beauty products and more. In this section of our website, we present some of these such companies for your evaluation.
Fashion Forecasting for Consumers & the Apparel Industry
If you are a consumer of fashion you may want to visit our fashion trend tips section.
Learn about color trends.
See the trendy fashion that the fashion celebrities are wearing this season.
Don't forget to check the Pinterest Pinterst Fashion Trend Boards section.
Predicting future fashion trends is an extremely important aspect of the fashion market. Selecting the proper fabrics, colors, and silhouettes for next season is certainly a critical matter for anyone involved in fashion design. Unfortunately, the crystal ball method does not always work adequately. Therefore, members of the fashion industry often must turn to other resources. In order for a fashion designer to improve their odds of success, they utilize various methods in the attempt to stay on trend.
The fashion forecasting services section on Apparel Search is a directory of trend services for the fashion industry. This guide contains numerous resources from around the globe. You will find large scale services as well as boutique services that have fewer offices but a strong dedication to service and style.
Here are a few fashion trend forecasting resources:
Fashion Forecasting Guide for the Fashion Industry
Carlin Groupe: dedicated to fashion trends. Their web site is in both English and French.

---
Committee for Color & Trends
Beyond the seasonal trend analysis and forecasting guides, the Committee for color and Trends offers services that are specifically organized for designers, merchandisers, manufacturers, wholesalers, importers, buying offices, retailers and trade show organizers.
---
Doneger Creative Services
, the trend and color forecasting and analysis division of The Doneger Group, offers a broad range of products and services in keeping with the direction of the industry. Their Creative Directors cover the apparel, accessories and lifestyle markets in the Women's, Men's and Youth categories through printed publications, online content and live presentations. This division addresses the needs of retailers, manufacturers and other style-related businesses.
---
Fashion Snoops
Fashion Snoops is the creator and the force behind fashionsnoops.com, a leading online forecasting and fashion trend analysis service covering the young men's, denim, junior ladies', children's, and infant & toddler markets. Fashion Snoops was created by experienced designers and merchandisers to bring practical inspiration to creative teams in fashion and licensing companies. Through its Creative Services Division, Fashion Snoops goes beyond the Internet lines to provide a wide variety of consulting and outsourced services in the areas of research, design, merchandising, styling and graphic art. Established in 2001, Fashion Snoops serves hundreds of leading fashion companies in the USA , Canada, Europe, Australia, Asia and South America .
---
Keyshapes Limited (United Kingdo) : keyshapes.com is a new exciting and inspirational online footwear information service, with complete Ladies, Men's, Kid's Sport and Youth/street trend reporting, along with editable footwear key shape designs. Address: Palladium House, 1-4 Argyll Street, London, W1F 7LD, United Kingdom Telephone: +44 (0)203 174 0050 Email: angus@keyshapes.com or enquiries@keyshapes.com Contact Name: Angus Linley-Hill (Managing Director) or Dawn Linley-Hill (Design Director). In summary, keyshapes.com services include:
Trends - Detailed in-depth analysis of latest footwear trends and colors arising from the seasonal Ready-to-Wear catwalk shows as well as monthly trend reporting on the ever changing retail scene for Ladies', Men's, Kid's, Sport and Youth / Street!
Keyshapes - Detailed editable footwear illustrations and specifications associated with the detailed trend reports are made available for downloaded and that can be manipulated utilizing design programs such as Illustrator!
Catwalk - Comprehensive coverage of footwear on show at the respective Ladies and Men's seasonal Ready-to-Wear fashion shows held in New York London, Milan and Paris!
Retail - Continuous footwear retail coverage from the major innovative fashion centres across Europe and the USA, incorporating high-quality photographs with in-depth competitive analysis reports on forward-moving and emerging footwear trends!
Apparel Links

Trend Forecasting
---
kjaer global : Kjaer Global is the leading international trend forecasting agency helping people navigate the future. They specialize in strategic trend platforms and tools assisting companies in developing future focused concepts and consumer centric strategies.
---
Le Book : a guide for fashion trends as well as an inspiration for fashion designers, art directors, fashion magazines, fashion industry stylists etc.
---
Mudpie Design (United Kingdom) is the creator of Mpdclick.com a leading commercial online fashion trend forecasting service, offering design, fashion and retail professionals the global creative intelligence needed to succeed. With daily updates and in-depth photographic reports on global fashion, consumer, lifestyle and color trends, industry news and business analysis, trade fairs, retail destinations, major runway shows and cultural influences on trends and fashion, plus access to your very own downloadable graphic, print and garment shape resource library, Mpdclick is a low cost way of increasing the productivity of your team by providing them with up-to-date trend information and market research available 24 hours a day. With 18 years experience working with retailers, manufacturers and suppliers across the world, Mudpie understands what its customers need and how to deliver practical, reliable and affordable solutions for your business. Contact: Jo Little E-mail: jo.little@mudpie.co.uk Request a free trial online at www.mpdclick.com or ask your nearest agent to set one up for you.
---
Music City Fashion Design : Music City Fashion Design is a full stack front end fashion design agency with specialties in womenswear, menswear, lingerie, and swim. With over 35yrs of combined experience, their designers are able to tackle any apparel design project. Clients lean heavily on their 3D modeling which helps cut down the sample process and lends to a more sustainable development process. Their services include: Trend forecasting, Line Development, Technical Sketches, 3D Modeling, Patterns, Tech Packs. Address: 6688 Nolensville Rd #108-42 Brentwood, TN 37027 Phone: 615-200-0076 Email: Ryan@musiccityfashiondesign.com Contact Name: Ryan Paradis
Trend Forecasting Service
Technical Fashion Drawing
3D Modeling
---
Next Trim: Next Trim is an online subscription service (they don't sell any trim) that keeps track of what all major fashion brands are doing with their trim, labeling and marketing design. They have a global team that collects and shows images of the best new designs for trim and apparel detailing (pocket designs, sewing treatments, decorations etc...) and catalogs them through the web site. They also track all of the trends in apparel trim and packaging, as well as the newest ideas and concepts. They add hundreds of new items every week fresh from the largest as well as most innovative brands from Europe, the US and Japan. Their service is a way for your designers, merchandisers and marketers to stay on top of the latest and best in the world of fashion trim without leaving their desks - they bring it all to you. Their service is of value to anyone involved with apparel design, merchandising, labeling and marketing design as well as trim specification and purchasing. Address: P.O. Box 1610 Pacific Palisades, CA 90272 Tel: 310.230.8448 wendy@nexttrim.com
Merchandising

Trend Forecasting
---
Overseas Publishers Representatives
(OPR) The Source for Fashion Information since 1933. Showroom/store: 247 West 38th St., 12th floor, New York NY 10018. (212) 564- 3954 (800) 666 -MAGS
Books: Fashion, Graphic, Textile
Fashion Magazines
Color Forecasts
Color and Trend Seminars
Pantone Color Guides
Trend Forecasts
---
Peclers Paris: Peclers Paris is the leading international trend forecasting agency, offering both consultancy services and a line of trend publications, deciphering consumer expectations for all markets. Address: 155 West Washington Blvd, Los Angeles, CA 90015 Phone 323.333.5279 Fax 213.741.0323 E-mail ssbrady75@earthlink.net Contact : Sarah Brady
---
Sacha Pacha : they provide trend books, and fashion trend consulting services. In addition, they provide fashion design services.
---
SnapFashun : BGA/snapFashun your source for Los Angeles and European retail reporting, merchandising and original design. An up-to-the-minute, close-up look at the hottest-selling items in the trendiest cities. BGA's newest product, EyeSpy covers the hottest-selling items and details from Europe and Los Angeles in a unique digital format that includes photos, movies, and sketches. SnapFashun are the publishers of the SnapFashun Library. No other service satisfies the needs of designers and manufacturers for a continuous stream of updated fashion information. They have also launched in 2007, Style Lens.
---
Stylesight : Stylesight is a team of seasoned and accomplished industry insiders whose extensive careers traverse the fields of fashion design, trend analysis, forecasting, reporting, merchandising and apparel manufacturing. They understand the business of fashion and fashion as a business. They make the some times tedious work of fashion research immediate, painless and enjoyable. Their content provides everything a merchandiser and designer needs to assess current trends, collaborate and analyze their trend forecasts and reporting for effective results during your design cycle.
---
Tobe Report Tobe is an international fashion and retail consulting service. Their clients depend on them for reality-based strategies and utilize them as an indispensable senior-level management tool. Consumer behavior is at the heart of their research and analysis. Tobe clients include top line department and specialty stores, mass merchants, chain stores, fashion press as well as colleges and universities. Tobe provides in-depth fashion and retail analysis, trend forecasting, product and brand development, merchandising and strategic planning and market news. For over 75 years, Tobe's experienced, respected retail consultants have monitored the global marketplace with an unbiased eye. T obe publishes The Tobe Report, the fashion industry's leading and most respected fashion consulting publication for retailers. The Tobe team analyzes markets and businesses including women's, children's, men's apparel, accessories, home, lifestyle, textiles, colors, e-commerce and multi-channel retailing.
---
Trend Bible (United Kingdom) : Trend Bible is a new generation trend forecasting service for the home, gift and packaging industry. They forecast lifestyle trends using a 'magpie' approach, fusing the work of up and coming designers with unique vintage finds. Trend Bible is published twice a year and is supported with monthly online trend updates so that clients can work closely to the season, enabling buyers and designers to offer their customer new products, more often. Each issue features 4 key directions including color palettes, fabric, wallpaper, flooring and trim samples and a CD Rom containing all imagery appearing in the book. Trend Bible provides worldwide clients with up to the minute forecasts so that they can make informed decisions about their business and minimize risk. They know the customer and they know the market, but they also know they evolve and why. It's their job to keep you ahead of these changes. e-mail : enquiries@trendbible.co.uk Contact: Joanna Feeley Trend Bible +44 (0) 191 241 9939
---
Trend Council : Trend Council is a niche online forecasting service that provides valuable color and trend information to help you make accurate decisions for your business based on factual analysis by industry leaders. Trend Council focuses on the Ladies, Juniors, Mens, Young Mens, and Active markets. Address 430 W 24th St suite 1B NYC 10018 Phone 917 710-6466 E-mail info@trendcouncil.com Contact: Mitchell Kass
---
Trendzine (FashionInformation.com) is a new concept in fashion reporting published exclusively on the Internet. A womenswear forecasting and trend reporting service offering a close and detailed insight into fashion trends from a unique perspective. Trendzine is a fashion information service that offers effective and what they state to be, "highly accurate" trend predictions to the fashion, style and related industries. Reports are creative, inspiring and highly focused on product. Fashion intelligence and industry experience shape the reports, providing comprehensive coverage and analysis of current and future fashion trends.
---
Trend Stop : Latest fashion trend forecasts, trend analysis and fashion retail store trends, street fashion trends, runway photos and catwalk trend reports. trendstop.com is a leading online trend forecasting and analysis service, renowned for the quality and accuracy of their trend analysis and trend forecasts. With access to their vast image galleries, focused key trend reports, emerging trends and major themes updates, their subscribers are always ahead of the trend. Visit their site to take the tour and request a demo to see for yourself.
---
Trends West Los Angeles Barbra Night, a former fashion editor at California Apparel News, created TRENDS WEST in the mid l980's to provide extensive coverage on Los Angeles. AT RETAIL and WHAT'S HOT L.A. Since then, Trends West Notebooks have become a vital tool for major manufacturers and retailers around the globe. Published monthly, 12 times per year (Trends West Man is published every other month, six times per year), each issue is item driven and designed to provide both inspiration and direction on every page. In addition, Trends West offers many different category photo packs (Screens, Licensed Product, Accessories, Children's, Denim, Shoes, Lingerie/sleep, Swim and more), great for zeroing in on specific and individual needs as well as a unique sample buying service that ensures clients have exactly what (as in key items) they need, as and when they need them. Trends West Los Angeles focuses not only on key items, but also on the re-interpretation time and time again. Trends West Los Angeles is committed to shopping the stores and scouring the streets each and every day with one goal in mind... to save you time and maximize your efforts while shopping L.A...the place where real trends begin! Address: 8425 West Third Street #301 Los Angeles CA 90048 Phone 323-655-2200 Fax 323-655-2203
---
WGSN Worth Global Style Network : WGSN is the leading global service providing online research, trend analysis and news to the fashion, design and style industries. Launched in early 1998 by founders Julian and Marc Worth, WGSN is sweeping the style industry, being viewed as one of the most dynamic and successful service to emerge online. Their staff travels extensively on behalf of subscribers and works with a network of experienced writers, photographers, researchers, analysts and trendspotters in cities around the world, tracking the latest stores, designers, brands, trends and business innovations.
---
Zandl Group : Based in New York, they are a boutique agency that has been providing trends analysis, consumer research and marketing direction since 1986 for businesses and advertising agencies that need to reach the 82 million young adults, teens and tweens in the United States. Trends and tastes in the youth market are constantly changing. To keep you a step ahead of the game, they publish THE HOT SHEET, a bimonthly trend report on young people between the ages of 8 and 24.
Learn more about fashion trend tools:
Fashion forecasting resources help predict trends in the fashion industry. The key word being that they "help". They are unfortunately not full proof. However, they do offer much needed guidance. Because no single trend tool is guaranteed, it is of our opinion that you should utilize many resources. Here are a few suggestions:
Fashion News : It is important to stay up to date in regard to what is happening in the world of fashion. One way to keep you finger on the pulse would be to read fashion news on a daily or at least weekly basis. You can find daily news from resources such as the WWD and many other online fashion news resources. Read about trends in fashion in our news articles section.
Fashion Blogs : Although fashion blogs are not as traditional as reading fashion news in a fashion newspaper or magazine, the fashion blogs are excellent resources for learning about fashion. One of our favorite places to search for trend advice is the fashion industry blog on the Fashion Industry Network. By the way, if you blog about fashion and trends, you are welcome to join in the discussions at the fashion bloggers group section on FIN.
Check out the Apparel Search fashion blog.
Another excellent place to learn about the latest trends in style is by viewing various style blogs.
Fashion Events : To forecast future fashion trends, it is a good idea to continuously keep an eye on fashion. In addition to the ways listed above, it is suggested that you keep a careful watch on what other designers are up to. One way to do this is to attend fashion events such as fashion week, trade shows, product launch parties, etc. You can find industry fashion events at website such as the fashion industry calendar.
What fabrics and styles will be popular next season or next year? Well, that is certainly the million dollar (or billion dollar) question. Design firms and retail markets utilize forecasting services to predict trends in color and fashion. They do this with the sole purpose in mind of NOT losing money. For example, a fashion retailer can certainly lose a great deal of money if they wrongly determine that florescent orange is going to be a hot color next year. If they put all of their eggs in that basket and the trend prediction is incorrect, they will most likely lose a great deal of money (and respect from consumers).
Another way to attempt to predict future fashion trends is to research current fashion trends. By evaluating where the market is currently trending, you can estimate the possible direction for your trend forecasting. If you are researching the United States market, you may want to check the United States Fashion Trends Guide to evaluate what is on trend from state to state. Obviously, you may want to focus your attention on key markets such as New York, Los Angeles, Chicago, etc. If you are more interested in international trends, you may want to learn more about Hong Kong, India, Italy, France, etc. If that is the case, you may want to view photos or videos from the various international fashion week events.
The fashion forecaster combines his or her own knowledge of fashion design, historical references, as well as current consumer business information. If you work in the apparel industry but do not think you have the appropriate skill set to forecast trends for your business, you can always seek outside assistance. Do not hesitate to contact a professional fashion trend forecasting company if you believe help is needed.
Thank you for visiting our Fashion Forecasting Services directory. If you have not found all the information you are searching for, please also try the Color Trends & Forecasting section.
Take a glimpse into the past with the resources below. The history of fashion does have relevance to future fashion trends.
RJ Europe Fashion Trip September 2009
RJ Europe Fashion Trip September 2008
Check out some of the latest fashion trends and fashion news regarding leading international fashion designers.
What clothing trends, colors and fabric styles will be popular this year? Equally as important, what will be the fashion trend next year? Fashion forecasting resources help predict trends in the fashion industry. The fashion forecaster must combine his or her own knowledge of fashion design and history along with consumer business information. Design firms and retail markets utilize forecasting services to predict trends in color, fashion and fabric. No company has a crystal ball to see the future of fashion, however these companies may at least be a step ahead of you. It can't hurt to contact them to learn more about their fashion forecasting services.
Thank you for taking the time to learn more about fashion trend forecasting here on Apparel Search.