Patternmaking & Consulting Service - 50 Frequently Asked Questions At Our Site From 25 Years Experience.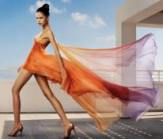 We take you from your initial design idea through production.
Product Development.
Patterns of all types with flat sketch.
Fittings
Production Made in USA
Author of "Guide to Starting a Fashion Company" with great reviews.
Phone 201 944 2885 Contact: cheriebixler@gmail.com
Visit: www.cheriebixler.com
Pattern making is a rather complex task that involves complex thinking and proper engineering. Pattern makers must be technical and accurate with the patterns that they develop. The garment manufacturing process relies heavily on the pattern maker and their creations. Patterns are templates used to create clothing, footwear, and fashion accessories. The people that make the patterns are pattern makers.
Patterns, Grading, Markers, Nesting
Search for pattern making relevant job categories. You can search for employment as a Pattern Maker, Grader, Fit Model or Marker Maker.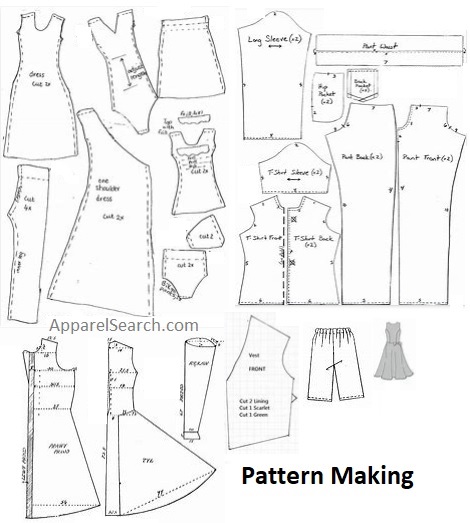 Additional resources of interest:
Computer Assisted Design (CAD)
Custom Fit Clothing Technology

Manufacturing resources:
Machinery (sewing , cutting etc.)
Quality Testing / Quality Standards
More Educational Information about:
Patterns, Marking, Pattern Design, Plotting, Material Utilization, Pattern Making, Grading, and Marker Making.
You may need help with measurement specifications, grading, market making, plotting, data transfer, as well as pattern making services. Make sure to contact a good pattern maker to help you develop wonderful garments.
Pattern Making Service Providers
Review the listings below to find a wide variety of clothing pattern makers. Find a professional pattern maker to assist you with your next project.

AAA Patterns & Marking Services: their company provides quality pattern making, grading and marking services to apparel manufacturing and cutting facilities nationwide. Their pattern maker has worked in the designer dress shirt and sportswear brands, workwear and career apparel as well as healthcare textiles, apparel, surgical, and incontinence care. He is well aware of the time constraints within the industry and will deliver quality service with quick turnaround. Address: 347 N. Merrick Ave. Ozark, AL. 36360 USA Phone: 334-445-4870 or toll free: Phone # 866-445-4870 Email: patterns@aaapatternsmarking.com Contact: Michael Smith, Pattern Maker
---

Abstract Graphics / Robko LLC: Abstract Graphics is a full service private label manufacturer with complete embellishment services. With over 30 years experience in mens, ladies and childrens apparel they can provide complete packages. From pattern making, grading, markers, sample making, cut and sew to finishing the garment with quality contract screen printing, caviar beads or embroidery. They can also direct ship to your customer. Garment dye and garment wash available. T-shirts, sport shirts, oxfords, onesies, sweatshirts, camp shirts, rib t-shirts, sports specialty wear are just a few of the garments they can manufacture. Address: 214 Oak St. Nazareth, PA 18064 Phone Number - 1.8.PROMO.TEES Fax - 610.746.5563 Contact: Manufacturing Services and Embellishment Services - Art Rader, President, Email art@customapparelzone.com
USA Factory
Garment Washing
Garment Dyeing
Sample Making
Pattern Making
Cutting
Sewing
---

Ace Apparel (Korea) Address: 501 Baegun Bldg. 84-39 Sangbong-dong, Jungnang-gu, Seoul, Korea Phone:82-2-2209-5915 Fax:82-2-2209-7636 E-mail:apparel@pattern-cad.com Contact : Mo Duck Won Founded in 2001, Pattern-cad.com uses special CAD equipments for clothing products to provide pattern design, grading and marking services to vendors in the US, Japan and European countries. They have patternmakers with over 20 years of experiences. These patternmakers design almost every basic pattern for knit, denim, children's wear, women's wear and men's wear on the basis of the sketches provided by buyers. By using CAD according to the required specifications, the patterns can be produced, edited and maintained per each size. These patterns are placed in their database for management. They perform operations by using OptiTex, Gerber, Lectra, Auto CAD and illustrator, etc. The patterns are either sent through e-mail to theircustomers or can be downloaded through website for actual size printing.
---

Acme Design New York: Acme Design New York is a high end sample room offering full support for services ranging from design to production in the apparel industry. They are a new generation of innovative fashion engineers fully committed to promoting 'Made in New York' garment manufacturing. They specialize in small productions with no minimums, curating their expertise for new designers to allow them a voice in a saturated market. Their services include, but are not limited to: design development for menswear and womenswear (including mood and trend research), design sketching, fabric and trim sourcing, creation of tech packs for sampling and production in domestic and overseas factories, patternmaking, draping, sample making, production management. Address: 307 West 38th Street, Suite 801 New York, NY 10018 Phone: 646 571 0166 E-mail: acme@acmedesignny.com Contact: Jenni Han
Sample Making
Pattern Making
---

Action Pattern Service Address: 519 8th Avenue, New York, NY, 10018 Phone: (212) 465-9040 Email: Sabuke@aol.com
---

A Plus Patterns, Inc.: A Plus Patterns offers a wide variety of services to assist startup, existing, and growing businesses achieve their goals. Whatever your current business model is, the A Plus team will work together with companies and individuals to implement the perfect blend of products and services in order to achieve your vision. Address: 834 S. Broadway, Suite 406, Los Angeles, CA 90014
Phone: 213-629-0200 Fax: 213-629-0201 E-mail: service@apluspatterns.com Contact: Bruce
CONSULTING





DESIGN




-Trend Forecasting




-Sourcing




-Graphics





DEVELOPMENT




-Technical Design




-First Patterns




-First Prototypes


-

Sendouts

MERCHANDISING AND SALES




-Line Sheets




-Look Books




-Duplicates




-Costing





PRODUCTION




-Production Pattern




-Technical Package




-Grading and Marking




-Cut and Sew
---

Apparel Agency: The Apparel Agency offers product design, development and production services for the fashion industry in one cohesive environment to include pattern making, cutting, sewing and full service manufacturing. They help fashion designers create not just a quality product, but a brand that can compete in the marketplace. Address: 2023 W. Carroll Ave, Suite 305A, Chicago, IL 60612 Phone # 312.265.0900 e-mail: info@theapparelagency.com Contact: Shawna Lavelle
Product Development Consulting
Pattern Making
Sample Making
Production Agents
---

Apparel Services Ltd. (Bulgaria): Apparel Services - Fashion Design Pattern Making and Grading, Marker Making and Sample Sewing. They provide complete packages of apparel services. Like fashion and apparel design, pattern and marker making, pattern grading, CAD/cAM converting, sample making and material utilization. Industrial cutting and sewing. From sketch to the factory. Address: Bulgaria Sofia kv.Ovcha kupel,ul.680/15 Phone: +3592 855 4227 Mob.: +359 887 863 903 Email: office@apparelservices.bg Contact: Silviya Stoyanova
Pattern Making

Sample Making
---

ApparelTek LLC: With over 30 years experience in the sewn product industry and a Master's Degree in Technical Design and Patternmaking Jane Ruth has deeply honed skills to translate designs into patterns and prototypes, create tech packs and grade patterns. She has in-depth knowledge of garment construction and fit as well as performance textiles. Her specialty is in the technical sportswear market. Address: Longmont, CO 80503 P (970) 586-7753 windhorsedesigns@msn.com
Pattern Making
Sample Making
Grading
---

Arnold Lewis: Complete Computer Patternmaking Grading Markermaking for the Garment Industry Address: 531 Sprague Road Narberth, Pennsylvania 19072 USA Phone: 610 664 3052 Fax: 610 664 3052 Email: alewis@pantsbyedy.com Contact: Arnold Lewis
Manufacturer Item # 1: Patternmaking
Manufacturer Item # 2: Grading
Manufacturer Item # 3: Markermaking
---

Azpatterns: Create first thru production patterns, grading and marking. Great fit and flare from a sketch or a sample. Experience on contemporary women's, mens wear, juniors, maternity, large sizes, children's infant thru 7-16. Computerized PAD patterns and markers. fast turn around. Address:3283 Lanier Pl. Thousand Oaks, Ca. Phone: 310-994-9180 Fax: 805-241-4149 E-mail azpatterns@mac.com Contact: Anna Zubia
---

Cameron Systems, Inc.: Cameron Systems, Inc. provides pattern making, grading, markers, and technical specifications services for sewn product manufacturers. Start-up companies and those with concept products are welcomed. Address: Fort Collins, Colorado 80526 970-229-9947 FAX: 970-229-9783 info@cameronsystemsinc.com
---

Cherie Bixler Pattern Service & Consultants : they are a pattern service working with leading manufacturers, department stores, mail order catalogs, sports figures, and celebrities. They make patterns precise in fit and balance. With over 25 years experience they advise on design, sourcing, marketing, and production at no additional cost. They also work with designers new to the industry, and have had much success in helping start up companies, so call today for your free consultation. Cherie Bixler & Associates also manages domestic production in the USA and has resources in India to manage your production needs internationally. Address: Leonia, New Jersey 07605 tel. 201-944-2885 e-mail: cheriebixler@gmail.com
Pattern Making

Pattern Making Consulting Services

Sample Making

Author of "Guide To Starting a Fashion Company" with great reviews.

USA Manufacturer
View a video from Cherie Bixler.
---

Concept Beyond Tomorrow: located in the Chicagoland Area. Pattern making, Grading, and samples. They make hard copy production patterns. Address: Concept Beyond Tomorrow P.O. Box 2323 Chesterton, In 46304 219-929-1397 trunative@verizon.net Contact: Justin Holland (owner)
---

Consult & Sew Assoc: They are a private label manufacturer that provides a one stop shop for a complete package. Their services include: Design, Pattern Making, Marking & Grading, Samples, fabric Knitting, Cut & Sew, Trimmings & Packaging. They provide a unique production group for the apparel markets and can accomodate small & large lots. Their markets include: Sportswear, Activewear, Casualwear, Streetwear, Corporate Identity custom apparel. Email: ed@consultsew.net Contact: Ed Valdimer, Owner 9525 Vercelli St Lake Worth FL 33467 ph: 561-966-2696 fx: 561-244-5777
Production Agent

Sewing Contractor

Pattern Maker

Children's Clothing Manufacturer

Fitness & Exercise Apparel Manufacturer

Maternity Clothing Manufacturer
---

Designer Consulting Co-Op: The Designer Consulting Co-Op is dedicated to providing a creative resource to the fashion industry. Specializing in design and product development, the DCC can help your business from concept and design direction to a complete sample line ready for production. They provide all the services you would expect from your design team, as well as trend research and forecasting and contractors for patterns, samples, and production. Together they can collaborate with you to create an effective line and cope with industry challenges. Address: 112 West 9th Street #318, Los Angeles CA 90015 Phone: 213-489-1107 Fax E-mail: Info@designerconsultingcoop.com
Their

services include but are not limited to

:

Consulting




Design




CAD




Trend Boards




Shopping Reports




Street Fashion Analysis




90-Day Retail Reports




Color Forecast




Line sheets

Pattern Making




Marking and Grading,




Sample lines and duplicates




Fit Consulting and assistance in fittings




Production and Production referrals




Referrals and resources for fabric and trim resources
---

Fashion Development Services, LLC: FDS is a full package apparel development and production solution to the Fashion Industry. They offer proud "MADE IN THE USA" production and have development packages for small start-ups up to Large brands for all markets and price points. They are a team of apparel industry professionals with over 100 years of working knowledge from concept development through manufacturing and delivery. They offer a wide variety of services which allows them to present highly customized packages for their client's unique project needs. They have built their reputation on fast response times to initial inquiries, then providing timely and accurate estimates and delivering professional quality development and production results in a timely manner. They provide the following services; CAD illustrations, Clothing Line cost estimates (obtain funding/ business Planning), Design concept sketches (colorized with fabric/trim samples), fabric/trim Sourcing, Pattern and Sample making, Grading and Marker Making, Manufacturer Sourcing (Domestic/international), Merchandising, Sales Representation, Small to large run Production (no minimum), Tech. Packs, Technical Drawings, Trend / Line illustration Boards, Website development (turn key, ecommerce), and Wardrobe Stylist ( TV and Film Production). Address: 1931 Cordova Rd # 107 Ft. Lauderdale, FL 33316 (727) 488 - 8162 info@fashiondevelopmentservices.com contact: Lance Gordon
Pattern Making
Sample Making
Fashion Manufacturing Consulting
Sewing Contracting
---

Fashion Express (Greece): offering a new service to their customers of online downloadable pattern collections for Home Sewing. Their customers will be able to select their patterns among a Collection of trendy Sewing Patterns with excellent fit. Each Sewing Pattern selected can be printed on a regular A4 home printer. The patterns are based on international fashion trends and they are influenced by these color suggestions. They also come with alternative color scheme advice to help customers decide for a more individual creation. tel. + 30 2310 25 15 10 fax.+30 2310 25 15 11 3 Stefanou Tatti Str 546 22 Thessanolini Greece
---

Fashionmark Solutions Inc. (Canada): they offer full 1st Pattern, grading and marking services for local and North American customers. They have been in business for of over 14 years with their staff having over 25 years experience in clothing development and manufacturing. Wide range of styles including Women's sportswear, Men's streetwear, Technical Outerwear, Knitwear, Denim, and Children's. Services include Sizing Consultation, Specification Drawings, Graded Measurement Charts, Import and Export, Pattern publishing, Digitizing and Plotting. CAD System used: Optitex, Adobe Illustrator and Karatcad. Address: #301-343 Railway Street Vancouver, BC V6A 1A4 Canada Phone: 604-683-9279 Email: diane@fashionmark.com
---

Fashion Pattern Making Ltd (Italy) established to propose, to interested manufacturers, Italian fashion collections draws by Italian Designers. The Co-operation with Cristina Scarciolla and Gianpaolo Ferrara, two excellent Italian fashion designer, make them able to satisfy a large demand on the apparel market, starting from pret-porter to high fashion. Their target are all manufacturers that need to propose to their customers a genuine Italian fashion style. They are able to draw a complete exclusive collection, including test-models as well as paper-pattern only. This company is based out of the United Kingdom, but has their design studio offices in Italy.
---

Favio Sotomayor: they provide with clothing pattern making, grading, marking, digitizing and plotting. They use a Gerber system. Our business is in the USA. Address: 8235 W 18th Lane Dr. Hialeah, FL, 33014 Phone: 305-556-1617 Email: juliesotomayer@bellsouth.net Contact: Favio Sotomayor
Learn more on this topic from the information below.
fabric and apparel patternmakers convert a clothing designer's original model of a garment into a pattern of separate parts that can be laid out on a length of fabric. After discussing the item with the designer, these skilled workers usually use a computer to outline the parts and draw in details to indicate the position of pleats, buttonholes, and other features. (In the past, patternmakers laid out the parts on paper using pencils and drafting instruments, such as rulers.) Patternmakers then alter the size of the pieces in the pattern to produce garments of various sizes, and may "mark" the fabric showing the best layout of pattern pieces to minimize waste of material.
Once an item's pattern has been made and marked, mass production of the garment begins. Cutters and trimmers take the patterns and cut out material. They must pay close attention to their work because mistakes are costly. They place multiple layers of material on the cutting table and use an electric knife or other cutting tools to cut out the various pieces of the garment following the outline of the pattern; delicate materials may be cut by hand. In some companies, computer-controlled machines do the cutting.
Bureau of Labor Statistics, U.S. Department of Labor, Occupational Outlook Handbook, 2002-03 Edition
Don't forget to join us for discussions about the technical design of clothing at the Fashion Industry Network.

Make sure to join the Pattern Maker Group.

By the way, if you need help with manufacturing or pre-production you are welcome to contact our Production Services department for assistance.