The companies that are "not" concerned with quality testing or standards, are either out of business or on their way out. You better pay attention to quality standards for your clothing, footwear, and accessories.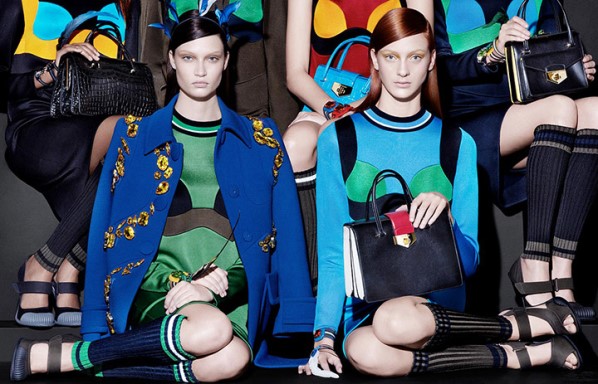 Pictured above is fashion from Prada which is made of the highest quality.
Learn about the following:
Price, quality, and service are three primary elements that are carefully monitored at the Apparel Search Company. If your company is equally concerned about quality assurance, you should educate yourself about Testing Methods, Human Rights, factory inspections etc.
The fashion that you create should always maintain high standards of quality. In addition, you should utilize factories that meet international standards regarding safety, fair labor, human rights etc.
Quality assurance measures such as regular garment testing and periodic factory inspections should be standard practice for all members of the clothing industry. The testing of clothing and factory inspection should be a regarded as one of the most important aspects of your business.
In an effort to assist garment manufacturers & retailers, the Apparel Search Quality Testing section has been created for the sole purpose of educating the clothing industry regarding testing & inspection.
The Apparel Search Quality Testing section provides access to testing laboratories as well as test methods. In addition to providing information regarding the testing of clothing and textiles, we also provide a directory for locating inspection services (services that specialize in clothing & textile market).
Here are some important initials you should know: ASTM AATCC ANSI
The South Carolina Quality Forum: The South Carolina Quality Forum, an affiliate of the South Carolina Chamber of Commerce, was formed in 1991 to recognize and encourage improvements in quality and productivity by organizations throughout the state of South Carolina.
Do you know the Words Garment Manufacturers do NOT like to hear?
If you work in the apparel industry or textile industry, you are welcome to discuss quality standards and factory compliance at the fashion industry network.





If you think of something we are missing in the Apparel Search quality section, please contact us with your suggestions. We are always eager to find ways to improve.
Thank you for using the Apparel Search website to learn about important fashion industry issues.