If you are curious about Tensile Strength, Tear Strength, Seam Failure, Dimensional Stability, Appearance Retention, Flammability, Crocking etc. You have come to the proper place.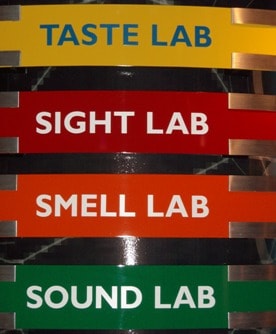 Words Garment Manufacturers do NOT like to hear
Important Testing:
Colorfastness to Crocking (AATCC Test Method 8-2001): This test is designed to determine the amount of color transferred from the surface of colored textile materials to other surfaces by rubbing. It is applicable to textiles made from all fibers in the form of yarn or fabric whether dyed, printed or otherwise colored. Testing procedures employ white test cloth squares. Testing is usually done for both wet and dry crocking (wet is cloth that is wet with water). Color transfered to the white test cloth after rubbing, is assessed by a comparison with the Gray Scale for Staining or the Chromatic Transference Scale and a grade is assigned. Because washing, drycleaning, shrinkage, ironing, finishing, etc., may effect the degree of color transfer from the material, the test may be made before, after or before and after such treatment.
Learn about the many other important issues to test for when evaluating fabrics, clothing, footwear, or fashion accessories.
Learn about fabric & Clothing Testing Methods.
fabric & Clothing Testing Methods

AATCC: is a leader in education, technology transfer and test method development for the textile wet processing industry, responding to its membership needs, functioning as an information disseminator, and providing services around the world. Testing Methods .
---

American Society for Testing and Materials (ASTM): There mission is to be the foremost developer and provider of voluntary consensus standards, related technical information, and services having internationally recognized quality and applicability that promote public health and safety, and the overall quality of life; contribute to the reliability of materials, products, systems and services; and facilitate national, regional, and international commerce.
---

ANSI: American National Standards Institute. Visit the quality standards regarding Textiles & Leather (ISO ICS 59 Textiles and Leather Technology) and standards for the Clothing Industry (ISO ICS 61 Clothing Industry).
---

AOQC Moody International, Inc.: ISO/qS/aS 9000 and ISO 14001 quality management systems assessment and registration services. Offers accredited Auditor.

---

ASQ (American Society of Quality): The American Society for Quality (ASQ) has been the leading quality improvement organization in the United States for more than 50 years. Its members have initiated most of the quality methods used throughout the world, including statistical process control, quality cost measurement and control, total quality management, failure analysis, and zero defects.
---

ASTM: ASTM International is one of the largest voluntary standards development organizations in the world-a trusted source for technical standards for materials, products, systems, and services. Known for their high technical quality and market relevancy, ASTM International standards have an important role in the information infrastructure that guides design, manufacturing and trade in the global economy. ASTM International, originally known as the American Society for Testing and Materials (ASTM), was formed over a century ago.
Flammability Testing (from ASTM)
Standard Test Method for Flammability of Apparel Textiles
---

Benchmarking Exchange, The: on-line resource dedicated to the practice of benchmarking, reengineering, and process and quality improvement.
---

BIFMA
---

CEN: European Committee for Standardization.
---

Excel Partnership, Inc
---

FASLINC
---

GL: total commitment to safety and quality.
---

INDA (Association of the Non-woven fabrics Industry): testing methods. INDA, Association of the Nonwoven Fabrics Industry, serves hundreds of member companies in the nonwovens / engineered fabrics industry doing business globally. Since 1968, INDA networking events have helped members connect, innovate and develop their businesses. INDA educational courses, market data, test methods, consultancy and issue advocacy help members succeed by providing them the information they need to better plan and execute their business strategies.
---

Integrated Quality Resources: become ISO 9000 or QS 9000 compliant/registered.
---

International Certifications Ltd: Worldwide Quality certification and compliance. ICL, the only company you need.
---

International Organization for Standardization (ISO) includes information on standards for textiles and clothing. They provide ISO standards publications through ISO members. If you are in the USA, you can purchase through the ANSI which you can also find on this page.

International & Regional Standards Organizations Voluntary consensus standards for products, processes and services are at the foundation of the U.S. economy and society. The United States has a proud tradition of developing and using voluntary standards to support the needs of our citizens and the competitiveness of U.S. industry in the world's business market.
---

ISPA
---

NFPA
---

NIST: National Institute of Standards and Technology (USA)
National Standards Bodies : International standardization is well-established for many technologies in such diverse fields as information processing and communications, textiles, packaging, distribution of goods, energy production and utilization, shipbuilding, banking and financial services. International standards will continue to grow in importance for all sectors of industrial activity for the foreseeable future. International standards can facilitate world trade by effectively removing technical barriers to trade, leading to new market opportunities and economic growth.
---

NSSN
---

Oeko-Tex Association [Oeko-Tex 100 standard]: In the late eighties, the Austrian Textile Research Institute TI ('sterreichische Textil-Forschungsinstitut) in Vienna, developed a testing scheme for textiles relating to harmful substances, the "TN 100". The Institute tested textiles, clothing and floor coverings to the testing criteria involved. By 1991, ten companies were already certified to this human ecological test system. Building on this wealth of knowledge and joining forces with a similar scheme; "ko-Check", developed by the German textile institute; " Forschungsinstitut Hohenstein", the "Internationale Gemeinschaft f r Forschung and Prufung auf dem Gebiet der Textil kologie"; or "OekoTex"; was developed in 1992. The first task for the International Association for Research and Testing in the Field of Textile Ecology was the elaboration of the "ko-Tex Standard 100", to enable the testing of textiles and clothing for their human ecology properties. This standard contains analytical tests for specified harmful substances and gives limiting values based on scientific considerations. A manufacturer whose product meets the requirements set by the standard is licensed to use the registered mark or label "Tested for Harmful Substances according to Oeko-Tex Standard 100" on his product. At the beginning of 1993, further renowned textile institutes joined the International Association as members. All members tested textile products to the same Oeko-Tex standard 100 methods and accordingly used the registered label to certify these products - "Confidence in Textiles. Tested for Harmful Substances according to Oeko-Tex Standard 100." In 1995, the first edition of the Oeko-Tex Standard 1000 was issued. Here the requirements for environmentally friendly production were outlined. Manufacturing sites fulfilling a strict set of limiting value criteria, addressing areas such as banned chemicals and harmful manufacturing processes were licenced to carry the label; "Umweltfreundliche Betriebssttte" (lit. Environmentally Friendly Manufacturing Site) and were able to then demonstrate an environmental management system. First organisations were subsequently audited in a pilot project. In 1999, the label "Oeko-Tex Standard 100 plus" was awarded for the first time. This related to a finished product, which fulfilled the requirements of the Oeko-Tex Standard 100 and was also produced only on sites carrying the Oeko-Tex Standard 1000 licence.
---

Profit Technologies: Service company providing effective quality management solutions for business
---

Quality Assurance Support Group: free interactive, online courses on quality related topics such as ISO 9000 and QS-9000
---

Quality Certification Bureau Inc. - QCB: RvA and SCC accredited registrar, ISO 9000, QS 9000 and ISO 14000 registration services.
---

Quality Systems Registrars - SFS: Finnish standards association. A commitment to integrity and quality in all that they do has been a cornerstone of QSR® since they were founded in 1990 so it's no coincidence that they maintain a 95 percent customer retention level and that their auditors have been with them an average of ten years. Along the way, they have become one of the most respected, and arguably, the most credible and consistent registrar you'll find.
---

SFS: Finnish Standardization Organization
---

Supplier Quality Associates: SQA, a worldwide leader in QA technical services, provides its clients with highly skilled local resources. Since its founding in 1995 by father and son Jim McKay and J. Michael McKay, SQA has pursued a vision of helping companies improve. Chaired by Jim McKay, who pioneered Supplier Quality Management services in the 70s, SQA is widely recognized as a key body of knowledge, a flexible global resource, and a proven solution provider for today's complex supply environments. SQA leads in providing managed supplier quality services for audits, corrective actions, inspections and engineering to manufacturers within the healthcare, aerospace and high tech industries. They deliver their services by deploying associates located throughout the United States and in over 50 countries around the world. They are expert quality assurance professionals with broad experience and local knowledge. They put you on-site faster, eliminate travel budgets and work only when needed.
---

TUV America: ISO 9000, QS-9000 & ISO 14000 Registrar; EU/german Product Testing & Certification Services for Automotive, Co
---

TUV Essen: ISO 9000 Registrar QS-9000 Registrar ISO 14000 Certification Registration
---

Underwriters Laboratories Inc: a provider of product safety certification and quality system registration services (ISO 9000, QS-9000 and ISO 14000).
---

VICS: Cross-industry standards for the general merchandise and retail industry.
Have you seen our Search Engine page? Or the Apparel Link, Education, and Associations pages? We think you may find them to be educational.