Symmetry, design, measurements are important for the fashion industry. Search for mannequin manufacturers and clothing form factories.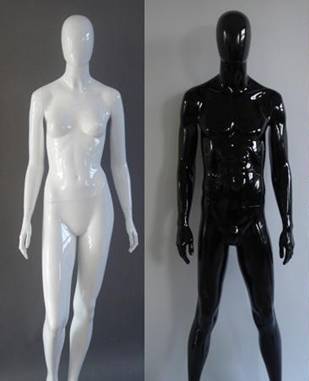 Cad Modelling Ergonomics: Made in Italy Solutions for the Textile and Apparel Industry. Cad Modelling Ergonomics has set up a wide range of anthropometrical Fit Mannequins (Formax) and Fit Heads (Formhead) based on average body measurements, invaluable fitting and quality control tools for producers of men's, women's (including Prmaman) and children's clothing. Cad Modelling products are ideal for developing garments in real life volumes and sizes, designed to suit customer shapes and guaranteeing advanced levels of fit, comfort and look. Used in the mass production, haute couture, beachwear and lingerie sectors, its special manikins reproduce human movement (Active-Formax) and flesh-like texture (Soft-Formax) thus satisfying all requirements and promoting, amongst other things, optimum resource consumption, reduced waste material and a drop in unsold goods. Formax is also customizable thanks to Body-Scanfit, a system that ideally exploits the possibilities of a portable 3D body-scanner, the only one of its kind, used to identify all personal body measurements simply, quickly and precisely, an invaluable aid in all sectors including, naturally, those dealing with made to measure garments and mass customizations. Backed by 40 years in the fashion business and with over 400 customers worldwide, Cad Modelling Ergonomics comes to the rescue of trade operators with a supply of patented products and services based on a vast anthropometric database collected over the years on an international level. Formax and Body-Scanfit assure to their clients the development of garments with the best fit standards, able to meet customer satisfaction and the producer needs assuring brand loyalty. PIAZZA C.BECCARIA 6 - 50121 FLORENCE-ITALY Phone:+39/055/2476261-2 E-mail: info@cadmodelling.it or cecilia.adami@cadmodelling.it: Contact: Mrs. Cecilia Adami
---

Decter: Decter American Mannequin has been in the Visual Merchandising Industry since 1924. In 1999 the 125 year old company was acquired by Silvestri Studio, and became a division of Silvestri California. All design, sculpting, molding and fabrication is done in their Los Angeles manufacturing facility. Decter American fabricates products in fiberglass, urethane, resin, metal and wood. Along with their catalog items they have the capability to work with you on custom designed product to fill any of your specific requirements
---

FastFit360 / Visuals in Mostion: Visuals In Motion Limited (VIM) was established in 2005 and is a closely held corporation doing business as FastFit360. Headquartered in Las Vegas, Nevada, FastFit360 has developed a strong platform to communicate product information, visually and globally. With years of experience working in the quick-paced apparel industry, our company grew out of the fit room, translating their knowledge to benefit design, product development, quality control, sourcing and supply chain management.
---

Grand & Benedicts Store Fixtures: Grand & Benedicts is a global manufacturer of store fixtures and retail displays. They stock a large selection of apparel retail displays including salesman garment racks, double-bar racks, round racks, z-racks, 2-way and 4-way racks, wood hangers, bamboo hangers, wire hangers, forms, mannequins and the Pearl District fixture line. Order online at www.grand-benedicts.com or visit their custom fixture website at www.gbcustomfixtures.com. Address: 301 NE 2nd Avenue, Portland Oregon 97232 Phone 800.547.7005 E-mail gbcustomercare@grand-benedicts.com Contact: Camilla Chalmers
Store Fixtures

Mannequins
---

Jiangsu Skyrun International Group / Sunshine I/e Corporation: their factory is specialized in the mannequins Address::17/f Jiangsu Int't Business Mansion, 50 Zhonghua Road, Nanjing, China Phone +86-25-52851378 e-mail:: duzhiyong_china@hotmail.com
---

The Mannequin Works: South African based manufacturer of display equipment ranging from mannequins, torsos, busts, brief forms, lingerie and swimwear forms, flexible children's mannequins, display cabinets, display shelving units, display tables. They can custom make products to suit your specific requirements. Address: Value Park, Liverpool Rd, Benoni Johannesburg 2128 South Africa Phone: +2711-4217614 Email: manequin@icon.co.za Contact: Juliet Prinsloo
Manufacturer Item # 1: Mannequins
Manufacturer Item # 2: Torsos
Manufacturer Item # 3: Busts
Manufacturer Item # 4: Lingerie Forms
Manufacturer Item # 5: Display Cabinets
Manufacturer Item # 6: Display Shelving
Manufacturer Item # 7: Flexible Childrens Mannequins
---

PGM Dress Form and Display Fixture: A dedication and heart infused into each and every one of their hand-made dressmaker forms have provided a sound basis upon which to build PGM and its products for the future. They have spent countless years studying the original craft of constructing a dress form and have spent double the time deconstructing the methods used in pursuing the best shape and measurements, the processes incorporated into manufacturing the dressmaker form and the materials used so that they can fully understand how to design and manufacture a product which mirrors what their clients are seeking.
---

Shanghai Asterism Store Equipment Co., Ltd.:(China) Shanghai Asterism Store Equipment Co is a joint venture, was founded in 1993.Asterism is one of the first professional companies dealing in mannequins and shop fitting equipment accessories. In the spirit of "where there are shopping malls, there is Asterism", Asterism is absorbed in researching, developing and manufacturing a wide range of products to embellish shops. Asterism's wealth of 17 years of experience, professional equipment and technical knowledge has enabled a specialist approach to be used, providing the huge range of mannequins and shop fitting equipment that is available. Asterism can offer a complete service, from the planning and design, supplying and assembling of the products, with all your needs to totally refit your shop.
---

Shanghai Sanwa Shoji Co.,Ltd.: Chinese company which mainly major in exporting mannequin and hanger. Japan Sanwa Co. Ltd who has forty years history, is a famous international trade company. They have rich experience on designing, manufacturing and selling's management. Shanghai Sanwa Shoji Co. Ltd is a branch of Japan Sanwa in China. Base on Shanghai selling center, Wuxi Sanwa Plastic Co. Ltd and other cooperate factory, their product is sold all over China. International trade has reached America, Japan and Europe. Address: 11/d JINGHONG Building No.508 Yishan Road, Shanghai China Post Code: 200235 Phone 86-21-64876333 Email: sanwa@sanwa.net.cn
---

Tukatech: CAD/cAM/cIM systems for the Sewn Goods Industry. Their product line of automated systems include, TUKAstudio for fabric and Garment Design; TUKAcad for Pattern Design, Grading and Marking, TUKAjet family of High Speed Ink Jet Plotters; TUKAcut family of Single Ply Cutters; European Technology for Automatic Spreading and Cutting and TUKA-INA Systems for Unit Production Systems and Electronic Tracking in Sewing, Warehousing, Distribution and Manufacturing. They assemble, install, train and support these Systems. With Head Quarters in Los Angeles, they have offices in San Francisco, New Delhi, Seoul, Milano, Toronto, Bangalore, Jaipur and Dominican Republic with demonstration and training facilities. Address: 5527 E. Slauson Ave. Los Angeles, California USA 90040 Phone: 323-726-3836 Email: tukateam@tukatech.com Contact: Rupi Arora, Chief Operating Officer
You can use mannequins for Fashion Models.
Thank you for using the Apparel Search website.