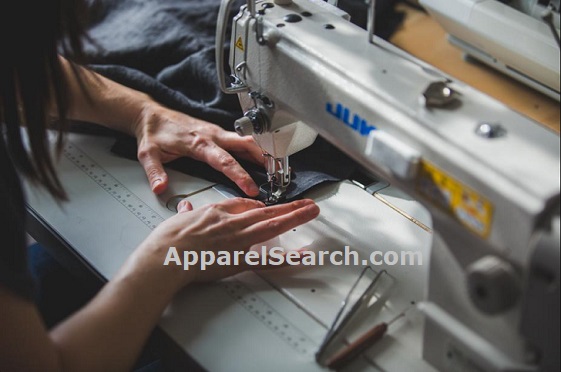 If you are clothing designer and are looking for assistance with the development of garment samples, you can either learn to make them yourself or work in association with a sample maker or a clothing factory. Regardless of whether you are a New York fashion designer, a Los Angeles fashion designer or are from any other city in the United States, we suggest that in addition to researching the sample makers on this page, you should also to visit the USA Clothing Factory section. Some of the garment factories may also provide sample making services.
Clothing Sample Making Services
Additional resources of possible interest:
fabric - yes, you need fabric to make clothing samples.
Clothing Sample Making Services

Abstract Graphics / Robko LLC: Abstract Graphics is a full service private label manufacturer with complete embellishment services. With over 30 years experience in mens, ladies and childrens apparel they can provide complete packages. From pattern making, grading, markers, sample making, cut and sew to finishing the garment with quality contract screen printing, caviar beads or embroidery. They can also direct ship to your customer. Garment dye and garment wash available. T-shirts, sport shirts, oxfords, onesies, sweatshirts, camp shirts, rib t-shirts, sports specialty wear are just a few of the garments they can manufacture. Address: 214 Oak St. Nazareth, PA 18064 Phone Number - 1.8.PROMO.TEES Fax - 610.746.5563 Contact: Manufacturing Services and Embellishment Services - Art Rader, President, Email art@customapparelzone.com
USA Factory
Garment Washing
Garment Dyeing
Sample Making
Pattern Making
Cutting
Sewing
---

Acme Design New York: Acme Design New York is a high end sample room offering full support for services ranging from design to production in the apparel industry. They are a new generation of innovative fashion engineers fully committed to promoting 'Made in New York' garment manufacturing. They specialize in small productions with no minimums, curating their expertise for new designers to allow them a voice in a saturated market. Their services include, but are not limited to: design development for menswear and womenswear (including mood and trend research), design sketching, fabric and trim sourcing, creation of tech packs for sampling and production in domestic and overseas factories, patternmaking, draping, sample making, production management. Address: 307 West 38th Street, Suite 801 New York, NY 10018 Phone: 646 571 0166 E-mail: acme@acmedesignny.com Contact: Jenni Han
Sample Making
Pattern Making
---

Apparel Agency: The Apparel Agency offers product design, development and production services for the fashion industry in one cohesive environment to include pattern making, cutting, sewing and full service manufacturing. They help fashion designers create not just a quality product, but a brand that can compete in the marketplace. Address: 2023 W. Carroll Ave, Suite 305A, Chicago, IL 60612 Phone # 312.265.0900 e-mail: info@theapparelagency.com Contact: Shawna Lavelle
Product Development Consulting
Pattern Making
Sample Making
Production Agents
---

Apparel Search Sample Maker Apparel Search can assist you with the sewing of your clothing samples. Technical sewing experts will assist you with perfect garment construction. Our team has the equipment and knowledge to sew on any garment fabrication; including leather...
---

Apparel Services Ltd. (Bulgaria): Apparel Services - Fashion Design Pattern Making and Grading, Marker Making and Sample Sewing. They provide complete packages of apparel services. Like fashion and apparel design, pattern and marker making, pattern grading, CAD/cAM converting, sample making and material utilization. Industrial cutting and sewing. From sketch to the factory. Address: Bulgaria Sofia kv.Ovcha kupel,ul.680/15 Phone: +3592 855 4227 Mob.: +359 887 863 903 Email: office@apparelservices.bg Contact: Silviya Stoyanova
Pattern Making

Sample Making
---

ApparelTek LLC: With over 30 years experience in the sewn product industry and a Master's Degree in Technical Design and Patternmaking Jane Ruth has deeply honed skills to translate designs into patterns and prototypes, create tech packs and grade patterns. She has in-depth knowledge of garment construction and fit as well as performance textiles. Her specialty is in the technical sportswear market. Address: Longmont, CO 80503 P (970) 586-7753 windhorsedesigns@msn.com
Pattern Making
Sample Making
Grading
---

Argyle Haus of Apparel: their Apparel Development & Pre-Production Services offer a complete solution to prepare your garments for full-scale production and manufacturing. They utilize industry leading apparel development software and technologies to achieve maximum operational efficiency to meet your needs. Proper apparel pre-production and planning will significantly reduce your production and manufacturing costs, while ensuring top quality output. In this phase of their process it is important to identify each garment's key characteristics in an effort to develop operational best-practices and understand resource requirements in order to ensure production consistency and quality. At the conclusion of the pre-production process you may elect to continue working with ARGYLEHaus for Production & Manufacturing services (minimum order quantities starting from 250 to 1,000 pieces per style).
---

The Atelier / The Factory 212: The Factory 212 is a sample room that makes samples, duplicates, and small lot production, with no minimum. They make knit tees, shirtings, pants, denim jeans, dresses, and jackets. They produce men's clothing samples and women's clothing samples. Address: New York, NY 10018 contact: Angela Kim
---

Cherie Bixler Pattern Service & Consultants : they are a pattern service working with leading manufacturers, department stores, mail order catalogs, sports figures, and celebrities. They make patterns precise in fit and balance. With over 25 years experience they advise on design, sourcing, marketing, and production at no additional cost. They also work with designers new to the industry, and have had much success in helping start up companies, so call today for your free consultation. Cherie Bixler & Associates also manages domestic production in the USA and has resources in India to manage your production needs internationally. Address: Leonia, New Jersey 07605 tel. 201-944-2885 e-mail: cheriebixler@verizon.net
Pattern Making

Pattern Making Consulting Services

Sample Making

Author of "Guide To Starting a Fashion Company" with great reviews.
---

Fair Trade Knitters: They can knit anything that's handknitted, from garments to accessories and more! Discover what they can do for you, whether you're a designer, a yarn shop, a manufacturer (including high end boutiques in search of just the right knits) or a stylist. They can help take the pressure off local yarn shops in need of samples or designers working to tight deadlines check out how simple their design process is and leave the knitting to them! They knit one of a kind samples or can do small and large production hand knitting. As experts with strong ties to the knitting community, they can source any type of yarn needed to create your vision. They also have excellent relationships with many name knitwear designers who can consult on projects as necessary. They love working on a variety of projects and are waiting to help you succeed in finding just the right knit. Address Hightstown, NJ E-mail sales@fairtradeknitters.com Contact: Meredith
---
<212-391-8089> <212-391-2030>

Fashion Development Services, LLC: FDS is a full package apparel development and production solution to the Fashion Industry. They offer proud "MADE IN THE USA" production and have development packages for small start-ups up to Large brands for all markets and price points. They are a team of apparel industry professionals with over 100 years of working knowledge from concept development through manufacturing and delivery. They offer a wide variety of services which allows them to present highly customized packages for their client's unique project needs. They have built their reputation on fast response times to initial inquiries, then providing timely and accurate estimates and delivering professional quality development and production results in a timely manner. They provide the following services; CAD illustrations, Clothing Line cost estimates (obtain funding/ business Planning), Design concept sketches (colorized with fabric/trim samples), fabric/trim Sourcing, Pattern and Sample making, Grading and Marker Making, Manufacturer Sourcing (Domestic/international), Merchandising, Sales Representation, Small to large run Production (no minimum), Tech. Packs, Technical Drawings, Trend / Line illustration Boards, Website development (turn key, ecommerce), and Wardrobe Stylist ( TV and Film Production). Address: 1931 Cordova Rd # 107 Ft. Lauderdale, FL 33316 (727) 488 - 8162 info@fashiondevelopmentservices.com contact: Lance Gordon
Pattern Making
Sample Making
Fashion Manufacturing Consulting
Sewing Contracting
212-391-2030>212-391-8089>
---

The J&H Sewing Clothes LLC, is a sample room that makes samples, duplicates and small lot production with not minimum. They make knit tees, woven and cotton sateen jackets and all women's clothing samples. Address: 215 Keaton court Alto,GA 30510 Phone:706-768-4315 E-mail: jesus_69estrada22@yahoo.com Contact: Jesus estrada
---

JJ Pattern, Inc: JJ pattern Inc. offers one-stop full operation service--from pattern making and sample development to production, including muslin fitting, grading and marking. JJ Pattern Inc. has very skillful pattern makers and sewers who have over 30 years experience. They put their priority on their customers, guarantee the couture-level of quality as well as being punctual. Address: 580 8th Ave., 15th FL. New York, NY 10018 Tel. 212-391-8089 <212-391-8089> Fax.212-391-2030 <212-391-2030> Email: myjjpatternnyc@gmail.com 212-391-2030>212-391-8089>

<212-391-8089 size="medium"><212-391-2030 size="medium"> 212-391-2030>212-391-8089>
Pattern Making

(Draping)
Sample Making
Grading/ Marking (Sizing)
Production (Fitting/ Production patterns)
Custom-made
---

JSA Fashions Inc. (USA): JSA Fashions is a leader in contract cut and sew garment manufacturing services. JSA offers apparel development, sampling, and production services for your clothing line or label, providing creative design development from concept to production to distribution. They specialize in apparel manufacturing with contract sewing accounts ranging from high end women's clothing and outerwear, children's wear, diapers and baby accessories, to performance sportswear and swimwear. JSA Fashions is the largest and most respected manufacturer of luxury petticoats, pettiskirts, pettipants crinolines and slips with their house brands Malco Modes and Sam's Manufacturing as well as providing white label petticoats and slips for some of country's leading retailers. They also produce the popular BellaSous costume line specializing in superior quality costume items and accessories such as tutus, pettiskirts and booty shorts. Address: 1385 Broadway St Dayton, TN 37321 423-775-4459 (office) Contact: Carol Ricketts
USA Clothing Manufacturer
Sewing Contractor
Sample Making
Outerwear Manufacturer
Skirt Manufacturer
Swimwear Manufacturer
---

Leahpatra Knitting (California): is a domestic contract knitting company located in the downtown garment district of Los Angeles, CA 90015. They do high end custom knitted samples for designers offering flat bed knitting and industrial knitting production with small minimums. They also provide high end top quality cashmere and wool yarns. Address: Los Angeles, CA 90015 310-951-9095 e-mail: Leahpatra@Leahpatra.com Contact: Leah Walton
USA Manufacturer

Sample Making
---

Michael Classic Apparel Inc., / dba: Leather For You: They are a full service private label manufacturer with complete manufacturing services in the USA. With over 22 years experience in mens, ladies and childrens leather apparel, they can provide complete packages. From pattern making, grading, markers, sample making, cut and sew to finishing the garment and quality Control at all stages. Varsity Jackets, Leather Jackets, Shirts, Pants, Bags, ect. These are just a few of the garments they can manufacture. They manufacture products using Leather, Melton Wool, Plaid fabrics, Denim, etc. Address: 2431 S Main Street Los Angeles, CA 90007 Phone: 213-741-0800 Fax: 213-986-3030 E-mail: mca2021@sbcglobal.net or laura-mca@sbcglobal.net Web address Contact name: Alex Rybnik
Sewing Contractor
Sample Making
Pattern Making
Cutting Sewing
USA Leather Manufacturer
---

Pattern Solution (China): the owner has been working in garment industry for more than 15 years. Their team is including experienced pattern makers and graphic designers. All of them have been working in this field for over 10-20 years. Their business is focus on garment product development: pattern design, graphic design, garment sample making. Address: room 302, building no 4, no 3500, Yan An Xi road, shanghai, China Phone: 86-21-54760575 Fax: 86-21-54760575 E-mail: patternsolution@gmail.com Contact: Maggie Ma
Pattern Makers

Clothing Sample Makers

Graphic Design (artists)
---

Plus Samples (United Kingdom): Plus Samples Ltd. is a London based studio specialising in the production of high-end garments, in smaller volumes, from 1 to 200 pieces. The business was established over 10 years ago and has earned an excellent reputation for the quality of the garments produced and value of the services provided. They are able to offer a one stop solution for all your garment development and manufacturing requirements such as pattern cutting, grading, toiling and sampling, lay marking and production costing as well as garment technical packs and bulk production.
---

Quick Turn Clothing: The concept. Quick Turn Clothing was born from the blended experience of the co-founders Charles Webber, and Marianne Webber. Together they combine their technical expertise, upscale style and aesthetic, and extensive fabric and factory vendor base, to provide a comprehensive service that develops Women's and Men's clothing from ideation through finished product. SAMPLE-MAKING : An experienced sewer from one of our factories will assemble a finished garment in the correct fabric to test the method of construction to ensure that the design will go through the production process successfully.
---

The Sampling Unit Ltd. (United Kingdom): Welcome to The Sampling Unit Ltd, premier manufacturers of ladies and men's high end apparel. They can realize your fashion design idea and then make it happen, all under one roof. They specialize in creating garment samples from sketches or design ideas that you provide them. They can develop your collection for selling purposes, catwalk shows and press.
---

Savvy Apparel Studio: A highly successful apparel design studio and Apparel Product Development Firm located in the United States which has been involved in the development of many apparel collections being sold at well known retailers such as Nordstrom, Macys, Costco, Walmart, and high end boutiques throughout the country. Services Include: Apparel Design, Pattern Making, Digitizing, Grading, Markers, Tech Packs, Prototypes, Final Samples, Raw Materials and Factory Sourcing, and Production Management. Contact 801-674-5651, info@savvyapparelstudio.com
---

Sew Co. is a sewn product development company. Starting from initial concept ideas, sketches, or prototypes, we create production-ready patterns and sales-ready samples. We have backgrounds in fashion design, pattern making, costuming and fine art. Our design-driven perspective provides us with a common language we can share with our clients.
---

Studio 102: Studio 102 provides line developing and design services to a variety of clients. They work with new, small, large and high end companies on their garment construction. Their main services are pattern making from 1st through production by hand as well as by computer, sample sewing with great attention to detail, specs and line sheets. Their in-house capabilities are of the highest quality with great attention to their clients and their needs. Address: 415.947.0798 340 Bryant Street 102 San Francisco, CA 94107 E-mail: studio.102@hotmail.com Contact: Flavia Dawson
Pattern Making

Sample Making
---

Suay, Inc. d.b.a. - Suay Sew Shop: Suay Is a custom design and sewing shop along the Los Angeles River located in Frogtown. They specialize in remade and reconstructed garment manufacturing, design development, private labeling, pattern construction, sample sewing, and are able to produce small to mid-size production runs. Their team consists of primarily senior citizen women and men 60 and over. They have a pattern maker in-house with over 50 years of industry experience and their remaining team are all masterful tailors and seamstresses. Their mission is to help ensure job security for an aging yet highly skilled demographic while producing high-quality made goods in a sustainable fashion. They hope to ensure the future of the domestic garment manufacturing and apparel industry through their efforts and encourage other manufacturers to do the same. Address: 2915 Knox Ave #105 Los Angeles, CA 90039 (323) 928-2424 suaysewshop@gmail.com Lindsay Rose Medoff - Owner suayinc@gmail.com - Eric A Wallace - Owner
Sewing Contractor
USA Clothing Manufacturer
Sample Making
---

Sylvie P: Sylvie P offers pattern making and made-to-order services for any type of garment and sizes: sportswear, formal, bridal, lingerie Men, Women, children. Pattern drafting (traditional or CAD, fitting capability), grading, Spec sheets (finish measurements, flat sketches, construction details), and sample making (small run) By appointment only 650 296 4296; info@sylviep.com Address: 1201 Howard Street, San Francisco, CA 94103
---

U & I Brand Consulting: They are a team of fashion/graphic & technical designers; they work with emerging and existing designers to cultivate a brand worth creating, talking about and sharing with the rest of the world. They also provide the following services: sample making, pattern making, tech packs, grading , sourcing and consulting services. Address: 453 S. Spring St. Suite #728 Los Angeles, CA 90013 213-761-4815 info@uandibrandconsulting.com Contact: Sheila Martinez
Graphic Designers
Technical Designers
Pattern Making
Sample Making
---

Werkstatt: Werkstatt is a pattern service located in the heart of New York's Garment District. Founded in 2008 by Tina Schenk, the studio specializes in intelligent, well constructed garment development.
---

ZW Designs : Patternmaking, grading, markermaking, technical design, specifications, design, samples, product development, CAD/cAM Service Bureau for established as well as start-up companies. Over 25 years in the apparel trade. They provide Specification Services and Product Development Georgia, USA Phone 770/513-0906 zwd@zwdesigns.com
Pattern Tech Services

Sample Making Services
If you know any fashion samples makers not listed on this page, please let us know.
Maybe you can find additional sample making services from the clothing factories found in our clothing manufacturer section.
If you are a fashion designer searching for sample making resources, you can also join us for discussions about sampling at the Fashion Industry Network.