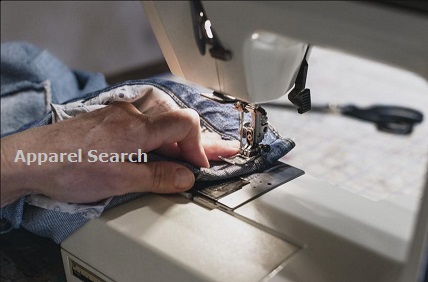 Sewing clothing is not an easy task. Stick with the sewing experts to make sure your fashion is a success. In this section of our apparel industry directory you will find companies that provide sewing services to manufacturers of clothing, footwear & fashion accessories. You will find companies that sew fabric, leather and other materials. Some of the companies listed are part of large cut & sew factories and others are small sewing facilities that specialize in only the sewing process.
Search for employment at a sewing facility as a sewing operator.
If you are a sewing contractor or a home sewer, please join us for conversations at the sewing group.
Read news articles regarding sewing from the sewing articles section at the Fashion Newspaper.
Don't forget to also check our New York Sewing Factory section.

Abstract Graphics / Robko LLC: Abstract Graphics is a full service private label manufacturer with complete embellishment services. With over 30 years experience in mens, ladies and childrens apparel they can provide complete packages. From pattern making, grading, markers, sample making, cut and sew to finishing the garment with quality contract screen printing, caviar beads or embroidery. They can also direct ship to your customer. Garment dye and garment wash available. T-shirts, sport shirts, oxfords, onesies, sweatshirts, camp shirts, rib t-shirts, sports specialty wear are just a few of the garments they can manufacture. Address: 214 Oak St. Nazareth, PA 18064 Phone Number - 1.8.PROMO.TEES Fax - 610.746.5563 Contact: Manufacturing Services and Embellishment Services - Art Rader, President, Email art@customapparelzone.com
USA Factory
Garment Washing
Garment Dyeing
Sample Making
Pattern Making
Cutting
Sewing
---

AccuMed Technologies, Inc. (USA): Contract sewing services to the medical, sporting goods, safety wear and military industries. Also, packaging, ultrasonic welding, die cutting, silk screening, riveting and additional services. AccuMED offers a wide range of sewing manufacturing capabilities and associated services from its two manufacturing facilities in Buffalo, New York and Shen Zhen, China. Both facilities are set up identically to guarantee uniform manufacturing procedures and superior products. Address: 150 Bud-Mil Dr., Buffalo, NY 14206 Phone # 716-853-1800 or 1-800-278-6796 Fax: 716-853-3250
---

ALGOLIMSA: Manufacturer in Peru with an office in California, USA. Manufacturer of casual and sports wear. fabrics utilized: 100% pima cotton / 100% cotton/ poly cotton / cotton spandex. Complete vertical operation with processes which go from Manufacturing, to Quality Control, through Finishing, Packing and FOB Shipping scheduling. ALGOLIMSA is divided into three separate and distinctive operations: Knitting, Dyeing , and Sewing House process. Pre-Production From first pattern to approved production. Based on customer's specs, and subject to prototype approvals. Quotes from raw materials to finished production. Fit sampling and grading. fabric and color testing. QC at all stages. Production This is a fully vertical integrated manufacturing organization functioning under three distinct operations: yarn, Knitting and Dyeing, and finally Sewing. They have Quality Control systems in place as well as packaging and shipping operations. Grading, marking, cutting, spinning, knitting, marking and grading. fabric testing, color testing, all trims, production planning. Transportation FOB Ocean FOB Air FOB Courier Comments: ALGOLIMSA is a top quality operation very much aligned with modern production techniques and modern equipment. OFFICE Address (USA): 7433 Farralone Ave. Canoga Park CA 91303 CONTACT: Ursula Trainor in USA Phone: 818-999-2040 / 1800-506-7610 E-mail: ursula@textilesofperu.com Fax: 866-408-6630 FACTORY Address: Lima, Peru ADDRESS: Av.Separadora Industrial 585/587, Urb. Los Alamos, Ate, Lima, Peru 003
Knitting operation:

11 knitting machines (Terrot, Orizio, Keum Yong and Albi); 5000 kgs per day capacity.
Dye House operation: 9 dyeing machines:20,50,150,300,500,1000 kgs/batch capacity. Total 10 tons/day. Total workers in Knitting and Dye House: 80. Laundry Facility: with a capacity to process 1200kgs per day.
Sewing House operation: Casual and sports wear garments. Brother and Yuki sewing machines. 80 workers. 100,000 basic garments per month capacity.
---

Bearse Manufacturing (USA): Bearse Manufacturing is a premier manufacturer of custom sewn goods that carry that the Made in the USA label. They serve industrial and commercial customers looking for bulk order quantities of product. They offer cut and sew services for a wide variety of products including bags, totes, carrying cases, pouches, and portfolios. They also have capabilities in material selection, imprinting, and packaging. Chicago Address: 3815 W. Cortland Chicago, Illinois 60647 USA Phone: 773-235-8710 Fax: 773-235-8716 Email: info@bearseusa.com Contact: Tom Auer, COO New York Address: 230 MacArthur Avenue New Windsor, NY 12553 USA Phone: 845-562-8080 Fax: 845-562-6843 Email: professionalsales@bearseusa.com Contact: Jim Erickson, General Manager
Manufacturer Item # 1: Bags
Manufacturer Item # 2: Totes
Manufacturer Item # 3: Pouches
---

Body Basic Manufacturing, Inc.: Full service CMT Factory with product development capabilities, workable minimum quantities, high quality workmanship, knits and woven. No job too big or small, startups welcomed. In business since 1989. They manufacturer knits and wovens. For product development and manufacturing inquiries for more information. California state licensed and a fully compliant factory. Address: 1602 N. Susan St. Unit A Santa Ana, Ca 92703 (818) 676-9454 valeriebcooper@gmail.com Contact: Valerie Cooper
Manufacturer of shirts
Manufacturer of dresses
Manufacturer of activewear
Manufacturer of leggings
Sewing Contractor
USA Clothing Manufacturer
---

Calgary Sewing Factory: Calgary Sewing Factory is a locally run sewing manufacturing shop that offers worry-free sewing and product development services to Textile Artists, Weavers, Fashion Designers and Craft Market Makers spend more time on doing the things that they love.
---

Cho Studio: they are sewing factory and tailor. They do any type of work pattern, sample, production, chiffon, beading, leather and mostly everything and they indicate that they make high quality Address: 580 8Ave 19FL New York N.Y 10018 Phone: 1 212-382-1998 Fax: 1 212-382-0406 E-mail: terryremiux@hotmail.com
New York Factory

Sewing Contractor
---

Cy-Va at 222 is a Women's Apparel Boutique that carries only Made in the USA clothing and accessories. They promote local artisans of accessories. They also do small contract sewing. They are a new company, small but growing, and currently sew for a New York clothing designer but would like to expand their services. They are a women owned business, located in Janesville, Wisconsin. Cy-Va at 222 222 West Milwaukee Street Janesville, WI 53548 608-373-9711 e-mail: cyva@att.net Cy-Va at 222 on Facebook.
Women's Clothing Retailer

Sewing Contractor
---

Fashion Development Services, LLC: FDS is a full package apparel development and production solution to the Fashion Industry. They offer proud "MADE IN THE USA" production and have development packages for small start-ups up to Large brands for all markets and price points. They are a team of apparel industry professionals with over 100 years of working knowledge from concept development through manufacturing and delivery. They offer a wide variety of services which allows them to present highly customized packages for their client's unique project needs. They have built their reputation on fast response times to initial inquiries, then providing timely and accurate estimates and delivering professional quality development and production results in a timely manner. They provide the following services; CAD illustrations, Clothing Line cost estimates (obtain funding/ business Planning), Design concept sketches (colorized with fabric/trim samples), fabric/trim Sourcing, Pattern and Sample making, Grading and Marker Making, Manufacturer Sourcing (Domestic/international), Merchandising, Sales Representation, Small to large run Production (no minimum), Tech. Packs, Technical Drawings, Trend / Line illustration Boards, Website development (turn key, ecommerce), and Wardrobe Stylist ( TV and Film Production). Address: 1931 Cordova Rd # 107 Ft. Lauderdale, FL 33316 (727) 488 - 8162 info@fashiondevelopmentservices.com contact: Lance Gordon
Pattern Making
Sample Making
Fashion Manufacturing Consulting
Sewing Contracting
---

Fashion Sources, Inc.: For more than thirty years Fashion Sources has been direct spokesperson for, and employee of, five CMT apparel factories located in the USA. The factories employ 400 people, are long established and have made, or are currently making, clothing for Pendleton Woolen Mills Bill's Khakis, Carhartt, Woolrich, Bonobos and many others. The primary products of these excellent factories include men's and women's tailored woven button down shirts, tailored pants, casual pants, skirts, tailored blazers and coats, casual jackets, outerwear, polo shirts, hoodies, knit bottoms, woven boxer shorts, gowns, jeans and cargo pants. If your company has interest in manufacturing apparel in the USA and the western hemisphere please contact them. Address: 1006 East Montgomery Avenue North Wales, PA 19454 Phone 215 699 6801 Contact Allen Edelson email: Allen@fashionsourcesinc.com Manufacturer items include:: woven button down shirts, uniform shirts, blouses, dress pants & casual pants, work pants, jeans, skirts, tailored blazers & pea coats, knit polo shirts & knit bottoms, boxer shorts, dresses.
Sewing Contractor
USA Clothing Factories
---

Georgi Georgiev Ltd.(Bulgaria): Their company is specialized in sewing shoe-uppers. They do the work with materials and design by the warrenter. Address: Sava Mihailov bl.13 B 33 Sofia Bulgaria 1309 Phone: +359 2 2928552 Email: joroV@dir.bg Contact: Georgi Georgiev Managing Director
---

Gil Sewing Corp.
(USA): they
are a CMT and Full package manufacturer with the factory based in Chicago, Illinois.
Their
company manufactures Vests
,
Blazers
,
Jackets
,
Pants, Skirts
,
Blouses
,
Sweaters
,
Hats
,
Polo's
,
Chef Apparel
, Dresses,
Tunics
etc.
.
They
have the ability to develop patterns, make samples and do entire production.
With a 30,000sq. ft. facility in Chicago and over 120 employees
they
have been in business since 1990 and are very experienced
. Their
niche is quick turn-around times of only 2-3 weeks and no minimums.
They
have done work for Sweet Lies Golf, Cintas, At Work Uniforms, VF Imagewear, etc.
Their
prices are very competitive with those of overseas pricing.
Address: 3500 N. Kostner Ave. Chicago, IL 60641 Phone: 773-545-0990 Fax: 773-545-0778 e-mail:
alexgilsewing@sbcglobal.net
Contact: Michael Kaham
Manufacturing Capabilities 1:

Vests

Manufacturing Capabilities 2:

Jackets

Manufacturing Capabilities 3:

Pants

Manufacturing Capabilities 4:

Skirts

Manufacturing Capabilities 5:

Blouses

/ Shirts

Manufacturing Capabilities 6:

Sweaters

Manufacturing Capabilities 7:

Chef Apparel

Sewing Contractor
---

Gloria Sewing Factory (Armenia): Gloria Sewing Factory was founded in 1977. Over the past few years, several technical upgrades have been made in the factory, the last one in 2018. ​ And now "Gloria" sewing factory's production units are equipped with modern JUKI, PFAFF and other world-famous firms modern sewing machines and equipment. ​ Due to the professional staff, working in the factory, modern methods of work organization and high quality of sewing machines, our factory can produce contemporary products of any complexity and products that meet the requirements of European quality standards. In their 2 branches, 150,000 different types of clothing, coats, jackets, motorcycle clothing, and various protective clothes are produced monthly.
---

Heart-Hunters Production Management & QC Services: Heart-Hunters offers on-site & remote Production

Management & QC Services for all domestic projects large & small as well as re-shoring projects We also offer sourcing, full product development, pre-production services as well as factory matchmaking/location On-site management & QC services include: fabric Check In , Marker & CW (cuttable Width), Cut Ticket Approval and QC on Cut Floor for fabric, TOP Inspection QC check that first garments of the production line are as per approved sample and tech pac, Mid Production Inspection, Exit Factory Inspection with AQL of 2.5 and above. Please stop by our website for more info www.hearthuntersconsulting.com Valerie Cooper 818-676-9454 or 479-601-1465 info@hearthuntersconsulting.com
Product Development
Production Management
Factory Match- Making & Location Services - Large & Small
Small Batch for Better Goods
Sourcing & Quality Assurance
R&D for Textile & Design function
---

Hillsville Apparel Corp (USA): Contract sewing services for the apparel industry.
Search for additional sewing contractors specializing in sewing clothing and sewing fashion accessories.

Thank you for using the Apparel Search website to find sewing facilities for your apparel, footwear, or fashion accessory manufacturing needs.