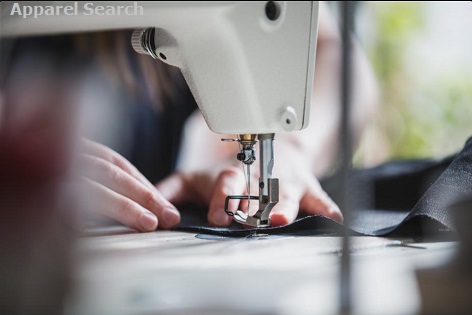 Looking for a manufacturer to help sew your garments. The sewing factory list here on Apparel Search is the place you want to be. Below you will find clothes sewing facilities from around the world. Find the worlds top sewing contractor manufacturers and suppliers that specialize in sewing as well as fabulous customer service and quality products.

J & M Manufacturing, Inc. (USA): Cut-and-sew contractor experienced in the area of lady's bodywear, including invisible zipper setting. Abilities include cutting, sewing, bag & tag, with ample fabric storage space for on going work. Also experienced in swimwear, sportswear, and promotional items such as flags, banners, beer huggies, etc. Address: 208 South Pulaski Street Suite 3-South Baltimore, MD 21223 e-mail: jmtillery@jandmmfg.com Phone 410-233-4881 Fax 410-233-2119 Contact: Joseph W. Tillery, President
Cutting Contractor

Sewing Contractor
---

John Boyt Industrial Sewing Co (USA): Contract sewing of bags, covers, canvas products, banners and a range of textile accessories. What began in 1973 as a company whose primary business was manufacturing (sewing) semi truck covers has evolved today into John Boyt Industrial Sewing, a family owned business producing custom sewn products for a variety of industries. Their high-tech facility has the latest in computerized sewing, cutting and vinyl welding equipment. They are capable of sewing a wide variety of materials, including vinyls, nylon, cordura, nylon pack cloth, Nomex, neoprene coated nylons, netting, and canvas. All products are made to customer supplied specifications and prototypes are assembled for customer approval prior to production. During manufacturing each custom sewn product is inspected to ensure it meets their high quality control standards and customer specifications. Located in Urbandale, Iowa.
---

JSA Fashions Inc. (USA): JSA Fashions is a leader in contract cut and sew garment manufacturing services. JSA offers apparel development, sampling, and production services for your clothing line or label, providing creative design development from concept to production to distribution. They specialize in apparel manufacturing with contract sewing accounts ranging from high end women's clothing and outerwear, children's wear, diapers and baby accessories, to performance sportswear and swimwear. JSA Fashions is the largest and most respected manufacturer of luxury petticoats, pettiskirts, pettipants crinolines and slips with their house brands Malco Modes and Sam's Manufacturing as well as providing white label petticoats and slips for some of country's leading retailers. They also produce the popular BellaSous costume line specializing in superior quality costume items and accessories such as tutus, pettiskirts and booty shorts. Address: 1385 Broadway St Dayton, TN 37321 423-775-4459 (office) Contact: Carol Ricketts
USA Clothing Manufacturer
Sewing Contractor
Sample Making
Outerwear Manufacturer
Skirt Manufacturer
Swimwear Manufacturer
---

Key Binding & Trim –[USA] Key Binding & Trim has been serving the apparel as well as other sewn products industries for over 65 years. Their many services include, hot cutting, bias binding, cross-cutting, straight cutting & manufacturing spaghetti, belts & straps. We also provide custom stitching such as purl, blanket, scallop, picoetta, fagotting, shirring, pleating, ruffling & smocking. We are located at 1324 N Sherman St. Allentown, PA 18109-1719 Phone: (610) 432-1906 Fax: (610) 432-1910 Web: keytextiles.com Email: info@keytextiles.com
Cutting Services

Sewing Services
---

Kim Sewing : Cut and Sew Factory , low minimum quantities, high quality workmanship, knits and woven. Startups welcomed, consulting services available. Can sew both knit and woven garments. dresses , tee shirts, active wear and many non garment textile products. Screen printing available. Product development and manufacturing inquiries please call 469-250-5709 email: goodsew42@gmail.com Address: Garland Texas, 75042
---

Left In Stitches Inc.: Left In Stitches Inc. - One of the few contract sewing companies specializing in small businesses and startup companies. From concept to production. Address 55 Ericson Court, Suite # 2 Arcata, California 95521-8912 USA Phone 707-822-3041 Fax 707-822-3042 E-mail leftinstitches@earthlink.net Contact name Christine Sutter
---

LLU Inc. (USA): they are a high quality detail oriented sewing contractor. They are located in Queens since 1997. They specialize in women's underwear, lace bras, panties and thongs. They are proud to have developed a long relationship with a premier underwear manufacturer "hankypanky". They proudly sew the made in the USA label in all their garments. If you are looking for a reliable, high quality cut & sew operation, you can think of LLU and set up an appointment to view their facilities. Address: 108-28 46 Ave. Corona, NY 11368 E-mail: lluinc@yahoo.com Phone # 718 271 3228 Contact Rachel
Sewing Contractor
Cutting Contractor
Underwear Manufacturer

---

Melos Fashions: Melos fashions has over 20 years of cutting and sewing experience. Their first priority is high quality and customer satisfaction.We have the capability to do custom jobs regardless of size with quick turn around times.Our prices are very reasonable while still mainting the highest standards in the industry. Please feel free to email or call us for free a price quote. Address: 407 Pleasant St.Fall River Massachusetts 02721 USA Phone: 508-675-2511 Email: melosfashions@aol.com Contact: Manny Melo/ president
Manufacturer Item # 1: blankets
Manufacturer Item # 2: therapy belts
Manufacturer Item # 3: cutting
Manufacturer Item # 4: pillows
Manufacturer Item # 5: jackets
Manufacturer Item # 6: baby wear
---

MFI International Manufacturing, LLC (USA): Contract sewing services for the textile, nonwovens and leather industries. Also, sale of surplus machinery and equipment. Their discipline of binding craftsmanship and innovation together creates premium products of impeccable quality.

---

Michael Classic Apparel Inc., / dba: Leather For You: They are a full service private label manufacturer with complete manufacturing services in the USA. With over 22 years experience in mens, ladies and childrens leather apparel, they can provide complete packages. From pattern making, grading, markers, sample making, cut and sew to finishing the garment and quality Control at all stages. Varsity Jackets, Leather Jackets, Shirts, Pants, Bags, ect. These are just a few of the garments they can manufacture. They manufacture products using Leather, Melton Wool, Plaid fabrics, Denim, etc. Address: 2431 S Main Street Los Angeles, CA 90007 Phone: 213-741-0800 Fax: 213-986-3030 E-mail: mca2021@sbcglobal.net or laura-mca@sbcglobal.net Web address Contact name: Alex Rybnik
Sewing Contractor
Sample Making
Pattern Making
Cutting Sewing
USA Leather Manufacturer
---

Mona Lisa Fashions, Inc. (USA) Monalisa Fashions Inc was founded in 1984 as a sewing contractor. Over the years the facility has tripled in size and offers complete development, cutting, sewing, finishing and warehousing capabilities. Monalisa manufactures a large variety of products including infant onesies, dance costumes, athletic apparel, medical garments, maternity clothes, and accessories like blankets, bags an scarves. Specialty niches served include garment dye production and organic lines. Monalisa has extensive resources for sourcing materials and a network of accomplished and reliable patternmakers, dye houses, embroiderers, screen printers and trim suppliers. Packages are tailored to each client's needs and can range from product development to full package production. Today the company is still family owned and operated in Allentown, PA and can be found online at http://www.monalisamfg.com. Address - 650 East Green St. - Allentown, PA 18109 Phone - 610-770-0806 Fax - 610-770-0823 E-mail - monalisamfg@gmail.com Contact: Mona or Nagib
Sewing Contractor

Cutting Contractor

USA Manufacturer - Infant/toddler, Knitwear, Maternity, Shirts, T-Shirts, Dresses, Pants
---

Paolo Gelli
(Italy):
Contract manufacturing and private label service of leather garments. Detailed description of production process. English, Italian and Japanese.
---

Quick Fuse & Cut Corp.: 260 West 36 street, New York, NY 10018 telephone 212-967-0311, fax 212-967-1432, email-quickfuse5@aol.com contact: Igor or Elly Goldenberg. They are one of the biggest cutting and fusing room in the garment district of New York, they can offer services such as marker, grading, cutting. fusing, sewing and also a full production. They welcome your visit at any time with all your apparel needs.
---

Regina's Sewing Services (USA): Full service cut and sew factory, pattern making and samples. Low minimum quantities, high quality workmanship, knits and woven. Startups welcomed, consulting services available. Specializing in active wear with flatlock capabilities. They manufacture dresses, tee shirts, swim suits, yoga wear, active wear, children and non- garment items. Please email contractor3699@gmail.com or call 954-889-7261 Location: Miami, Florida

---

RHF Apparel Services: RHF,Sewing contract services &, Apparel pattern making. small to large sewing production, pattern making, grading, marker making, plotting services for the apparel, sample making, pattern and product for sale. Address 4735 E. Chicago Ave Las Vegas NV 89104 Phone 702-641-9526 Fax 702-641-9526 E-mail rosa@rhfapparel.com Contact: Villarosa Smith
Sewing Contractor

Pattern Making
---

Sarah Lynn Sportswear, Inc. (USA): Sarah Lynn Sportswear is a full service sewing contractor with over 30 years of experience in ladies, children's & men's apparel. They are an approved contractor for Ann Taylor, Nordstrom's and Vanity Fair. Whether you are looking for Polo's or Tee's; Knits or Woven's they are your one-stop source for quality apparel. Their extensive inventory of equipment, including many specialty machines ensures that they can meet your needs. Pattern Service, Cutting, Sewing, Packaging, Rework (Repair Service), Garment Washing. Address: 431 N. Jordan Street Allentown, PA 18102 Phone: 610-770-1702 Fax: 610-770-1785 richard@slsportswear.com Contact: Richard Koury
---

Scharf & Breit, Inc. (United States): they are a domestic sweater manufacturer located in Brooklyn, NY. They knit, cut and sew and develop 7gg and 12gg sweaters. They also manufacture microfiber windshirts and heavy-weight fleece sweatshirts. They are also capable of manufacturing cut / sew knit items Address: 467 Troutman Street Brooklyn, New York 11237 USA Phone: 1 718 386 1822 Fax: 1 718 821 3170 Email: caives@li.net Contact: Christopher Aives
Gender: Men's and Women's
Manufacturer Item # 1: sweaters
Manufacturer Item # 2: windshirts
Manufacturer Item # 3: sweatshirts
Manufacturer Item # 4: leggings
Manufacturer Item # 5: knits
---

Screen & Stitch Inc. (USA): they are a modern plant with the latest in sewing equipment. They have two plants to serve you, with cut & sew since 1988. They specialize in sweatshirts & fashion sportswear. Address: 1442 n 9th Park Falls Wisconsin 54552 USA Phone: 715-762-4653 or 715-266-4653 Fax: 715-762-4653 Email: aen@pctcnet.net Contact: Arnie or Chris
cutting contractor

sewing contractor
---

Seams Reasonable, Inc. (USA): Domestic cut and sew contractor specializing in small quantity, high quality apparel items. Areas of expertise include ladies sleepwear, children's wear, bedding accessories, men's and women's outerwear. Repair/refurbishing services also available. Address: 714 Lafayette Rd. P.O. Box 509 Red Boiling Springs, TN 37150 615-699-3946 seamsrea@nctc.com contact: Toby Russell
Sewing Contractor

Cutting Contractor
---

Sew Co.: SewCo. is a full-service cut and sew manufacturer of highly crafted sewn objects with socially responsible and unconventional business concepts. After watching thousands of textile job move overseas, Sew Co. was founded in 2010 as an effort to preserve the skill of sewing and the domestic manufacturing economy in the United States. They provide living wage work in a light-filled studio. Their focus is on discerning quality. They believe the way to compete with overseas production is through exquisite craftsmanship. They provide pattern making services, production sewing, sample making, packaging, design development, material resourcing, and more.
---

Softline Brand Partners:
Softline Brand Partners is a specialty provider of full-service cut and sew manufacturing of leather components, patches, bags, accessories and home goods for top brands, Fortune 500 companies, designers, and startups. We combine traditional manufacturing methods of fine leatherworking with modern technology to streamline production and communication with our customers. Softline Brand Partners offers flexible MOQs, quick turn times, and high visibility for our customers throughout the process, our cut and sew factories regularly handle short-run and large-scale manufacturing and have experience maintaining the highest quality standards. With full-time product development experts, production managers, and quality control specialists, they are able to ensure your products meet spec and are delivered on time and on budget.
---

Suay, Inc. d.b.a. - Suay Sew Shop: Suay Is a custom design and sewing shop along the Los Angeles River located in Frogtown. They specialize in remade and reconstructed garment manufacturing, design development, private labeling, pattern construction, sample sewing, and are able to produce small to mid-size production runs. Their team consists of primarily senior citizen women and men 60 and over. They have a pattern maker in-house with over 50 years of industry experience and their remaining team are all masterful tailors and seamstresses. Their mission is to help ensure job security for an aging yet highly skilled demographic while producing high-quality made goods in a sustainable fashion. They hope to ensure the future of the domestic garment manufacturing and apparel industry through their efforts and encourage other manufacturers to do the same. Address: 2915 Knox Ave #105 Los Angeles, CA 90039 (323) 928-2424 suaysewshop@gmail.com Lindsay Rose Medoff - Owner suayinc@gmail.com - Eric A Wallace - Owner
Sewing Contractor
USA Clothing Manufacturer
Sample Making
---

Sunrise Sewing Services (USA): Sunrise Sewing Services is a sewing contractor company serving the apparel and other textiles industry. With more than 20 years of experience, they are 100% committed on creating quality sewn products. They specialize in working with small businesses and startup companies as well as industrial sewing. Large and small orders are always welcome. Address: 5130 E La Palma Ave #101 Anaheim, CA 92807 909 682-0143 e-mail: Info@sunrisesewing.com Contact: Juan Carlos Centeno
---

Sutherland Sewing Company: 50+ years of sewing expertise and knowledge Ability to sew and convert a wide range of materials Whether you're a large company sourcing high volume production or an entrepreneur seeking a sewing source to help you launch your product, Sutherland Sewing is eager to discuss the possibility of servicing your cut and sew needs.
---

TBT SEWING LLC, is a contract sewing company with more than 20 years of experience proudly offering cut and sew services in the USA. They produce sportswear clothing, hiking pillows and hammock, jersey and marathon outfit of all fabrics. They cut, sew, and packaging to the finished products. Locate: 2125 S. Hathaway St, Santa Ana, CA 92705. Cell: 714-725-1949. Email: kpham@tbtsewingllc.com Contact: Kevin Pham
If you work or do business near New York, you may want to also check out our list of sewing factories in New York.
Find more clothing manufacturers.

Thank you for using the Apparel Search website to find sewers of clothes, footwear, and fashion accessories. Hopefully you were able to find the facilities that can help with your next project.