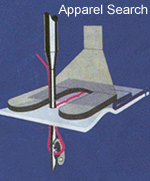 Sewing machinery is an important aspect of the fashion industry. Learn about suppliers of over lock sewing machines, chain stitch sewing machines, zigzag sewing machinery, lock stitch machine, etc.
If you are sewing large quantities of clothing, we strongly suggest you also research needle detection machinery to make sure broken needles do not accidentally get stuck in your garments during production. You can find wholesalers at needle detector wholesalers and you can find manufacturers at needle detector factories.
Sewing Machine Directory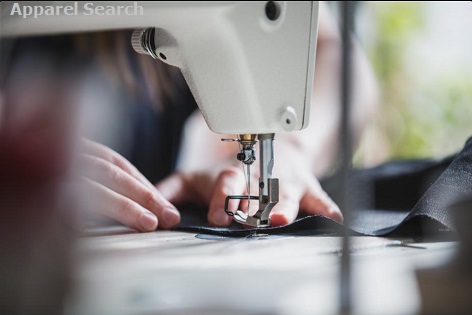 All Brands : All Brands Sewing Machines is a sales and/or service center for all major brands of home and industrial sewing machines including Singer, Brother-Babylock Bernina, New Home-Elna-Janome, Pfaff, Viking-Husqvarna-White, Juki, Simplicity, SeamMaster, Riccar, Jaguar, National, Necchi, Nelco, Toyota, Dressmaker, Tacsew, Consew and Artisan. They also sell and service all major brands of knitting machines, sergers, embroidery machines and software, sewing cabinets and furniture, irons and presses, and cutting equipment
---

AMF Reece, Inc., Turkey (Turkey): manufacturer of apparel making machinery. Address: AHL Serbest Bolgesi C Blok No:7 Havalimani, Istanbul, Turkey 34830 Phone: 90 212 465 0707 Fax: 90 212 465 0711 Email: amfreeceturkey@superonline.com Contact: Cenk Oflaz, General Manager
Manufacturer Item # 1: industrial sewing machine
Manufacturer Item # 2: eyelet buttonhole machine
Manufacturer Item # 3: re-manufactured machines
Manufacturer Item # 4: second hand machines
Manufacturer Item # 5: pocket welting machines
---

Bernina: As an internationally positioned company, the declared BERNINA objective is to remain the world market leader in textile design innovation. To this end, BERNINA aims to produce sewing and embroidery machines that represent Swiss quality and reliability. BERNINA reinvests a large share of its cash flow into product development for this purpose.
---

Beta Sewing Technologies: (Israel): manufacturer of sewing machinery.
---

Brother International Ltd. (Japan;with international offices): Sewing machines, knitting machines and embroidery machines. Since its early days as a manufacturer of sewing and knitting machines, Brother has kept pace with the fast moving world of fashion. In the field of ready-to-wear garments, Brother is responding to change in the modern apparel industry where sensitivity to customer needs, premium product quality, and cost reductions are watchwords. Brother not only creates but also develops the optimal environment for each production facility, ranging from the design of hardware and software to the sewing factories. In the area of domestic sewing machines and knitting machines, Brother is increasingly meeting specialized needs by offering machines that, because of their ease of use, allow users to experience the joy of creating original fashion products. With the aim of maintaining our position as the world's number one producer of apparel manufacturing appliances, with a wide range of products, Brother is setting new standards in the industry.
---

Citizen Enterprises: apparel machinery manufacturer from India. Address: Nirmal Nagar, Dugri Road, Ludhiana 141002 India Phone: 91-161-500413 Fax: 91-161-534522 Email: citizen_ldh@rediffmail.com Contact: Mohit Behl, Owner
Manufacturer Item # 1: Sewing Machines
Manufacturer Item # 2: Wheel
Manufacturer Item # 3: HAnd Attachments
Manufacturer Item # 4: Bobbin Case
---

Cohen Stitching Technologies: In 1999 Sloan Machinery Company acquired the assets of CST (Cohen Stitching Technologies). This brought to Sloan Machinery the Cam cutting capablitlities for Bartacking Machines and also the development of Specialized Clamping for Programmable Sewing Machines. Distributor of industrial sewing machines and parts. Cohen Stitching Technologies has been supplying industrial sewing machines and parts around the world for over 75 years. From their humble beginnings in Lynn, Massachusetts repairing sewing machines for local shoe factories, they have become a world class designer and builder of computerized sewing systems as well as mechanical automatic machines and standard machines.
---

Durkopp Adler: Industrial Sewing Machine Manufacturer Today, D
rkopp Adler AG offers solutions in the field of sewing and conveyor equipment. The group operates with a worldwide service and distribution network of 11 subsidiaries and more than 80 authorised dealers. The objective of the company is to perfect the automation of production procedures, guaranteeing at the same time a maximum degree of flexible applications
---

Elna USA Trim, assemble, finish in one step. All the techniques and tools ideal for making outfits, especially in trendy jersey fabrics.
---

Hangzhou Omega Machinery Co. Ltd. (China): Hangzhou Omega Machinery Co.,Ltd. is a professional manufacturer and exporter in Zhejiang China, our company is specialized in manufacturing, developing and marketing sewing machinery,embroidery machine, cutting machine and kinds of motors. Some of their products meets "CE" standard. Their company have got experience and strong technology in producing sewing machine in many years, they have skilled workers and strict management for meeting customers' demands.
---

Husqvarna Viking : Like all projects big and small, the need for change inspired our beginning. In 1689 a royal arms factory was born in Huskvarna, Sweden. Almost two centuries later, facing declining demand for firearms, the artisans of the factory were inspired to make a more peaceful product—sewing machines. Today, Husqvarna Viking is a worldwide organization that passionately designs high-quality sewing machines in Sweden and shares them with consumers across the globe.
---

Jack Sewing Machine Co. (China)
---

Janome Sewing Machine
---

Juki: Industrial sewing machines is the core business of JUKI, which supplies the entire range of apparel and non-apparel (leather and interior design goods, for example) processes, from planning to cutting, sewing, finishing and transport. And they also provide support for their industrial customers in the form of services and software, such as assisting apparel manufacturers in improving productivity, developing highly-efficient production systems, and improving work the environment
---

Pfaff American Sales Corporation: For over 150 years, PFAFF has developed premium sewing machines distinguished by their sophisticated appearance, superior performance and exhibiting ultimate design freedom. A close watch on industry needs and trends has become increasingly important as sewing has evolved from a necessity to a form of creative expression. The PFAFF® brand has a sewing heritage that creates a climate for continued development and design of high quality sewing and embroidery machines. Known as the perfector of the craft, PFAFF® machines deliver precision to the most demanding sewers by offering maximum control and customization. PFAFF® machines are catalysts for passionate sewers, producing the highest quality results in all aspects of sewing.
---

Singer: In 1850 Isaac Merritt Singer designed and perfected the first practical sewing machine in a small Boston, Massachusetts machine shop. It took only 11 days and $40 in borrowed capital for him to create the sturdy lock stitch machine that would revolutionize sewing across the globe. In 2001, they celebrated the 150th anniversary of Isaac Singer's patent on the first practical sewing machine, which marked the official beginning of Singer as a company. But while their 150th anniversary celebration gave them a chance to reflect, they are looking forward, envisioning how their next century and a half will be as exciting, successful and rewarding as the last. At Singer, they are using the latest innovations and technology to continue to teach the world to sew.
---

Sulky of America
---

Tacony Corporation/ baby Lock
---

VDTA Sewing Machine Association
---

VSM Group AB / Viking: develops, produces, markets and sells high quality household sewing machines and related products, that enhance the joy of creative sewing. It started over 300 years ago. In 1689, the King of Sweden built a weapon factory beside the mighty waterfalls in Huskvarna. In 1872, some of the artisans working there switched from crafting firearms to making a peaceful precision product sewing machines.
---

Zhejiang HengQiang Sewing Machine Industry Co. Ltd.(China): they are one of the biggest sewing machine manufacture & supply group in China. The sewing machines produced by Super Star offer the best assortment in China. The annual output of various sewing machines reached, in 2000, more than 300,000 units. In last year, they established and introduced updated technology and equipment from Japan through which they have been able to make high quality sewing machines suitable for developed countries. Their products cover multi-function, domestic, sctetch, overlock, and the motor used for these machines. Many of these machines are well accepted in U.S.A., Japan, Italy, Korea, Latin American and many countries in Asia and Africa Address: No.90,Xianmudonglu, Huzhen, Jinyun, Zhejinag, China 321404 Phone: 0086-578-3154580 or 0086-578-3152903 Email: jyhqzf@mail.lsptt.zj.cn Contact: Kitty Wu
Here are just a few of the popular sewing machine brands to consider:
Singer
Juki
Nakajami
Wilcox & Gibbs
Union Special
Reece
Artisan
Pegasus
Pfaff
Durkopp Adler
Barudan
Columbia
Fishbein
Kansai
Mitsubishi
Merro
Toyota
Tajima
Yamato
Consew
Chandler
US Blindstitch
Rimoldi
Thank you for using the Apparel Search website.