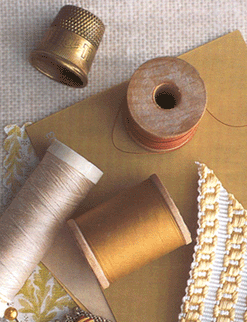 Thread: A slender, strong strand or cord, especially one designed for sewing or other needle work. Most threads are made by plying and twisting yarns. A wide variety of thread types is in use today e.g. spun cotton and spun polyester, core-spun cotton with a polyester filament core, polyester or nylon filaments (often bonded) , and monofilament threads. Learn more at our Thread Definition page.
If you work in the fashion industry and are knowledgeable about sewing, or sewing threads, please join in the discussions regarding sewing at the sewing group on the Fashion Industry Network.

American & Efird Inc.: American & Efird, Inc. (A&E) is one of the world's foremost textile manufacturers of sewing threads for industrial manufacturers and consumer markets. In addition, A&E distributes a variety of well-known notions and trim items.
---

Chandigarh Textiles Pvt.Ltd. (India): Manufacturers of bag closing threadin cotton, polyesters, polypropylene. All types of specialized industrial threads and acrylic yarns. Address: # 107,Grain Market,Sector-26. Chandigarh 160019 India Phone: 172-790518 or 172-890844 Fax: 172-791626 Email: info@threadindia.com
Manufacturer Item # 1: cotton Bag closing Thread
Manufacturer Item # 2: Polyester Bag closing Thread
Manufacturer Item # 3: Polypropylene Bag closing Thread
Manufacturer Item # 4: Industrial sewing threads
Manufacturer Item # 5: Acrylic yarns
Manufacturer Item # 6: Carpet yarns
Manufacturer Item # 7: stitching threads
---

Coats North America: Coats North America is part of the Coats Viyella Group based in London, England. With more than 60,000 employees worldwide, and manufacturing locations in more than 60 countries, Coats is the largest global supplier of sewing thread.
---

CORDFLEX Sdn. Bhd.: they distribute huge quantity and all types of superior quality Extruded Latex Rubber Thread, to all over the world. They are proud to inform that they are able to supply all Types, Counts, colors and Ranges of rubber thread which is comply to all International Standards such as ISO 2321, BSI 5421 & ASTM D2433. Address: No.2, Jalan 3/9, Taman Bukit Rawang Jaya,Rawang 48000 Malaysia Phone: 603-60929855 or 6017-3463467 Fax: 603-60929855 Email: cordflex@time.net.my Contact: S.J.SREE
Manufacturer Item # 1: Extruded Latex Rubber Thread
---

Dunlap Industries is an American owned manufacturer and distributor of high quality zippers, thread, hook and loop and other related trim items. Their goal is to provide customers with the best possible solution while providing unparalleled value. Customer satisfaction is what drives them everyday, meaning they will go above and beyond to meet the needs of their customers, including special requests.
Zipper Manufacturer
Sliders & Closures (for zippers)
Hook and Loop Fastener Factory
Thread Manufacturer
Clothing Trim Manufacturer
---

Durafil PVA (China): The leading name in PVA water soluble yarns and water soluble sewing thread, Durafil-PVA has been the pre-eminent symbol of quality and reliability in the research and manufacturing of high performance PVA water soluble yarns and water soluble sewing thread for the past 15 years. Headquartered in China, Durafil-PVA is a subsidiary of Durafil Research and Manufacturing Group Limited.
Thread Manufacturer

yarn Manufacturer
---

Elastotec: cut rubber tapes and threads are available in a variety of natural and synthetic formulations, sizes and colors for use in a broad spectrum of apparel and home fashion applications.
---

Fujix Ltd (Japan): Manufacturer of synthetic sewing threads.
---

Gunzetal Limited: is a leading worldwide supplier of high quality thread products to the apparel and non-apparel industry. The company has long been recognized as an innovative leader in the thread industry, with continuous advancement in customer service, competitive pricing, product quality, technical support, and research & development.
---

Gutermann
: German company that has developes and manufactures thread. With offices and agents arond the world, their goal is to provide the same quality, color and style thread regardless of where or when the thread is purchased. They have technical advisors that that are available to help with production problems or offer assistance with unusual fabric or machinery.
---

H.P. Cotton Textile Mills Limited (India): They are one of the largest producers & exporters of 100% cotton sewing thread, cotton glaced threads & cotton gassed (singed) & mercerised yarns in India having their own spinning mills. They are producing threads & yarns from count Ne 4s/1 to Ne 70s/1 in 2-ply,3-ply,4-ply upto 27-ply & also cabled, folded & multifolded yarns/threads like 2x3 etc. They can offer sewing threads on 5000 mtrs,10,000 mtrs upto 25,000 mtrs cone & also big industrial cones of 1.25 kgs. They can also offer yarn/threads on ready for dyeing packages like Plastic perforated cones/ cylinderical dye-tubes. Address: 1E/12,Jhandewalan Extension, 4th Floor, Sewak House,New Delhi 110055 India Phone: +91-11-3524439 or +91-11-3524441 Fax: +91-11-3610076
Email: info@hpthread.com Contact: Kailash Agarwal (Director - Incharge)
Manufacturer Item # 1: Cotton Sewing Threads
Manufacturer Item # 2: Cotton Mercerized Threads
Manufacturer Item # 3: Cotton Glaced Threads
Manufacturer Item # 4: Crochet yarns
Manufacturer Item # 5: Hand Knitting yarns
Manufacturer Item # 6: Gassed & Mercerized yarns
Manufacturer Item # 7: Embroidery Threads
---

Huamei Thread Company Ltd.(China) located in Ningbo, is specialized in the manufacturing of sewing thread and embroidery thread. Their thread brand is "Dunhuang", which have been exported to all over the world. They have been manufacturing and exporting thread for many years. Their company has obtained Swiss Oeko-Tex Standard 100 certificates. And the annual production capacity is nearly 10,000 tons polyester sewing thread and 1,000 tons rayon embroidery thread. They also supply nylon thread, metallic yarn,100% cotton thread, water proof thread, fire retarded thread, poly core, nylon bonded thread, buttons, zippers, interlinings, webbings, buckles, velcros, curtain items, silks etc.

Thank you for using the Apparel Search website.