Fashion Jobs Employment Guide for the fashion & clothing industry
Welcome to the Fashion Jobs Section of Apparel Search - your ultimate destination for navigating the dynamic world of fashion careers. Here, you'll discover a wealth of information, from fashion job listings spanning diverse roles to insightful guidance on crafting the perfect resume. Whether you're embarking on a new career, seeking the next step in your fashion journey, or aiming to stay updated with the latest trends in employment, Apparel Search is your trusted ally. Join us as we unlock the doors to endless possibilities and assist you in shaping your dream career in fashion.
Researching fashion job opportunities? If yes, you have come to the proper place. This section of Apparel Search has been designed to help members of the clothing industry find the best fashion job opportunities. In addition to finding current employment openings, you can find fabulous career path tips & guidance. Take your time to fully research clothing companies and job openings before making your final determination. Enjoy the adventure.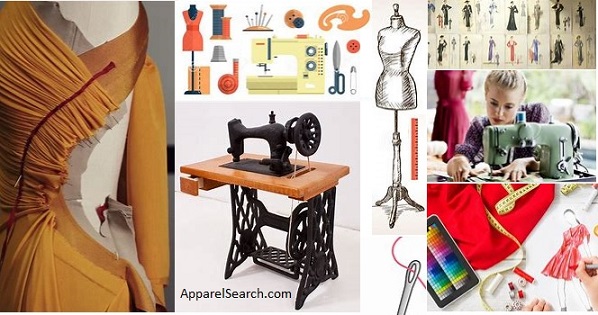 Fashion Industry Jobs Guide
Fashion Job Descriptions by Category
Fashion Industry Job Descriptions detailed description of some of the clothing industry job categories.
Learn more about fashion industry jobs here on Apparel Search.
Looking for a new job? Want to see what's out there?
Information and Resources:
Resume Services when looking for a job in fashion, it is important to have a good resume. Allow professionals to help you develop an appropriate resume.
Fashion Industry Resume Writers
Fashion Designers Job Data Job data for fashion designers, by metropolitan area. A Job Popularity rating of 1.0 means the metropolitan area has a typical number of these jobs for to its population. A higher or lower rating indicates relatively more or fewer jobs of the type in that metro area.
Fashion Education Article: With interest in the fashion industry continuing to increase, so is the competition; but so are the opportunities. Now it's becoming increasingly simple to earn a degree in fields like fashion design, fashion marketing, or fashion merchandising.
Fashion Careers: The complete job search guide.
Interviewing For A Career in Fashion
How do I find a job in the fashion industry? Great question.
The Apparel Search Employment Guide connects apparel, fashion & textile companies with the most qualified career-minded individuals.
Step 1: Are you an employee or an employer? Big difference between the two.
Employees: Fashion Job Listings - find fashion jobs.
Employers: Post fashion jobs - find fashion minded employees.
Tip of the day: regardless of whether you are a business looking for an employee or an employee looking for work, we strongly suggest that you consult with a professional employment agency that specializes in the clothing & textile industry. Yes, you can find a link to fashion employment agencies on this page.
Step 2: Learn about the industry.
The fashion business is rather complex but manageable because the sector is broken down into many different categories of focus. Although the business of fashion involves design, manufacturing, distribution, retailing, marketing, etc., most employees do "not" have to be experts in every aspect of the business. Some positions require a broad knowledge base, but many fashion jobs are very specific to a particular task. For example, pattern makers work on patterns, sewers work sewing, marketing manages work on marketing issues. If you work in the department of fashion marketing, your boss will most likely not require you to also sew pants. As a member of the apparel industry, you will want to have a general understanding of as many areas of focus as you can, but you would not need to be an expert in multiple segments. If you own your own business or work in upper management, you will obviously want to be as smart as possible in as many aspects of the industry as possible. Clearly, the more you know the better.
Learn more about fashion by exploring more of the Apparel Search website.
Why work in the fashion industry?
Fashion jobs are exciting, rewarding, and can be lucrative as well. We can go on for days trying to explain to you why this industry is a good choice. To cut to the chase, we can explain it rather simply. Most people wear clothes. This trend will most likely continue. Therefore, the industry will most likely not disappear in the near future. Yes, the industry will continue to change and evolve, but employment opportunities will exist for sure. Knowing that jobs will exist is only one of the many issues to consider when decided on a career path. It is also critical to have a general passion. Do you enjoy fashion? If yes, that is a good start.
Are you new to the apparel industry?
If you have not already done so, we would suggest that you attend a fashion school to get a general understanding of the industry. If you have not attended college yet, or don't plan to at all, we have some good news. You can still find employment in the apparel industry. Sure, you would have a much better chance with a proper degree, but you will not be completely shut out if you do not yet have a fashion relevant diploma.
You can find a good video about the industry called, "How to Succeed in The Fashion Industry" from the Parsons School of Design. The following video Published on Jul 26, 2016 How to Succeed in the Fashion Industry Video
Regardless of whether or not you are entering the work force for the first time or you have already had a long history of employment, taking steps to improve your career path is always a good idea. Taking courses at a fashion school should be part of your continuing education even after you have your degree.
What happens after fashion school graduation? Well, we hope you are now 100% focused on finding a job in the garment industry.
Knowing your goals is only one step in the process. Finding the proper company to match your skill level and personality is another aspect that takes research. You can learn about some of the important fashion businesses in our fashion company section.
Note: the fashion company section does not list all important companies. Spend time researching, you are sure to find many more companies that are not yet listed in that section.

After you find a good company to interview with, be sure to "research" as much as possible about the company and the particular job requirements as you can "BEFORE" you go to the interview. If it is a publically traded company, you can check news about them at financial websites. Definitely spend time doing your homework before you go on an important invterview.
Want to break into the fashion industry? Trying to switch careers? Try the Fashion Job Search Engines to find the best jobs in the fashion industry. You can also visit the following clothing, footwear, and accessory companies to view their current positions for which they are seeking candidates for employment.
Always keep in mind that you are not locked into one segment of the industry. When originally looking for a fashion job you may wish to start as a designer. However, you may learn over time that your path may veer into another direction. As you learn more about your skill set, you will also learn to follow your heart, your talents and your mind for guidance. It may not always lead where you originally intended. We truly hope that you find the fashion jobs that you are seeking. Keep in mind that jobs in merchandising, stylist jobs, modeling careers, clothing retail jobs, sales opportunities, etc. are available all the time. You simply have to put in the effort to find the right one for you.
Apparel Search helps you find employment opportunities at the nations leading clothing companies. We truly hope that this section helps you with viewing fashion jobs or posting fashion jobs employment opportunities for the apparel, fashion & textile industries.
You may also have interest in viewing the following sections of our website:
Shopping for interview clothing...
Oh, almost forgot. You may also want to go to Youtube and check out some of the videos about fashion jobs. The videos often have good advice from people that already work in the industry.
You may also want to check into various government resources that provide information about employment.
US Equal Employment Opportunity Commission
Bureau of Labor Statistics: Apparel Workers Find out how many apparel workers there are in the US, and what type of jobs they do. From the US Government's Bureau of Labor Statist
Employment & Training Administration - US Department of Labor
Work hard, learn about the industry, and go on interviews. You will do fine.
It is always a good time to learn more about fashion jobs.