Welcome to the Fashion School section of the Apparel Search website. In this area of our fashion education department, we provide resources to assist you with finding a college or university to further your fashion education. Here you can find the leading educational facilities around the world. You can study in the United States or in another country. The international fashion schools are really top notch.
International Directory of Fashion Schools & Textile Industry Schools & Fashion Educational Resources.
>> Fashion Schools by Location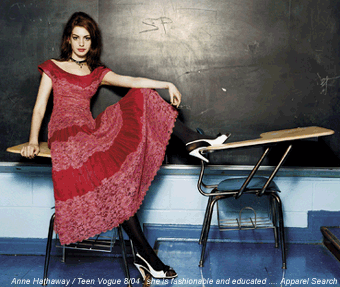 Get fashionably educated.

Academy of Art University: It is the objective of the School of Fashion to provide students with a global vision that combines the design excellence of Europe with the energy of the United States and the technology of Asia. The School of Fashion has developed a strong curriculum in design, merchandising, textiles and knitwear providing opportunities for graduates worldwide. Potential Careers: Fashion Design Fashion Designer, Product Manager and Pattern Maker. Textile Design Textile Designer and Forecaster. Knitwear Design Knitwear Designer, Knitwear Merchandising and Knitwear Accessory Designer. Fashion Merchandising Buyer, Store Manager, Store Planner, and Product Developer.
---

Academy of Couture Art: Blending European Haute Couture tradition with the high energy, fast-paced, challenging American Fashion system, the Academy of Couture Art has designed a unique program combining hands-on instruction and student-centered learning to teach future designers how to develop and refine the individual skills and talents needed to predict fashion trends and recognize and utilize fashion cycles. Address: Pacific Design Center Green Building 520 8687 Melrose Ave West Hollywood, California 90069 Telephone: 310-360-8888 Fax: 310- 967-8888 Contact: Robin Kim
---

American InterContinental University; : AIU fashion students are on the career track well before they graduate. They create a portfolio highlighting their best work for presentation to employers. In addition, our students can gain valuable experience as interns with designers, manufacturers and fashion houses. The AIU Fashion Design program helps new designers acquire the necessary skills to develop their personal style. Students can also become familiar with the business and marketing side of the apparel industry.
---

Apparel Arts : Apparel Arts (formerly the Academy of Patternmaking & Design) opened its doors to four students in October of 1996 with a clothing design class. The school's enrollment has grown substantially through word-of-mouth only, and now includes classes on patternmaking, construction, tailoring, draping, couture sewing, fashion illustration, apparel business seminars and more. The majority of their graduates are working in the apparel field and many own their own businesses. Their goal at Apparel Arts is to enable students to become industry proficient in clothing design, construction, patternmaking, manufacturing and production.
---

Apparel Merchandising & Interior Design (Indiana Univ.) Apparel Merchandising encompasses a variety of fields, such as design, marketing, product development, historical apparel, fashion and costume construction. Their challenging curriculum prepares students for realistic employment conditions.
---

The Art Institute : Fashion designers, marketers, and merchandisers are the creators of everyday art as we wrap ourselves in their vision. Remember that the fashion industry is more than creativity and passion
it's also extremely competitive. That's why the Fashion Design and Fashion Marketing programs at The Art Institutes focus on the creative and business aspects of this fast-paced industry. Take your first steps with The Art Institutes. You'll get hands-on training from industry professionals and the career support you need to land your first job. What will your impact be in fashion? Where will your designs, inspiration, and business acumen take you? Take your first steps with The Art Institutes.
Fashion programs include (programs vary by location):

Accessory Design

Advanced Fashion Design & Merchandising Technology

Apparel/fashion Design

Basic Design

Digital Apparel Production

Fashion & Retail Management

Fashion Design & Merchandising

Fashion Design & Merchandising & Foundation for Design

Fashion Marketing/merchandising

Fashion Production

Visual Merchandising
---

Auburn University Textile Engineering Department: The Textile Engineering Department, working cooperatively with the Department of Consumer Affairs serves the integrated textile industry. It prepares students who can manage in the industry, give it technical support, and broaden its vision. Its research supports the industry's knowledge base.
---

Baltimore City Community College, Fashion Design Program: BCCC offers several options in the area of Fashion Design: two two-year courses of study leading to the Associate of Applied Science Degree in Fashion Design (or a Fashion Retailing option within that degree), a 37-40 credit Certificate in Fashion Design and a 16-credit track in Apparel Patternmaking. Students who choose the Fashion Design degree acquire a technical background in illustrating original designs, patternmaking, and fabric selection to transform their designs into finished garments. Students in the Fashion Retailing option take selected business and apparel courses as they prepare for innovative and challenging careers in the retail sector of the fashion industry. The Apparel Patternmaking track (within the Apparel Design Certificate) provides the opportunity for training in the specialized area of pattern development for apparel design.
---

Barbizon School of Modeling: school for fashion modeling. Want to be a star? At Barbizon's free performing arts workshop, you can find out what it takes to make it in the industry and gain the self-confidence you need to turn your dream into reality.
---

Berkeley College: The Fashion Marketing & Management program is designed for those who want the most comprehensive fashion curriculum in two academic years. The program draws heavily upon the resources of New York's fashion world and cultural centers; includes field trips to trade shows, museums, designers, and showrooms; and incorporates a full-time Fashion Internship.
---

Blanche Macdonald Centre (Canada): since 1960 the Blanche Macdonald Center has delivered the highest quality training in creative disciplines. The center is recognized as a leading make-up school in Canada. They also teach fashion design and fashion merchandising.
---

Buffalo State College SUNY (BSC) [Buffalo NY]: The faculty currently includes four full-time members with backgrounds in textiles, fashion merchandising, design, computer graphics, economics, business, apparel design, apparel manufacturing and production, rehabilitation, and socio-psychology. The fashion and textile technology program prepares students to work in the fashion industry in textile and fashion design, CAD/cAM product development, and fashion retailing and merchandising.
---

Clemson University: School of Textiles, fibers and Polymers: The School of Textiles, fiber and Polymer Science continuously strives to maintain a balance in its efforts among teaching, research and public service and a dedication to maintaining the tradition associated with being the academic arm of the textile industry in South Carolina. In addition to its graduate programs, the School offers Bachelor of Science degree programs in Textile Chemistry, Textile Science and Textile Management. The School works closely with the textile industry and individual textile firms to enhance undergraduate textile education at Clemson.
---

Cracow School of Art and Fashion Design (Poland) The Cracow School of Art and Fashion Design established in 1989 and is the best fashion school in Poland. Every year we provide tution for around 1,000 students. In 2009 Cracow School of Art and Fashion Design opens doors for international students and they have already started with an English version of their website.
---

College of DuPage Fashion Merchandising and Design: The apparel industry has seen a recent upswing, which means additional job opportunities. Classes in College of DuPage's Fashion Design and Merchandising program provide community members with a wealth of information on the many facets of the fashion industry. The Fashion Merchandising and Design program offers courses for those interested in fashion illustration, textiles, clothing construction, fashion show production and fashion motivation. For more information about special events or classes offered in the Fashion Merchandising and Design area, contact program coordinator Sharon Scalise at 942-2619 or e-mail: scalise@cod.edu
---

Cornell University, Department of Textiles and Apparel: their students and faculty study apparel and textiles through the art of design, the science of chemistry and physics, the application of management principles, and the perspective of history. The Department of Textiles and Apparel (TXA) provides an opportunity to study and research fibers, fabrics, apparel, and the apparel industry from design, management, historical, and scientific perspectives.
---

Domus Academy's Masters in Fashion Design was born in Milan in 1983, at the centre of a Fashion System which is unique all over the world and recognized at the international level, in which the creativity of the fashion designers, the production capacity, the quality of both fabrics and confection, the business ability and the innovations of both retailing and communication are all integrated. Studying Fashion Design in Italy is consequently a unique experience which allows to get in contact directly with this world, its main actors and events. In fact, only in Italy, and more precisely in Milan, it is possible to perceive and to analyze the evolution of a Fashion System among the most complex and articulated. MFD proposes an integrated approach between creative, cultural, productive and marketing aspects. This is possible through a constant dialogue with the experts operating in those sectors. The final objective is to contribute to the development of professional characters able to successfully express their own creativity and to face in an adequate way the evolution of the challenges present in the field. Domus Academy's Master in Accessories Design grows out of the 20 years of teaching experience accumulated in our Fashion Design program.
---

Dysonna On Stage : Start or advance your career in FASHION! Dysonna On Stage is a continuing education of the arts school in Los Angeles, offering classes and special events in beauty, fashion, theater, art, music, and writing. All classes are taught by professionals in the industry. They offer affordable tuition rates starting at $40 per class. Visit their web site for class listings and more information. Address: 169 N. La Brea Ave., Suite D Los Angeles, CA 90036 (323) 692-0630 fax (323) 692-1407 e-mail: onstage@dysonna.com
---

Europeane Fashion Academy: 1st EuropeanFashionAcademy in South America Address: EUROPEANFASHIONACADEMY 822, Avenida de Mayo, C 1084 AAQ Buenos Aires/argentina
---

EWS Academy (Chicago): offering you professional Basic Sewing, Tailoring and Pattern Making classes, at a very reasonable cost.
---

FashionArt Italy: FASHION ART ITALY is an international fashion design studio consultant based in Prato, 20 km from Florence, in the heart of fashion-forward Italy. They have a team of designers that work to create a successful image and marketing campaign for fashion companies all over the world, while integrating important characteristics of the Italian fashion system. They work to develop the right image for your product in accordance with the international market. They sell client's products to respected importers, and they work with you to develop your samples. They also offer fashion courses.
---

The Fashion Institute of Design and Merchandising (FIDM): The purpose of The Fashion Institute of Design & Merchandising is to provide a post-secondary education leading to an Associate of Arts degree in Apparel Manufacturing Management, Cosmetics & Fragrance Merchandising, Fashion Design, Graphic Design, Interior Design, Merchandise Marketing, Textile Design, Theatre Costume and Visual Communications.
Learn more about FIDM on Apparel Search.
---

Fashion Institute of Technology (FIT): At the Fashion Institute of Technology, a variety of exceptional programs are offered in two divisions: Art and Design and Business and Technology. But there's more to it than that. It has to do with FIT's philosophy. All of their students gain real-world experience that prepares them for a career. So you could say that an FIT education is about learning the creative approach to business and the business of being creative. Located in the center or New York City.
Learn more about FIT on Apparel Search
---

GA Tech School of Textile & fiber Engineering: The School revolves around the connected concepts of engineered fibrous structures and polymers. Wherever a fiber exists in a structured form, be it a stadium roof, a geotextile, a nonwoven, a composite or a piece of apparel, we are involved. The faculty is dynamic, broad based and progressive, and evenly balanced between engineers, chemists and physicists.
---

Graften Academy (Ireland): The Grafton Academy of Dress Designing was the first Fashion Design College in Ireland, founded in 1939 by Pauline Clotworthy, a pioneer in the Irish Fashion Industry. Located in a Georgian Building, overlooking the Grand Canal, near Baggot Street Bridge, Dublin 2, the college is within easy reach of the city centres' main shopping areas, Temple Bar, Theatres and Art Galleries. The Grafton Academy is a small private and vibrant college with a very direct and practical approach to training for the Clothing Trade and Associated Industries. The Grafton Academy offers a 3 year professional Diploma full-time day course in Fashion Design. The Grafton Academy bases its' reputation on a very practical training which equips the graduate with skills and techniques for the garment industry, world-wide. Manufacturers apply to the college for graduates as Designers and Assistant Designers, Patternmakers for all areas of Fashion, from high street fashion, corporate wear, sportswear, lingerie, garments for advertising, television and theatre, fashion writers, stylists and buyers.
---

Hesser College : Hesser's Graphic Design Associate Degree program gives students, who have an artistic flair and aesthetic eye, a well-balanced and comprehensive course of study which best prepares them for entry-level positions in the field. The traditional art foundations of design, color & typography, blended with the latest electronic technology, and refined by a core liberal studies base, will enable each graduate to become a competent, efficient, professional graphic designer.This college is located in Manchester, New Hampshire.
---

Hong Kong Institute of Textile & Apparel: Its missions are to enhance the communications among the academic, professional and manufacturers throughout the world. The institution tries to improve the academic and professional standards of its members through organizing courses, forum and seminars, and publishing professional journal and newsletter. Its overall aim is to help and maintain the competitiveness of the industry and to prosper the economy of Hong Kong. It is their honor to contribute to the development of the textile and apparel industry.
---

Humber College (Canada): This four semester program trains students to work in the exciting and ever-changing fashion industry. The Fashion Program at Humber is unique. Unlike other programs, it focuses on the promotional aspects of the fashion industry. By combining both practical and theoretical knowledge, students learn to carry projects from the research and proposal stages through to implementation. Graduates are able to produce fashion shows, plan trunk shows and product launches, forecast fashion trends, and organize all aspects of styling a fashion photo shoot.
Return to the Education Directory of Fashion
Join us for education discussions about the fashion industry at the Fashion Industry Network