International Directory of Fashion Schools & Textile Industry Schools & Fashion Educational Resources.
>> Fashion Schools by Location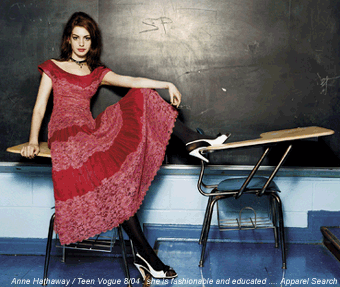 Get fashionably educated.

Academy of Art University: It is the objective of the School of Fashion to provide students with a global vision that combines the design excellence of Europe with the energy of the United States and the technology of Asia. The School of Fashion has developed a strong curriculum in design, merchandising, textiles and knitwear providing opportunities for graduates worldwide. Potential Careers: Fashion Design Fashion Designer, Product Manager and Pattern Maker. Textile Design Textile Designer and Forecaster. Knitwear Design Knitwear Designer, Knitwear Merchandising and Knitwear Accessory Designer. Fashion Merchandising Buyer, Store Manager, Store Planner, and Product Developer.
---

Academy of Couture Art: Blending European Haute Couture tradition with the high energy, fast-paced, challenging American Fashion system, the Academy of Couture Art has designed a unique program combining hands-on instruction and student-centered learning to teach future designers how to develop and refine the individual skills and talents needed to predict fashion trends and recognize and utilize fashion cycles. Address: Pacific Design Center Green Building 520 8687 Melrose Ave West Hollywood, Ca 90069 Telephone: 310-360-8888 Fax: 310- 967-8888 Contact: Robin Kim
---

American InterContinental University; : AIU fashion students are on the career track well before they graduate. They create a portfolio highlighting their best work for presentation to employers. In addition, our students can gain valuable experience as interns with designers, manufacturers and fashion houses. The AIU Fashion Design program helps new designers acquire the necessary skills to develop their personal style. Students can also become familiar with the business and marketing side of the apparel industry.
---

Apparel Arts : Apparel Arts (formerly the Academy of Patternmaking & Design) opened its doors to four students in October of 1996 with a clothing design class. The school's enrollment has grown substantially through word-of-mouth only, and now includes classes on patternmaking, construction, tailoring, draping, couture sewing, fashion illustration, apparel business seminars and more. The majority of their graduates are working in the apparel field and many own their own businesses. Their goal at Apparel Arts is to enable students to become industry proficient in clothing design, construction, patternmaking, manufacturing and production.
---

Apparel Merchandising & Interior Design (Indiana Univ.) Apparel Merchandising encompasses a variety of fields, such as design, marketing, product development, historical apparel, fashion and costume construction. Their challenging curriculum prepares students for realistic employment conditions.
---
+

The Art Institute / site: Fashion designers, marketers, and merchandisers are the creators of everyday art as we wrap ourselves in their vision. Remember that the fashion industry is more than creativity and passion
it's also extremely competitive. That's why the Fashion Design and Fashion Marketing programs at The Art Institutes focus on the creative and business aspects of this fast-paced industry. Take your first steps with The Art Institutes. You'll get hands-on training from industry professionals and the career support you need to land your first job. What will your impact be in fashion? Where will your designs, inspiration, and business acumen take you? Take your first steps with The Art Institutes.
Fashion programs include (programs vary by location):

Accessory Design

Advanced Fashion Design & Merchandising Technology

Apparel/fashion Design

Basic Design

Digital Apparel Production

Fashion & Retail Management

Fashion Design & Merchandising

Fashion Design & Merchandising & Foundation for Design

Fashion Marketing/merchandising

Fashion Production

Visual Merchandising
---

Auburn University Textile Engineering Department:The Textile Engineering Department, working cooperatively with the Department of Consumer Affairs serves the integrated textile industry. It prepares students who can manage in the industry, give it technical support, and broaden its vision. Its research supports the industry's knowledge base.
---

Baltimore City Community College, Fashion Design Program: BCCC offers several options in the area of Fashion Design: two two-year courses of study leading to the Associate of Applied Science Degree in Fashion Design (or a Fashion Retailing option within that degree), a 37-40 credit Certificate in Fashion Design and a 16-credit track in Apparel Patternmaking. Students who choose the Fashion Design degree acquire a technical background in illustrating original designs, patternmaking, and fabric selection to transform their designs into finished garments. Students in the Fashion Retailing option take selected business and apparel courses as they prepare for innovative and challenging careers in the retail sector of the fashion industry. The Apparel Patternmaking track (within the Apparel Design Certificate) provides the opportunity for training in the specialized area of pattern development for apparel design.
---

Bauder College - Fashion and Design Degrees: college for students that wish to gain an education in design, business and information technology. The fashion design program is designed to prepare students with the skills that employers in the design industry want to see, including a strong foundation of design, illustration, computer, and presentation skills. You can gain hands-on experience not only in pattern making, clothing construction, draping, and specialty design, but also in creating storyboards and visual presentations from illustration and computer techniques. The implementation of computer graphics into the curriculum could provide you with even more of a competitive edge by teaching you to use the computer for fashion illustrations, textile design, flats and specifications, graphic layouts, and spreadsheets. This school is located in Atlanta, GA. Get your fashion and design degree.
---

Barbizon School of Modeling: school for fashion modeling. Want to be a star? At Barbizon's free performing arts workshop, you can find out what it takes to make it in the industry and gain the self-confidence you need to turn your dream into reality.
---
+

Berkeley College: The Fashion Marketing & Management program is designed for those who want the most comprehensive fashion curriculum in two academic years. The program draws heavily upon the resources of New York's fashion world and cultural centers; includes field trips to trade shows, museums, designers, and showrooms; and incorporates a full-time Fashion Internship.
---

Blanche Macdonald Centre (Canada): since 1960 the Blanche Macdonald Center has delivered the highest quality training in creative disciplines. The center is recognized as a leading make-up school in Canada. They also teach fashion design and fashion merchandising.
---

Buffalo State College SUNY (BSC) [Buffalo NY]: The faculty currently includes four full-time members with backgrounds in textiles, fashion merchandising, design, computer graphics, economics, business, apparel design, apparel manufacturing and production, rehabilitation, and socio-psychology.
---

Brooks College Long Beach, CA: If fashion is your favorite way to express yourself, the FASHION DESIGN PROGRAM at Brooks College - Long Beach can help you gain the skills you need to become an inspired member of the fashion industry. Their intense 18-month program offers a quality all-around education in both the creative and business aspects of this exciting career field. In today's marketplace there is a real shortage of qualified, educated merchandisers that are prepared for the exciting, fast-paced world of manufacturing, wholesale and retail marketing. Graduates of Brooks College should be qualified for management and/or executive training positions such as Merchandiser, Assistant Merchandise Stylist or Customer Service Representative for a fashion manufacturer, Showroom Sales Representative in a fashion wholesaling business; Advertising Representative; Visual Display Artist, Assistant Buyer, Fashion Promotion/special Events Coordinator and much more.
Brooks College Sunnyvale, CA The Fashion Design program at Brooks College is designed to provide academic and specialized practical instruction to prepare the student to enter an ever-changing and exciting world of fashion. In this growing industry, there is a constant demand for technical knowledge and creative talent. Brooks College's Division of Manufacturing Education (D.O.M.E.) is the on-campus manufacturing facility where the major portion of the second year program is taught. Graduates of the program should be qualified for the following: Designer and Assistant Designer, Fashion Stylist, Production, Patternmaker, Pattern Grader, fabrications and Trim Buyer, as well as, Fashion Illustrator and Textile Artist.
---

California Design College : (CDC) programs combine traditional fashion design fundamentals, apparel production principles, and business marketing techniques, with state-of-the-art computerized fashion design and manufacturing technologies. This design college is located in Los Angeles, California.
---

Cavalry Italian Design School (Singapore): Cavalry Italian Design School is a premier design school based in Singapore. The school has a diverse population from many countries. They also offer scholarship and placement opportunities to students. Address: 156 Cecil Street, Far Eastern Bank Building, #09-01 Singapore 069544 Phone: 65-68874262 Fax: 65-68874261 Contact: Victor Yu, Principal
---

Clemson University: School of Textiles, fibers and Polymers: The School of Textiles, fiber and Polymer Science continuously strives to maintain a balance in its efforts among teaching, research and public service and a dedication to maintaining the tradition associated with being the academic arm of the textile industry in South Carolina. In addition to its graduate programs, the School offers Bachelor of Science degree programs in Textile Chemistry, Textile Science and Textile Management. The School works closely with the textile industry and individual textile firms to enhance undergraduate textile education at Clemson.
---

Cracow School of Art and Fashion Design (Poland) The Cracow School of Art and Fashion Design established in 1989 and is the best fashion school in Poland. Every year we provide tution for around 1,000 students. In 2009 Cracow School of Art and Fashion Design opens doors for international students and they have already started with an English version of their website.
---

College of DuPage Fashion Merchandising and Design: The apparel industry has seen a recent upswing, which means additional job opportunities. Classes in College of DuPage's Fashion Design and Merchandising program provide community members with a wealth of information on the many facets of the fashion industry. The Fashion Merchandising and Design program offers courses for those interested in fashion illustration, textiles, clothing construction, fashion show production and fashion motivation. For more information about special events or classes offered in the Fashion Merchandising and Design area, contact program coordinator Sharon Scalise at 942-2619 or e-mail: scalise@cod.edu
---

Cornell University, Department of Textiles and Apparel: their students and faculty study apparel and textiles through the art of design, the science of chemistry and physics, the application of management principles, and the perspective of history. The Department of Textiles and Apparel (TXA) provides an opportunity to study and research fibers, fabrics, apparel, and the apparel industry from design, management, historical, and scientific perspectives.
---

Domus Academy's Masters in Fashion Design was born in Milan in 1983, at the centre of a Fashion System which is unique all over the world and recognized at the international level, in which the creativity of the fashion designers, the production capacity, the quality of both fabrics and confection, the business ability and the innovations of both retailing and communication are all integrated. Studying Fashion Design in Italy is consequently a unique experience which allows to get in contact directly with this world, its main actors and events. In fact, only in Italy, and more precisely in Milan, it is possible to perceive and to analyze the evolution of a Fashion System among the most complex and articulated. MFD proposes an integrated approach between creative, cultural, productive and marketing aspects. This is possible through a constant dialogue with the experts operating in those sectors. The final objective is to contribute to the development of professional characters able to successfully express their own creativity and to face in an adequate way the evolution of the challenges present in the field. Domus Academy's Master in Accessories Design grows out of the 20 years of teaching experience accumulated in our Fashion Design program.

---

Dysonna On Stage : Start or advance your career in FASHION! Dysonna On Stage is a continuing education of the arts school in Los Angeles, offering classes and special events in beauty, fashion, theater, art, music, and writing. All classes are taught by professionals in the industry. They offer affordable tuition rates starting at $40 per class. Visit their web site for class listings and more information. Address: 169 N. La Brea Ave., Suite D Los Angeles, CA 90036 (323) 692-0630 fax (323) 692-1407 e-mail: onstage@dysonna.com

---

Europeane Fashion Academy: 1st EuropeanFashionAcademy in South America Address: EUROPEANFASHIONACADEMY 822, Avenida de Mayo, C 1084 AAQ Buenos Aires/argentina
---

EWS Academy (Chicago): offering you professional Basic Sewing, Tailoring and Pattern Making classes, at a very reasonable cost

---

FashionArt Italy:
---

Fashion Careers of California College (FCC College): is a private postsecondary business school founded to provide a postsecondary, collegiate-level education for students seeking successful careers in the fashion industry. Fashion Careers of California College has developed degree and certificate programs to train students entering in a fashion career.
---

Fashion Design Center (Cairo) international academy design school that offers a high quality fashion design course, fashion stylist course and vocational fashion design course. The courses are based on Italian fashion design school. After many years of experience the Fashion Design School in Cairo, currently under the Ministry of Industry and Technological Development, is collaborating with one of the most famous institutes in Milan (Italy), Istituto di Moda Burgo, which thanks to 40 years experience has made possible to establish a new branch in Cairo in order to create new professional expert in the Fashion Field.
---
+

Fashion Design Schools
---

The Fashion Institute of Design and Merchandising (FIDM): The purpose of The Fashion Institute of Design & Merchandising is to provide a post-secondary education leading to an Associate of Arts degree in Apparel Manufacturing Management, Cosmetics & Fragrance Merchandising, Fashion Design, Graphic Design, Interior Design, Merchandise Marketing, Textile Design, Theatre Costume and Visual Communications.
Learn more about FIDM on Apparel Search.
---

Fashion Institute of Technology (FIT): At the Fashion Institute of Technology, a variety of exceptional programs are offered in two divisions: Art and Design and Business and Technology. But there's more to it than that. It has to do with FIT's philosophy. All of their students gain real-world experience that prepares them for a career. So you could say that an FIT education is about learning the creative approach to business and the business of being creative. Located in the center or New York City.
Learn more about FIT on Apparel Search
---

GA Tech School of Textile & fiber Engineering: The School revolves around the connected concepts of engineered fibrous structures and polymers. Wherever a fiber exists in a structured form, be it a stadium roof, a geotextile, a nonwoven, a composite or a piece of apparel, we are involved. The faculty is dynamic, broad based and progressive, and evenly balanced between engineers, chemists and physicists.
---

Graften Academy (Ireland): The Grafton Academy of Dress Designing was the first Fashion Design College in Ireland, founded in 1939 by Pauline Clotworthy, a pioneer in the Irish Fashion Industry. Located in a Georgian Building, overlooking the Grand Canal, near Baggot Street Bridge, Dublin 2, the college is within easy reach of the city centres' main shopping areas, Temple Bar, Theatres and Art Galleries. The Grafton Academy is a small private and vibrant college with a very direct and practical approach to training for the Clothing Trade and Associated Industries. The Grafton Academy offers a 3 year professional Diploma full-time day course in Fashion Design. The Grafton Academy bases its' reputation on a very practical training which equips the graduate with skills and techniques for the garment industry, world-wide. Manufacturers apply to the college for graduates as Designers and Assistant Designers, Patternmakers for all areas of Fashion, from high street fashion, corporate wear, sportswear, lingerie, garments for advertising, television and theatre, fashion writers, stylists and buyers.
---

Hesser College : Hesser's Graphic Design Associate Degree program gives students, who have an artistic flair and aesthetic eye, a well-balanced and comprehensive course of study which best prepares them for entry-level positions in the field. The traditional art foundations of design, color & typography, blended with the latest electronic technology, and refined by a core liberal studies base, will enable each graduate to become a competent, efficient, professional graphic designer.This college is located in Manchester, New Hampshire.
---

Hong Kong Institute of Textile & Apparel: Its missions are to enhance the communications among the academic, professional and manufacturers throughout the world. The institution tries to improve the academic and professional standards of its members through organizing courses, forum and seminars, and publishing professional journal and newsletter. Its overall aim is to help and maintain the competitiveness of the industry and to prosper the economy of Hong Kong. It is their honor to contribute to the development of the textile and apparel industry.
---

Humber College (Canada): This four semester program trains students to work in the exciting and ever-changing fashion industry. The Fashion Program at Humber is unique. Unlike other programs, it focuses on the promotional aspects of the fashion industry. By combining both practical and theoretical knowledge, students learn to carry projects from the research and proposal stages through to implementation. Graduates are able to produce fashion shows, plan trunk shows and product launches, forecast fashion trends, and organize all aspects of styling a fashion photo shoot.
---

IADT Las Vegas was established to bring the Academy's Fashion Design, Interior Design, & Visual Communication programs to students in the Las Vegas area. They can help you turn your natural talent into the kind of skills that could get you an exciting job in Fashion Design, Interior Design, Web Design or Computer Graphics Design.
---

IFA Paris (China): is a French fashion school established in Shanghai since 2002, it prides itself in being the first Sino-French joint venture in fashion education to be approved by the Chinese government. Today, it has become the leading fashion design school in China and the only one that proves its dedication to fashion by using the best professional instructors from France; offering Bachelor's and Master's programs and counting over 800 students. As for our French campus, Through its alliance with AICP (Academie Internationale de Coupe de Paris), IFA Paris is able to take advantage of an ancient tradition in pattern making & draping, dating back to 1830. While IFA Paris primary focus is on design, looking at both Parisian and international styles and trends, AICP has, in itself, also contributed to the fashion world by developing its own method of patternmaking and draping. The campus finds itself located in Paris 15th arrondisement. The alliance of IFA Paris and AICP rely on the vast experience of its Academic Committee, composed exclusively of the most respected professionals from France's leading haute couture and ready-to-wear houses including Yves Saint-Laurent's Manager of Pattern Making and John Galliano's Manager of Women's Collections.
---

The Institut Francais de la Mode (IFM) (France): The Institut Franais de la Mode (IFM) was established in 1986 as a center for education and expertise for professionals in the textile and fashion industry. It is involved in two major fields of activity: the Education Division and the Economic Trends and Market Research Division. The Education Division is structured around the two post-graduate programs (in management and fashion design) as well as the Professional Training programs and the Publishing Department. The Textile and Fashion Management Post-graduate Program (French government classification level 1), which received Master of Science accreditation (MSc) through the University of Southampton, focuses on de-compartmentalization between functions and disciplines, close contact with the industry and internationalization. Nearly 700 alumni who have graduated from this program hold high-level jobs across the whole sector. The International Fashion Design Post-graduate Program, the first post-graduate program of its kind in France, started in January 2000 and is training tomorrow's fashion designers and art directors. Assimilating the fabrication process and the demands of management without losing the power of the creative idea is the essential ambition of this program. Every year approximately 1000 trainees from more than 200 companies participate in the Professional Training Department's inter-company, in-house and custom-designed corporate training seminars. In addition, IFM holds conferences and seminars annually on strategic contemporary topics.
---

The Illinois Institute of Art : this college offers fashion design, fashion production and fashion marketing & management courses. They have campuses in Chicago and Schaumberg.
---

Indiana University: they have courses for Apparel Merchandising and Interior Design. Apparel Merchandising encompasses a variety of fields, such as design, marketing, product development, historical apparel, fashion and costume construction.
---

Institute of Textiles and Clothing (Hong Kong): the first institute of The Hong Kong Polytechnic University, was formally established in December 1977 as a result of the reorganization of the former Department of Textile Industries. Throughout the years, the Institute has maintained the sole role in the provision of textile and clothing education in the tertiary education sector.
---

Institut Suprieur Textile d'Alsace [ISTA] (France): since 1986 ISTA has offered a sandwich course to train graduates from 2 yr after BAC to 4 years after BAC for professions in textiles, clothing and retailing. As well as training Product Managers in the textile field, ISTA's course paves the way to several opportunities in marketing, purchasing, sales and design.
---

Institute of Textile Technology: The Institute of textile Technology shall establish and maintain an educational institution at the graduate level for instruction of students and for research in literary and scientific branches of learning. The Institute shall specialize in scientific instruction, research, and information service in those disciplines that apply to the material, processes, and technologies for the manufacture of textiles, their distribution, and use.
---

International Academy of Design & Technology (Canada): The Academy of Design at RCC Institute of Technology provides a fast track in exciting programs for students in Fashion Design, Fashion Marketing & Merchandising, Bachelor of Interior Design, Interior Decorating Diploma, Graphic Design & Interactive Media,and Video Game Design & Development. Since 1983, the Academy of Design has offered students a high-energy, hands-on and creative learning environment, mentored by faculty who are highly successful professionals in their fields.
---

Istituto di Moda Burgo the International Fashion School in Italy. Istituto di Moda Burgo born in 1962, is the most important fashion school in italy, located in piazza San Babila - Milan is the only fashion school situated in the golden triangle of fashion .
---

IstitutoMarangoni (Italy / United Kingdom)
---

Kansas State University Distance Education Kansas State University offers a master's and a certificate program in Merchandising through distance education. The programs are designed to give industry professionals and others the opportunity to gain advanced merchandising knowledge in an interactive online setting. Students accepted into the program will complete 30 hours of coursework plus six credit hours of thesis or practicum experience. The K-State merchandising Master's degree is part of the Great Plains Interactive Distance Education Alliance. The program is designed to be completed in a minimum of two years. Graduates of the program may work in areas such as product development, promotions, and retail management among other opportunities. Address 13 College Court Building, Manhattan, KS 66506 Phone 785/532-5575, 1-800-622-2KSU Fax 785/532-5637 E-mail informationdce@ksu.edu Contact: Janice Nikkel
Core coursework includes:
Consumer Behavior
Professional Behavior
Product Design, Development and Evaluation
Promotional Strategies in Merchandising
Retail theory and Current Practice
Historical and Contemporary issues in Trade
International retail Expansion
Research Methods
Financial Merchandising Implications
Strategic Planning
---

Kent State University (KSU): The Fashion School offers two majors: BA in Fashion Design & BS in Fashion Merchandising. The Fashion School is a great place. The Ohio Board of Regents has endorsed the Fashion School as a "Center of Excellence" at Kent State University and in the State of Ohio. As a member of the Council of Fashion Designers of America (CFDA), we are also recognized as one of the top Fashion Schools in the United States. We aspire to be the best American fashion school, by providing a comprehensive American university experience, a forward looking and rigorous curriculum in fashion, an aggressive approach to the use of digital technologies, and access to a broad range of international and study away experiences.
---

Kwantlen: The four-year Bachelor of Applied Design in Fashion Design and Technology degree program provides a unique integrated study of design, production and marketing which is essential for career success. Students will develop analytical and critical thinking skills, creative problem solving abilities and skills in computers, business, marketing and communications. Comprehensive industry-based training and an extensive internship are featured. Kwantlen also offers a two-year Fashion Design and Technology Diploma Program and a one-year Fashion Marketing Certificate Program. The four-year selective-entry program is organized into eight semesters with a minimum of 120 credits in total. The program may be taken on a part-time or full-time basis. Some limitations apply to part-time studies. The diploma consists of 62.5 credits total. The focus of the program is on education and training in areas of design, production, and marketing for the apparel industry. A typical fashion career requires awareness of market trends, the ability to design for a specific market, and knowledge of pattern drafting, fit, sewing, costing, and working with in-house production people or contractors.
Next Fashion School Page
Education Directory of Fashion