Fashion & Textile Industry Jobs
Would you like to become a Fashion Intern?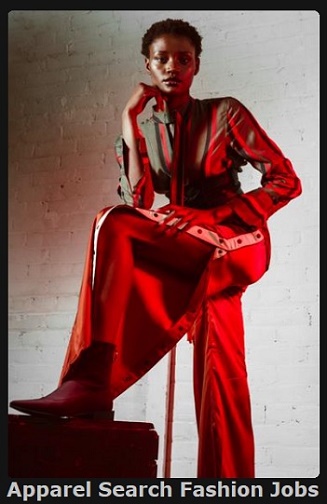 Apparel Search employment website servicing the entire fashion industry. Learn about fashion jobs in various segments of the business. Find opportunities to improve your career path regardless of your current position. You can find jobs in product development, fashion design, merchandising, manufacturing, retail, etc.
Fashion Industry Job Descriptions detailed description of some of the clothing industry job categories.
Career Guides - How to become a fashion designer, fashion stylist, fashion boutique owner and more.
Fashion Internships - if you wish to have a career in the fashion industry you may want to learn about available fashion internships.
Resume Services - fashion industry resume writing services.
Fashion Job Articles - Read articles that are relevant to fashion industry employment.
Learn more about fashion industry jobs here on Apparel Search.


Jooble Fashion Magazine Internship Jobs : Jooble is one of the largest job aggregators in the world. You can find jobs in various industries such as the fashion industry. You can find fashion magazine internship jobs as well as other fashion relevant employment listings on Jooble.
---

Kenneth Cole: Kenneth Cole is just about always searching for talented individuals with fashion industry experience or at least a great sense of style. You can search their site for corporate positions, retail positions and even internships.
---

Kohl's: their expansion means unlimited opportunity for you. And they have so many great things to say about joining the Kohl's team that they have created a special Website dedicated to their career opportunities.
---

Lands End: they are a unique group of hardworking people who take pride in the work they do. They hire and promote the most qualified individuals, and work together to continually improve their products and services. Each area in the company plays an important role in delivering the highest level of customer service. They believe that everyone at Lands' End has something special to offer. They foster a relaxed work environment that is open and supportive, creating more rewarding opportunities for all.
---

Levi Strauss: their business encompasses a broad range of job opportunities across many disciplines including: product design, merchandising, production, consumer and retail marketing, sales, logistics, communications, human resources, community affairs and more. They are seeking result-oriented people talented, strategic and innovative team players who have an unwavering commitment to excellence in all they do.
---

Licensing Industry Merchandisers Association: The mission of LIMA is to foster the growth and expansion of licensing (this includes licensed clothing and fashion accessories). LIMA represents the interests of its membership worldwide by providing a forum for networking, serving as a source of education and information, establishing standards of ethical and professional conduct, and recognizing excellence and achievement in the industry.
---

L Brands Careers (formerly Limited Brands) (Victoria Secret, Express, Bath and Body Works, The Limited, The White Barn Candle Company, Henri Bendel, Mast Industries): Founded in 1963, with one women's apparel store in Columbus, Ohio, Limited Brands has grown into more than 4,000 stores and seven retail brands. They continue to build a family of the world's best fashion brands that creates sustained growth of shareholder value. At Limited Brands, they offer a workplace as exciting, rewarding and diverse as their many fashions and products. They seek the best talent and offer you the opportunity to stretch your skills in ways that are rewarding to you, to their Brands and to their business.

Macy's Jobs : find a fashion job at Macy's one of the leading department stores in the United States. They often have employment opportunities in their corporate office, support, and in their stores. Working at Macy's means you have 150 years of tradition and business success working for you. From a single dry goods store opened in New York City in 1858, Macy's has evolved into one of the nation's premier retailers for fashion and affordable luxury. Much of our success is due to the amazing energy, ideas and enthusiasm our associates have contributed over the years. Today, Macy's, Inc. operates more than 800 Macy's department stores and furniture galleries in 45 states, the District of Columbia, Guam and Puerto Rico. With corporate offices in Cincinnati and New York, we also operate 40 Bloomingdale's stores in 12 states, as well as macys.com and bloomingdales.com for distinctive online shopping experiences.
---

Marshalls / TJX Companies - Jobs: their Associates have come to expect great things from their great Company which now ranks among the Fortune 200 and is consistently named in the Top 20 of the Boston Globe 100 - Best of Massachusetts Business. In a thriving company such as The TJX Companies, Inc., variety and diversity are not only ever present, they are essential. So, whatever your individual talents or interests, its more than likely that they have exactly what you are looking for. With an extensive range of career options, The TJX Companies, Inc. stands out as one of the most successful retailers in America and they are happy to share their success with you. In addition to the numerous nationwide opportunities in their Stores and Distribution Centers, they also have a wide array of positions in our Corporate Home Office in Framingham, Massachusetts.
---

Neiman Marcus: Neiman Marcus is a renowned specialty store dedicated to merchandise leadership and superior customer service. They will offer the finest fashion and quality products in a welcoming environment. The Neiman Marcus Group and its affiliated stores are transforming the luxury experience every day with a commitment to being the best — and hiring the best.
---

Nordstrom: Nordstrom is a leading fashion specialty retailer who believes that success is built around people. Their commitment to encourage and support the success of each employee makes Nordstrom an exciting and vibrant place to build a career. Whether you're in sales or stock, alterations or management, or are part of the behind-the-scenes glue that holds it all together, they are all obsessed with serving their customers and oh, of course, fashion. Exciting and fast-paced, a career at Nordstrom means staying ahead of the trends, moving quickly and being part of something they think is pretty awesome.
---

OshKosh B'Gosh At OshKosh B'Gosh they have been committed to outfitting children with quality goods for over 100 years. Since 1895, many men and women have contributed their talents to make their company what it is today. The creativity and determination of their employees has shaped their character for over a century and helped them to achieve their vision of becoming a premium children's wear brand. A strong focus on promotion from within and a keen understanding of what new talent can offer, creates a unique and exciting work environment at OshKosh B'Gosh.
---

Pantone: Pantone is the name known around the world as the authority for color communication from designer to manufacturer to retailer to customer. Now is an exciting time to join them and share their success as they continue in the brilliant sphere of color. Pantone LLC, a wholly owned subsidiary of X-Rite Incorporated, is the world-renowned authority on color and provider of color systems and leading technology for the selection and accurate communication of color across a variety of industries. The PANTONE® name is known worldwide as the standard language for color communication from designer to manufacturer to retailer to customer.
---

Ralph Lauren: Polo Ralph Lauren is a leader in the design, marketing and distribution of premium lifestyle products in four categories: apparel, home, accessories and fragrances. For more than thirty years, their reputation and distinctive image have been consistently developed across an expanding number of products, brands and international markets. As their company grows and evolves, they remain dedicated to maintaining a dynamic and inclusive work environment. They value the individual talent that comprises this company and are committed to equal opportunities for each employee's advancement. The Company's brand names, which include
Polo by Ralph Lauren, Ralph Lauren Purple Label, Ralph Lauren, Black Label, Blue Label, Lauren by Ralph Lauren, Polo Jeans Co., RRL, RLX, Rugby, RL Childrenswear, Chaps, and "Club Monaco" among others, constitute one of the world's most widely recognized families of consumer brands. If you are searching for a career in fashion, this may be the company for you.
---

Ross Stores : Search the latest job openings at Ross. To search for corporate, distribution, and buying office jobs, select the area or areas you're interested in. Their customers love a great deal. That makes our mission simple: to provide exciting bargains, every day, in every store. It takes an incredible team of individuals to make that possible. Whether you're new to the workforce or an experienced professional, there's an opportunity for you. They are passionate, committed, collaborative, and hands-on from their Corporate and Buying Offices to their checkouts.
---

Saks Inc.(Division of Hudson's Bay): Saks' brand of service adds immeasurable value to the merchandise they sell. To work at Saks is to be part of the highest echelon of service, expertly guiding their customers through their tasteful, modern fashions with a sure hand and personalized solutions. For those who can deliver their brand of high-performance service, Saks offers the ultimate stage on which to perform. Frequent fashion firsts. The best supporting cast. The best brands. The most exciting current environment. And a stream of service innovations. All the necessary tools to help create personalized style solutions for their customers.Saks Incorporated currently operates Saks Fifth Avenue, which consists of 54 Saks Fifth Avenue stores, 49 Saks Off 5th stores, and saks.com. The Company also operates Club Libby Lu specialty stores.
---

Sears: Sears, Roebuck and Co.'s corporate headquarters is a sprawling 200-acre campus some 18 miles west of Chicago's O'Hare International airport. The low-rise, six-building complex, located in Hoffman Estates, Illinois, has served as the headquarters for the corporation since 1992. Sears prides itself on having diverse, high performance talent across their unique businesses and store support operations in Illinois and throughout the country. Sears Holdings is the parent company of Kmart and Sears, Roebuck and Co. and has 3,800 full-line and specialty retail stores across the United States and Canada. They are the nation's fourth largest broadline retailer with more than 350,000 associates and over $50B in annual revenue. Making it all run is a talented team of associates focused on improving the lives of their customers by providing quality services, products, and solutions that earn their trust and build lifetime relationships. Successful teamwork helps them build great customer relationships, remain profitable, and improve every day.
---

Shoe Carnival is one of the fastest growing and most exciting family footwear retailers in the country. Their continued expansion creates an ongoing need for diverse, highly talented people to join their team. They strive to create a fun and exciting environment for customers and employees alike. This is possible only through true teamwork. If you're looking for a challenging, team-oriented career opportunity with a dynamic, growing company, then you must check out their current career opportunities! They are not only a fun place to shop, they are also a great place to work!
---

Simon Properties - Retail Jobs: Simon is a global leader in the ownership of premier shopping, dining, entertainment and mixed-use destinations and an S&P 100 company.
---

Skechers: Would you like to work for a leading footwear company? At the core of SKECHERS' Success has always been, and Continues to be, their dedicated Employees. As a family-operated Company, they think of each Employee as an integral member of a collaborative team - and part of the SKECHERS extended family. Furthermore, their goal is to create a work environment that is professional and supportive as well as fun and enjoyable!
---

Stage Stores: job listings at Stage Stores. StageStores, Inc. brings nationally recognized brand name apparel, accessories, cosmetics and footwear for the entire family to small and mid-size towns and communities. Their corporate office is located in Houston, Texas, the 4th largest city in the U.S. and a major international hub. Peebles Division Headquarters is located in South Hill, VA, located approximately 1 hour north of Raleigh, NC. If you'd like to develop your career in a dynamic retail environment and enjoy being at the heart of the action, check out their latest job postings. Whether you'd like to work at their fast-paced Corporate headquarters, or are seeking a rewarding sales or management position at one of their many retail store locations, an exciting career in retail awaits you at Stage Stores! Job listings are updated regularly at their website, so check back often for the latest career opportunities.
---

Steinmart (Clothing Retailer) Retail professionals who are serious about their careers find Stein Mart one appealing package, from the unique family-like and supportive environment to the excellent advancement potential. Corporate career opportunities are available at their National Headquarters located in Jacksonville, Florida. Their corporate office includes many different departments, all providing important functions crucial to our success. Their stores, although they are located in many different areas of the country, offer a pleasant and consistent shopping experience that is distinctly Stein Mart. They achieve this with warm and friendly service and a well defined strategy for how they staff, manage and merchandise their stores. Career opportunities are available in many departments in their stores.
---

Steve Madden is about fashion-forward product and great people. They are proud of their talented, diverse workforce. Their employees are energized, intelligent and passionate about their business and committed to providing excellent customer service. Steve Madden has employment opportunities in their corporate offices located in Long Island City, New York as well as theirr retail stores located throughout the country. See what it's like to be a part of their dynamic team!
---

Syms (Clothing Retailer): SYMS is a growing and dynamic business which prides itself on the spirit and professionalism of its employees. SYMS continuously offers employment opportunities at their Corporate Office in Secaucus, NJ and in their 40 locations in 16 states. The teamwork among SYMS
employees is the foundation of the company's success.
---

Tailored Brands (formerly Men's Warehouse): Mutual respect, teamwork, and servant-leadership are the cornerstones upon which their company is built. That foundation, coupled with a fun and family-like atmosphere, makes Men's Wearhouse a great company to work for. The Company is also fully committed to providing equal employment opportunity both in principle and as a matter of policy and practice.
---

Talbots: Choosing the right company for your career says a lot about who you are. That's why The Talbots, Inc., is such a perfect choice. Their portfolio of brands serving the fastest-growing segment of the population today--the age 35+ customer--offers career opportunities at all levels and locations. At Talbots, you'll enjoy the chance to combine your skills, style and confidence with a company whose elevated standards reflect your own. Their history, their people and their philosophy all distinguish The Talbots, Inc., from any other retailer in the country.
---

Target: they are an upscale discount retailer that provides quality, trend-right merchandise and everyday basics at attractive prices in clean, spacious and friendly stores.
America's fourth largest retailer

23rd on the Fortune 500 list

Annual revenues over $46 billion

More than 1,350 stores in 47 states

Give back more than $2 million a week to our communities
---

Timberland: Working there is challenging. It's rewarding. It's fun. It's a lot of other things you'd associate with a company that's all about the great outdoors. They get to wear the products they design, and that makes for a pretty comfortable environment. There are lots of creative and talented people kicking around great ideas for new products, which means there's no such thing as a boring day. Their dedication to making quality products is critical to the success of theircompany. But beyond all that, one of their main interests has always been trying to make a difference in their jobs, their lives and their world.
---

TJMaxx(Clothing Retailer): The TJX Companies, Inc. is the leading and most successful off-price retailer of apparel and home fashions in the world, operating eight businesses - T.J. Maxx, Marshalls, HomeGoods, A.J. Wright and Bob's Stores in the United States, as well as Winners and HomeSense in Canada, and T.K. Maxx in Europe. The TJX Companies, Inc. focuses on large-format, value-oriented retailing concepts that provide exciting merchandise at 20-60% below regular department and specialty store prices. They have over 2,700 valued Associates in their Corporate Home Office in Framingham, Massachusetts, and over 110,000 Associates worldwide. These Associates have come to expect great things from their Company, which now ranks among the Fortune 200 and is consistently named in the Top 20 of the Boston Globe 100 - Best of Massachusetts Business.
---

VF Corp.: VF Corporation is one of the world's largest apparel companies. For over 100 years, they have grown by offering consumers high quality, high value branded apparel. Their leading brands in jeanswear, intimate apparel, outdoor and specialty apparel span virtually every channel of distribution. By understanding consumer needs and working in partnership with their retail customers, their goal is to be the world's most responsive apparel company.
---

Von Maur (Clothes Retailer): Von Maur must depend on enthusiastic, dedicated individuals to help with their expansion. They have rewarding career opportunities available in many areas: merchandising, information systems, finance, operations and management. They know they have something to match your goals. If you are interested in becoming a part of the fashion industry, please take a moment to consider their employment opportunities and see what Von Maur has to offer. As one of the few remaining family-owned and operated department stores, Von Maur employees receive the benefit of working in a respectful, friendly, diverse environment that values teamwork, ongoing feedback, recognition, and exciting advancement opportunities.
The Apparel Search Jobs Board has numerous fashion jobs listed in our employment database. Jobs are often posted in the following categories, Senior buyer, buyer, associate buyer, assistant buyer, planner, allocator, merchandise analyst, buying intern, planning intern, Director of Visuals, regional merchandise manager, Visual coordinator, visual merchandise manager, retail coordinator, sales reps, vice president of sales and marketing, vice president of sales, director of sales, regional sales manager, sales manager, sales coordinator, designer, senior designer, assistant designer, associate designer, design intern, design director, vice president of merchandising, director of merchandising, merchandiser, associate merchandiser, merchandising assistant, merchandising intern, creative director, vice president of marketing, marketing manager, director of marketing, marketing associate, marketing assistant, marketing intern, sourcing manager, director of sourcing, sourcing associate, sourcing intern, vice president of public relations, director of pr, pr manager, pr assistant, pr internship, general merchandise manager, divisional merchandise manager, showroom reps, road reps, stylist, costumer, fit model, , technical designer, technical design manager, technical design assistant, technical design internships, fashion writer, fashion editor, vice president of production, director of production, production manager, imports production manager, production associate, production assistant, production intern. Occasionally, other fashion & textile industry job openings are listed as well.
Learn more about fashion jobs here on Apparel Search.
Fashion Job Feeds RSS ("Really Simple Syndication") is a way to be notified of new content on a Web site, thus avoiding the need to revisit to check if new content has been added. Users add RSS feeds to their feed readers and newly added content appears in the feed reader whenever it is posted on the Web site.
Thank you for using the Apparel Search website.