View a small piece of fabric before purchasing an entire roll. A textile sample is a piece of cloth or fabric designed to represent a larger whole. A small sample, usually taken from existing fabric, is called a swatch. The goal of fabric swatching is to simulate the fabric of your finished garment as closely as possible.
Swatch Card Resources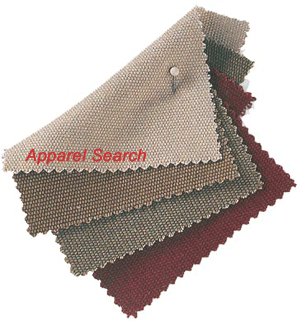 Bredemeier: Family-owned since 1895, Bredemeier has always understood the importance of listening and responding to its customers' needs. This "old-fashioned" idea is fundamental to its reputation as the premier producer of swatch cards and individual samples for a number of surface material (textiles, vinyls, leathers, films, veneers, etc.) industries.
---

Creative Services, USA Inc.: has been producing sample programs for the textile, apparel and furniture industries since 1979. They are a full service operation offering design assistance, full color printed products, cutting, swatching, collating, finishing and shipping. They combine high quality work with outstanding service and excellent value to ensure your complete satisfaction. They provide a turnkey solution to outfit your sales organization and customers with consistent, high quality marketing tools. Cap Sets/headers, Catalogs, Color Cards, Customized Sales Aids, Direct Mail, Stock Books and Product Line Cards are all part of our everyday repertoire. Their attention to detail matched with their unparalleled experience and superior organization delivers your program the way you want it and when you need it. Address: Address: 1231 Montlieu Avenue, High Point, NC 27262 Phone: 800-476-2059 FAX: 336-887-1954 E-Mail: info@creativeservicesusa.com
---

Leed Samples : Design and manufacture of the highest quality material swatch cards. Fast turnaround, great customer service, competitive pricing. Swatch cards are the most common way of presenting material samples. Designers and consumers prefer to use swatch cards to get a quick, convenient overview of what's available in your materials catalog.
---

Millennium Swatch Card & Book Mfg. (New York) experienced in the color card and sample swatching business. Millennium has a growing list of satisfied customers throughout the garment and fabric industries. Their attention to detail and commitment to quality are becoming well known. They offer complete in-house manufacturing services including layout and design on state-of-the-art computer equipment, as well as printing, production, pick-up and delivery. Before you send out your next color card or sample job, you owe it to yourself to see what Millennium Swatch Card & Book Mfg. has to offer.

---

Mood Designer Fabrics (New York): they carry a large collection of designer and home fabrics online and do their best to describe an item's color in each description they write. They hold each fabric to the window to observe the color in natural light. They scratch their heads searching for just the right color terms. In spite of their best intentions, they can never guarantee exact colors or color matching because of this simple fact: Variations in monitor or mobile color settings are just too wide from device to device. Visit their store to see actual fabric swatches.

Sample Makers Inc.: Today, Sample Makers Inc. is located in Jefferson City, Tennessee, just east of Knoxville. The 35-thousand square foot facility employs nearly 100 people and houses its own printing and art departments. What began as a sample business solely aimed at the furniture industry now provides sample programs for the automotive, marine, contract, decorative and industrial fabric industries as well.
---

Swatch On : order wholesale fabric online. Build your Swatch Box full of fabric samples.
---

Swatch Services Mid-Atlantic Swatch Services Mid-Atlantic, LLC has over 30 years in the business of swatch and sample production. They serve the needs of the textile, apparel and printing industries, in addition to those customers whose products are created with veneers, and plastics. They serve their customer's needs nationwide from their main location in Baltimore, Maryland. They support their client's efforts in creating presentation materials to showcase their products. Their function can include fabric layout and cutting, attaching swatches, collating, packing, and shipping completed samples to the customer or end user. Most of their employees have been with them for many years, providing the experience necessary for a timely and successful project completion.
---

Tactic Inc. Tactic develops and manufactures quality, unique and distinctive sales tools for different areas of activity: laminates textiles, floor and window coverings, construction material and much more! Use tactic get results! They provide swatch making services. Address: 2030 127e Rue, St-Georges, Quebec, Canada, G5Y 2W8 Phone: 1-800-933-5232 Fax: 1-418-227-3188 E-mail: info@samplingproduct.com Contact : Marco Trudel
---

Textile fabric Consultants: manufactures fabric swatch kits used in identifying textile fibers, properties, yarns, fabric constructions, finishes and dye/print methods. These swatch kits are used by textiles, interior design, fashion merchandising and theatre students and professionals worldwide. The kits are also used by high school teachers, extension agents, custom brokers, retail apparel sales associates and buyers, training directors of apparel and shoe manufacturers, fabric store personnel, interior designers and consumers.
You may want to learn about our Fashion Design Studio.
Thank you for using the Apparel Search website.