Apparel Search is a leading guide to fashion, style, clothing, glam and all things relevant to apparel. We hope that you find this 1960's Women's Fashion page to be helpful.
A fabulous era in fashion.
The counterculture of the 1960s refers to an anti-establishment cultural phenomenon that developed first in the United Kingdom (UK) and the United States (US) and then spread throughout much of the Western world between the mid-1960s and the mid-1970s, with London, New York City, and San Francisco being hotbeds of early countercultural activity. As the era unfolded, new cultural forms and a dynamic subculture which celebrated experimentation, modern incarnations of Bohemianism, and the rise of the hippie and other alternative lifestyles, emerged.
The '60s started out fairly conservatively, but as rock 'n' roll grew in popularity, it began to have a fashion influence on the kids who listened to it.
The "Generation Gap", or the inevitable perceived divide in worldview between the old and young, was perhaps never greater than during the counterculture era. A large measure of the generational chasm of the 1960s and early 1970s was born of rapidly evolving fashion and hairstyle trends that were readily adopted by the young, but often misunderstood and ridiculed by the old.
the donning of revealing clothing by women in public, and the mainstreaming of the psychedelic clothing and regalia of the short-lived hippie culture. Ultimately, practical and comfortable casual apparel, namely updated forms of T-shirts (often tie-dyed, or emblazoned with political or advertising statements), and Levi Strauss-branded blue denim jeans[51] became the enduring uniform of the generation. The fashion dominance of the counterculture effectively ended with the rise of the Disco and Punk Rock eras in the later 1970s, even as the global popularity of T-shirts, denim jeans, and casual clothing in general have continued to grow.
Women's 1960s fashion was extreme style and attitude from the start of the decade to the end. In the early years, the fashion idol was Jackie Kennedy with her perfectly white pearls and tailored suit dresses, but the era also turned into a "hippie" fashion time period.
Popular clothing styles of the 1960s include pillbox hats, mini skirts and bell-bottom jeans. Trends from Great Britain, known as "mod style," were particularly influential during that decade. Carefree styles which dabbled in rebellion.
Fashion in the early '60s was still heavily influenced by '50s' fashion and this was characterized by women wearing calf length skirts with a clinched waist and a pleasing printed pattern. Hemlines were seldom above the knee and were mostly modest. Gathered and pleated skirts were also fashionable during the '60s.
Teenage girls dressed like ladies for school throughout much of the '60s. They wore knee-length, pleated wool skirts in dark colors or patterns such as navy or plaid, and wore conservative white blouses with rounded Peter Pan-style collars.
During the early 60s, women wore either skirts or dresses for just about everything; pants were worn only for ultra-casual settings. Day dresses were popular until about 1964. As the decade went on, skirts became shorter and collars on dresses widened. Large, bold flowers and bright colors eventually became popular in fashion during the 60s.
Women of the 1960s wore pants made of fabrics such as jersey, satin and cotton velvet. Pants were worn in combination with garments like suit jackets and tunics. This attire was, in some cases, suitable for the professional setting and was sometimes even considered fit for evening wear.
Bell bottom jeans - Bell-bottoms (or flares) are a style of trousers that become wider from the knees downward, forming a bell-like shape of the trouser leg. In the 1960s, bell-bottoms became fashionable for all genders in Europe and North America. Often made of denim, they flared out from the bottom of the calf, and had slightly curved hems and a circumference of 18 inches (46 cm) at the bottom of each leg opening. They were usually worn with Cuban-heeled shoes, clogs, or Chelsea boots. Toni Basil, who was a go-go dancer when the 1964 concert film the T.A.M.I. Show was released, appeared in the film wearing bell-bottoms with a baby doll blouse.
Paisley tops & bottoms- Paisley became identified with psychedelic style due to a resurgence in the pattern's mainstream popularity leading up the mid- and late 1960s, partly due to The Beatles. Consequently, the style was particularly popular during the Summer of Love in 1967.
Grateful Dead t-shirts - The Grateful Dead was an American rock band formed in 1965 in Palo Alto, California. Ranging from quintet to septet, the band is known for its eclectic style, which fused elements of rock, folk, country, bluegrass, blues, gospel, modal jazz, reggae, experimental music, psychedelia, and space rock, for live performances of lengthy instrumental jams, and for their devoted fan base, known as "Deadheads".
Tie-dye t-shirts - The process of tie-dye typically consists of folding, twisting, pleating, or crumpling fabric or a garment and binding with string or rubber bands, followed by application of dye(s). The manipulations of the fabric prior to application of dye are called resists , as they partially or completely prevent the applied dye from coloring the fabric. More sophisticated tie-dyes involve additional steps, including an initial application of dye prior to the resist, multiple sequential dye and resist steps, and the use of other types of resists (stitching, stencils) and discharge.
Corduroy pants - Corduroy is a textile with a distinct pattern, a "cord" or wale. Modern corduroy is most commonly composed of tufted cords, sometimes exhibiting a channel (bare to the base fabric) between the tufts. Both velvet and corduroy derive from fustian fabric.
Learn more about 1960's Fashion.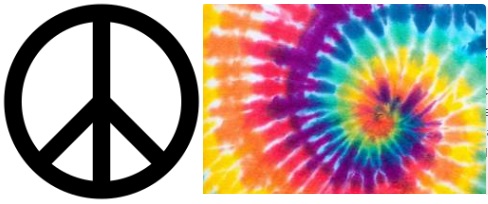 If you want to be even more stylish, you should wear your favorite 1960's Women's Fashion.
You may also have interest in 1970's Women's Fashion.