During the
1890s
in European and European-influenced countries, fashionable women's clothing styles shed some of the extravagances of previous decades (so that skirts were neither crinolined as in the 1850s, nor protrudingly bustled in back as in the late 1860s and mid-1880s, nor tight as in the late 1870s), but corseting continued unmitigated, or even slightly increased in severity. Early 1890s dresses consisted of a tight bodice with the skirt gathered at the waist and falling more naturally over the hips and undergarments than in previous years. The mid 1890s introduced leg o' mutton sleeves, which grew in size each year until they disappeared in about 1896. During the same period of the mid 90's, skirts took on an A-line sillouette that was almost bell-like. Changing attitudes about acceptable activities for women also made sportswear popular for women, with such notable examples as the bicycling dress and the tennis dress. The late 1890s returned to the tighter sleeves often with small puffs or ruffles capping the shoulder but fitted to the wrist. Skirts took on a trumpet shape, fitting more closely over the hip and flaring just above the knee. Corsets in the 1890s helped define the hourglass figure as immortalized by artist Charles Dana Gibson. In the very late 1890s the corset elongated, giving the women a slight S-curve silhouette that would be popular well into the

Edwardian

era.
Influence of aesthetic dress
The 1890s in both Europe and America saw growing acceptance of artistic or aesthetic dress as mainstream fashion, especially in the adoption of the uncorseted tea gown for at-home wear. In America in this period, Dress, the Jenness Miller Magazine (1887-1898), reported that tea gowns were being worn outside the home for the first time in fashionable summer resorts.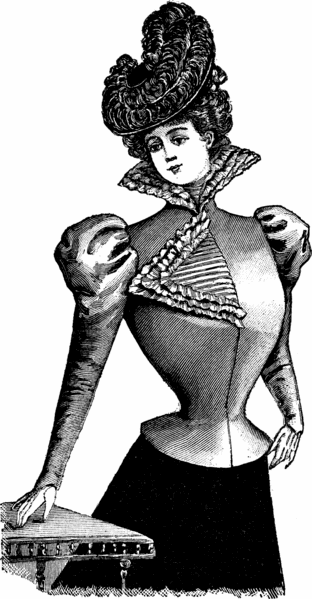 The above
article is licensed under the GNU Free Documentation License. From Wikipedia, the free encyclopedia
https://en.wikipedia.org/wiki/1890s_in_fashion Retrieved and modified by Apparel Search 1/13/06
Designer Definition (from U.S Department of Labor)
Learn about another era in fashion:
1980's Fashion History (terms section)