Short Skirts
Can you guess the difference between long & short?
A skirt is a tube or cone-shaped garment that hangs from the waist or hips and covers all or part of the legs.
A short skirt is one that is not long. In other words, the hemline (lower edge) is far from the floor. The length of the skirt from the waistline to the hemline is shorter than most other skirts.
Another name for this type of skirt would be a mini skirt or micro skirt.
A miniskirt (sometimes hyphenated as "mini-skirt") is a skirt with a hemline well above the knees, generally at mid-thigh level, normally no longer than 10 centimeters (4 inches) below the buttocks.
A micro-miniskirt or microskirt is a miniskirt with its hemline at the upper thigh. The micro is shorter than the mini.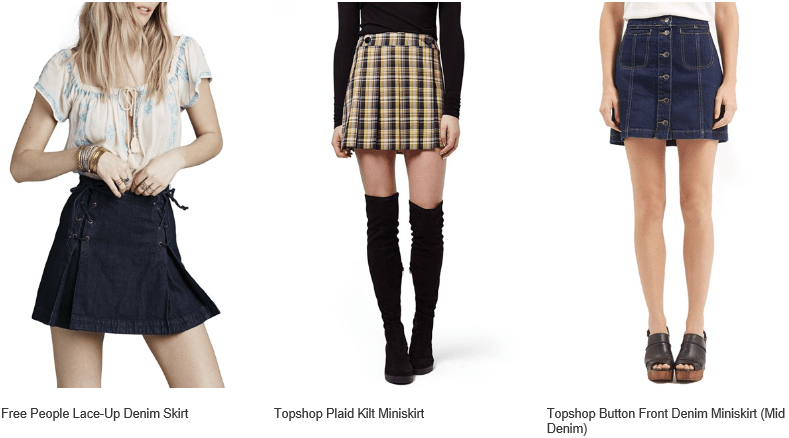 Short skirts come in many different styles, colors, & fabrics. Although they all have length in common they come in many different versions. Some are very classy and luxurious and others unfortunately can potentially make it look like you have a night job walking the streets (which is fine if that is the look you are going for).
The hemline is perhaps the most variable style line in fashion, changing shape and ranging in height from hip-high to floor-length. What is a fashionable style and height of hemline has varied considerably throughout the years, and has also depended on a number of factors such as the age of the wearer, the occasion for which the garment is worn and the choice of the individual.
The hemline of skirts can vary from micro to floor-length and can vary according to cultural conceptions of modesty and aesthetics as well as the wearer's personal taste, which can be influenced by such factors as fashion and social context. Most skirts are self-standing garments, but some skirt-looking panels may be part of another garment such as leggings, shorts, and swimsuits.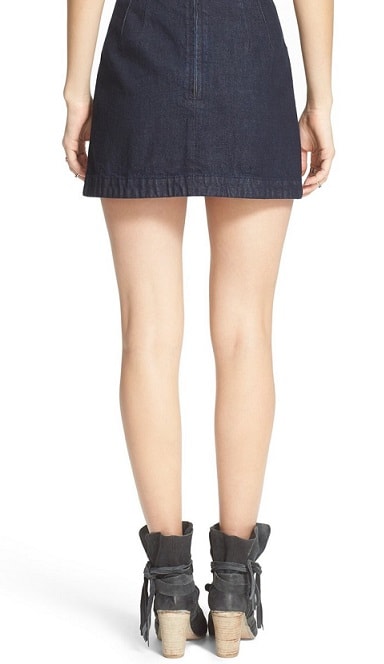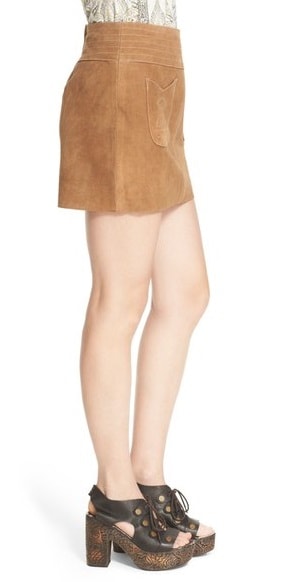 What are the other skirt lengths?
Dresses and skirts are generally classified in terms of their length: mini, ballerina length, tea length, full length, maxi, Intermission length.
History of the miniskirt: You are not the first one to freak your parents out by wearing an extremely short skirt.
Short skirts have existed for a long time, though they were generally not called "mini" until the 1960s. Instances of clothing resembling miniskirts have been identified by archaeologists and historians as far back as c.1390–1370 BCE.
One of the earliest known cultures where women regularly wore clothing resembling miniskirts was a subgroup of the Miao people of China, the Duan Qun Miao (Chinese: 短裙苗; pinyin: duǎn qún miáo, literally "short skirt Miao").[4] In albums produced during the Qing dynasty (1644–1912) from the early eighteenth century onwards to illustrate the various types of Miao, the Duan Qun Miao women were depicted wearing "mini skirts that barely cover the buttocks."
In the early 20th century, the dancer Josephine Baker's banana skirt that she wore for her mid-1920s performances in the Folies Bergère was subsequently likened to a miniskirt. Extremely short skirts became a staple of 20th-century science fiction, particularly in 1940s pulp artwork such as that by Earle K. Bergey who depicted futuristic women in a "stereotyped combination" of metallic miniskirt, bra and boots. Hemlines were just above the knee in 1961, and gradually climbed upward over the next few years. By 1966, some designs had the hem at the upper thigh. Stockings with suspenders were not considered practical with miniskirts and were replaced with coloured tights. The popular acceptance of miniskirts peaked in the "Swinging London" of the 1960s, and has continued to be commonplace among many women, especially teenagers, pre-teens, and young adults.
Towards the end of the 1960s, an even shorter version, called the microskirt or micro-mini, emerged.
From approximately 1969, the fashion industry largely returned to longer skirts such as the midi and the maxi. The industry and consumers go back and forth from that point on. The short skirt comes in and out of style from time to time.
From World War I to roughly 1970, women were under social pressure to wear skirts near to the currently fashionable length or be considered unstylish, but since the 1970s, women's options have widened, and there is no longer really only one single fashionable skirt-length at a time. It is the opinion of Apparel Search that a women should wear any length skirt that she desires. As always, a women should wear what she wants and wear it when she wants.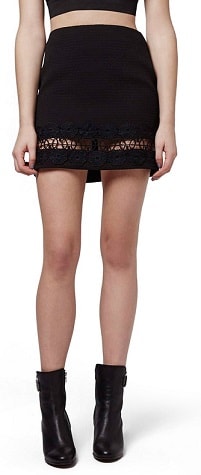 Is the short skirt in style this year?
Links of possible interest to help you learn more about short skirts:
Clothing stores that may have short skirts for sale (not always):
ASOS - Discover mini skirts with ASOS. Shop a range of mod, mini and short skirt styles with ASOS.
Nordstrom - Nordstrom sells miniskirts as well as skirts of other lengths. They often have a fine collection.
Zara Mini Skirts - Latest trends for women's mini skirts at ZARA online. Find white, black, denim, leather, suede, plaid, sequin, pleated and micro mini skirts for women.
Their is something to be said for long legs and short skirts.

Yes, a skirt could possibly become too short.
Typically, it is best for your skirt length to cover your lingerie underwear. Again, this is entirely up to the wearer. Any skirt length is acceptable if the women deams it so. Obviously this concept does not aply to school or for certain business attire.
You may want to also learn about tube tops, tank tops & g-strings if you are going for the sexy look.
Learn about denim skirts which can be short, mid, or long. Don't forget to also visit the maxi skirts page for more information about different skirt styles.
If you are not actually looking for short skirts, you may be looking for shorts that are skirts. If that is the case, you should check the skorts page.
Fashion Products Fashion Products S-Z Fashion Products S
---
Return to the Influence Fashion home page.

Copyright 1999-2023 Apparel Search Company. All Rights Reserved.