Fitness Trackers
What is the difference between a fitness tracker, smart watch, and an wearable technology? Well, that is an excellent question.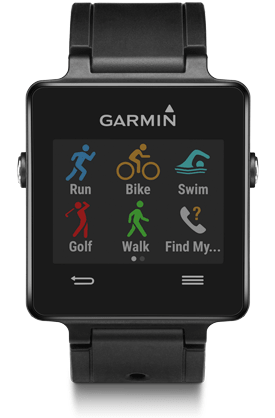 Wearable technology is basically technology that can be worn in some fashion on the body. For example, wearable technology can be in clothing, footwear, hats, watches, jewelry, etc. Technically speaking a smart watch and fitness tracker can be a component of wearable tech, but not all wearable technology must be a smart watch or fitness tracker. In other words, wearable tech is the overall category in which both smart watches and fitness trackers reside.
Smart watches can contain fitness tracking components, but that is not the requirement to be a smart watch. A smartwatch is a computerized wristwatch with functionality that is enhanced beyond timekeeping. While early models can perform basic tasks, such as calculations, translations, and game-playing, modern smartwatches are effectively wearable computers. Many run mobile apps, using a mobile operating system. Some smartwatches function as portable media players, offering playback of FM radio, audio, and video files to the user via a Bluetooth headset. Some models, also called 'watch phones', feature full mobile phone capability, and can make or answer phone calls. Smart watches can measure physical activities, heart rates, etc., but not all of them have to have these functions. Like other computers, a smartwatch may collect information from internal or external sensors. It may control, or retrieve data from, other instruments or computers.
Fitness Tracker or Activity Tracker is a device or application for monitoring and tracking fitness-related metrics such as distance walked or run, calories burned or consumed, heartbeat and quality of sleep. Not all devices measure the same elements. Obviously some have more features than others. In addition, some may be of better quality than others.
Most fitness trackers are dedicated electronic monitoring devices that are synced, in many cases wirelessly, to a computer or smartphone for long-term data tracking. This is a good example of wearable technology using the electronic devices along with external devices to expand capabilities. Not all fitness trackers are smart watches.
Fitness tracking can also be done on smart phone fitness trackers. Most smart phone fitness trackers have a rechargeable battery and graphical display and many have a touch screen. Peripheral devices may include camera, thermometer, accelerometer, altimeter, barometer, compass, GPS receiver, speaker and SDcard that is recognized as a mass storage device by a computer. Software may include Map display, scheduler, calculator, and various kinds of watch face. The watch may communicate with external devices such as sensors, a wireless headset, or a heads-up display. This gives smart phone fitness trackers an advantage over the more basic fitness trackers.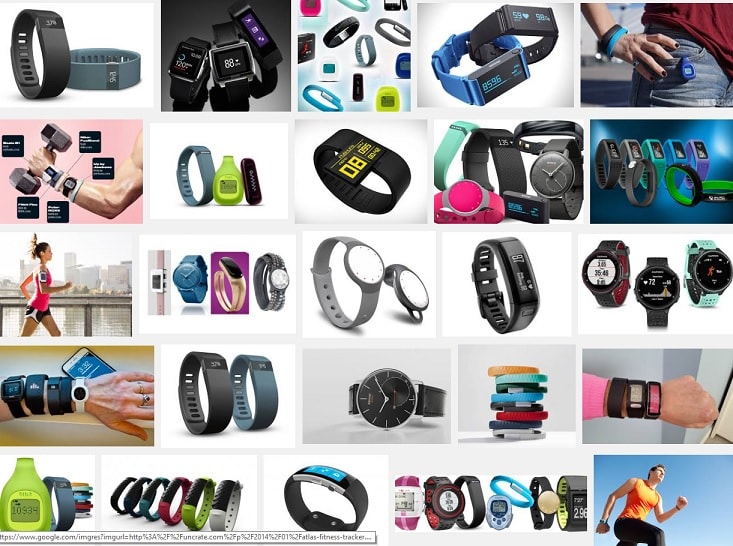 The term "activity trackers" now primarily refers to wearable devices that monitor and record a person's fitness activity. The concept grew out of written logs that led to spreadsheet-style computer logs in which entries were made manually. Improvements in technology in the late 20th and early 21st century have made it possible to automate the monitoring and recording of fitness activities and to integrate them into more easily worn equipment.
Wearable heart rate monitors for athletes were available in 1981.
Early examples of this technology include wristwatch-sized bicycle computers that monitored speed, duration, distance, etc., available at least by the early 1990s.
Electronic activity trackers are fundamentally significantly upgraded versions of pedometers; in addition to counting steps, they use accelerometers and altimeters to calculate mileage, graph overall physical activity, calculate calorie expenditure, and in some cases also monitor and graph heart rate and quality of sleep.
Early versions such as the original Fitbit (2009), were worn clipped to the waist; formats have since diversified to include wristbands and armbands (smart bands) and smaller devices that can be clipped wherever preferred. Apple and Nike together developed the Nike+iPod, a sensor-equipped shoe that worked with an iPod Nano.
Much of the appeal of activity trackers that makes them effective tools in increasing personal fitness comes from their making it into a game, and from the social dimension of sharing via social media and resulting rivalry. The device can serve as a means of identification with a community, which extends to broader participation. On some devices, family members of friends can share data regarding their fitness activities so that they can motivate one another for further progress. For example, if I measured 10,000 steps today and my wife only measured 8,000 she might walk some more just to beat my score for the day (nothing wrong with a little healthy competition).
Fitness activity trackers are available both with and without displays. The one without display essentially means that you would need to login on another device to see the data collected.
Below are a few of the devices that have been on the market:
Basis (owned by Intel) - Basis Carbon Steel Edition
Bomdic – Gomore
Fitbit - Fitbit Flex, Fitbit One, Fitbit Zip, Fitbit Surge, Fitbit Charge, Fitbit Charge HR, Fitbit Blaze
Fossil Group - Fossil Q Wearables
Garmin - Garmin Vivofit, Garmin Vivofit 2, Garmin Vivosmart, Garmin Vivoactive, Garmin Vivosmart HR
Huawei - Huawei Talkband B1
I Measure U
Jawbone - Jawbone UP, Jawbone UP2, Jawbone UP3, Jawbone UP4
LG Electronics - LifeBand Touch and heart-monitoring headphones.
Medisana - Vifit connect
Microsoft - Microsoft Band
Mio Technology – Fuse
Misfit Wearables - Misfit Shine, Misfit Flash, Beddit
Nike - Nike+ FuelBand and Nike+ FuelBand SE
Pivotal Corporation - Pivotal Tracker 1
Polar Electro - Polar Loop
Razer – Nabu
Runtastic
Samsung - Samsung Gear Fit
Sony - Sony SmartBand SWR10, Sony SmartBand Talk SWR30
Spire – Spire
Withings - Withings Pulse O2, Withings Pulse
Nudge: an app dashboard for activity trackers
Xiaomi: Xiaomi Mi Band
Cooey - Smart blood pressure monitor, scale and glucometer devices
Drive Multi-Tracking Physical Challenges monitor
Apple Watch By Apple
Moov Now By Moov
Above is only a few examples of what has been developed. Do you have a favorite fitness tracker? Honestly, we are not sure which one is the absolute best. New brands and developments are popping up all the time. It is really challenging to figure out which are the best devices. The best one from today may be replaced by a better one tomorrow.
View wearable technology blog posts on the Fashion Blog.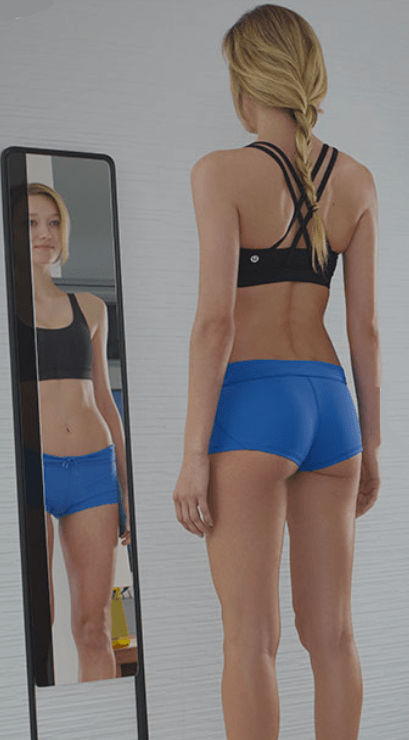 Naked 3D Fitness Tracker - home body scanner.
Be careful to watch out for the fitness trackers with the mind control feature.
Understanding that you are keen on physical fitness and athletic activities you may also find interest in the fitness fashion, fitness tops, compression shorts, and yoga pant pages.
Read about fitness trackers & watches on the Fashion Blog. You will see that they can be used for running, cycling, swimming, yoga, crossfit workouts, boxing, etc.
If you enjoy fitness, you may want to also learn about yoga pants.
If you like wearing stylish accessories on your wrist, you might want to also learn about the best watches.
Fashion Products Fashion Products A-F Fashion Products F
---
Return to the Influence Fashion home page.

Copyright 1999-2023 Apparel Search Company. All Rights Reserved.