Golf Shirts
Are golf shirts worn only by golfers? Not necessarily. In fact, this type of shirt goes by several different names which happen to identify three different sports. A golf shirt is also called a polo shirt and tennis shirt depending. This type of shirt is not only worn for sports such as golf, polo, & tennis, it is a very common style of casual shirt for tons of occasions.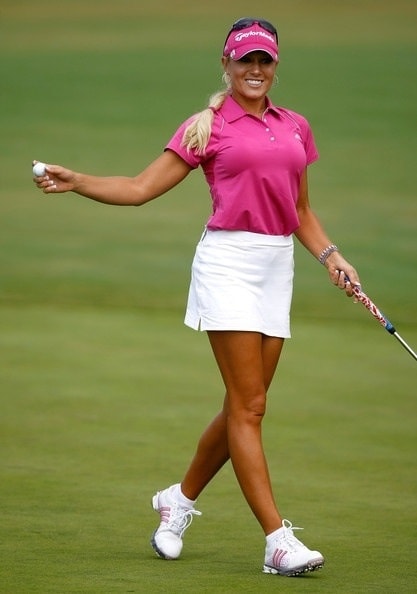 A golf shirt, tennis shirt, or polo shirt are all shirts with the same general styling. They have a collar, a placket with a few buttons, and an optional pocket on the chest.
Golf shirts are commonly made out of polyester, cotton and blended fiber. Mercerized cotton is a common fabric for golf shirts. The placket typically holds three or four buttons, and consequently extends lower than the typical polo neckline (some polos have few buttons). The collar is typically fabricated using a stitched double-layer of the same fabric used to make the shirt, in contrast to a polo shirt collar, which is usually one-ply ribbed knit cotton. Golf shirts often have a pocket on the left side, to hold a golfing score pad and pencil.
This type of shirt is usually made of knitted fabric (rather than woven cloth). The common fabrics include piqué & interlock. The textile fibers can include cotton, silk, merino wool, synthetic fibers, and blended fibers.
Over the latter half of the 20th century, as standard clothing in golf became more casual, the tennis shirt was adopted nearly universally as standard golf attire. Many golf courses and country clubs require players to wear golf shirts as a part of their dress code.
Two of the big companies that helped make this type of shirt what it is today is Lacoste and Ralph Lauren.
Producing Lacoste's "tennis shirt" in various golf cuts has resulted in specific designs of the tennis shirt for golf, resulting in the moniker "golf shirt".
As with other aspects of your life, it is important to look good when you are on or off the golf course. Next time you head onto the greens in golf clothes you may want to be wearing one of the top brands in the golf shirt market.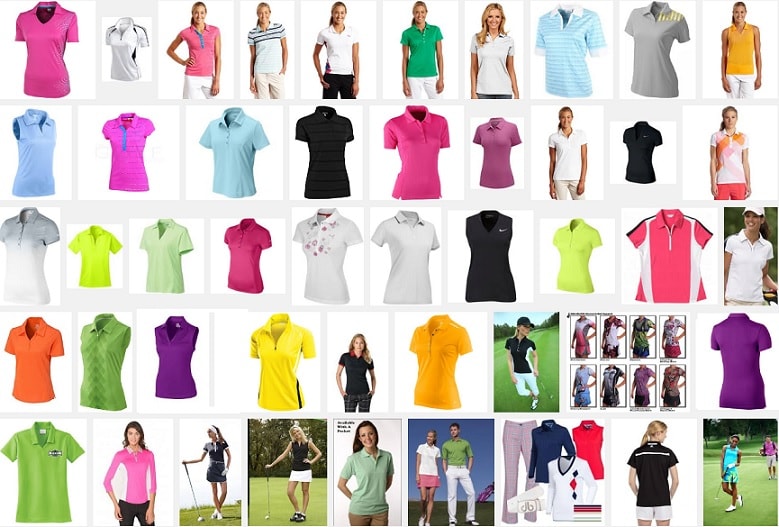 You may have interest in visiting our golf clothing store section. Visit the golf apparel retailers to browse the best collections of golf shirts including Nike Dri-FIT golf polos, Callaway, and other top golf shirt brands that come in a range of sizes, colors and styles.
Golf Shirts for Playing Golf:
The right men's golf apparel should blend performance and style. On the links, it is important that players are able to move & swing their arms comfortably. Stretchable, breathable, comfortable fabrics allow golfers to take on each hole with ease.
In the clubhouse, you need a polished, pulled-together look. Men's golf apparel from various leading retailers can help keep you looking and playing your best.
The latest men's golf apparel is technology inspired and effortlessly stylish. If you through on a trendy golf polo, you will feel confident and play accordingly.
Ultra-lightweight performance fabrics keep you feeling your best when you're working on your short game and working hard in the sun. Expect the latest garment & performance fabric technologies to help keep you dry when you need it most. Stay fresh and comfortable on the course by selecting the proper garments that have fabric wicking properties.
It is important to note that the shirt described above is a traditional "golf shirts", people can obviously wear other styles of shirts to play golf.
Learn about appropriate shoes for playing golf. Visit our golf shoes page for additional information.
If you enjoy golf and other sports you may want to learn about other types of athletic fashion.
Fashion Products Fashion Products G-L Fashion Products G
---
Return to the Influence Fashion home page.

Copyright 1999-2023 Apparel Search Company. All Rights Reserved.