Polo Shirts
A polo shirt is a form of shirt with a collar, a placket with typically two or three buttons, and an optional pocket.
Polo shirts are usually made of cotton knit piqué fabric or interlock fabric. However, there is not an absolute fiber or fabric construction requirement. In addition to cotton, poly shirts are often produced in silk, merino wool, synthetic fibers, or blends.
This type of shirt is also known as a golf shirt and tennis shirt,
This type of shirt earned its name because of the shirts used by Polo players.
Polo is a team sport played on horseback. The objective is to score goals against an opposing team. Players score by driving a small white plastic or wooden ball into the opposing team's goal using a long-handled mallet. Each polo team consists of four riders and their mounts. Field polo is played with a solid plastic sphere (ball) which has replaced the wooden version of the ball in much of the sport.
Polo players originally wore thick long-sleeve shirts made of Oxford-cloth cotton. This shirt was the first to have a buttoned-down collar, which polo players invented in the late 19th century to keep their collars from flapping in the wind (Brooks Brothers's early president, John Brooks, noticed this while at a polo match in England and began producing such a shirt in 1896). Brooks Brothers still produces this style of button-down "polo shirt". Still, like early tennis clothing, those clothes presented a discomfort on the field, and when polo players became aware of Lacoste's tennis shirt invention in the 1930s they readily adopted it for use in polo.
In 1920, Lewis Lacey, a Canadian born of English parents in Montreal, Quebec in 1887, haberdasher and polo player, began producing a shirt that was embroidered with the logo of a polo player, a design originated at the Hurlingham Polo Club near Buenos Aires. The term polo shirt, which previously had referred only to the long-sleeved buttoned-down shirts traditionally used in polo, soon became a universal moniker for the tennis shirt; no later than the 1950s, it was in common usage in the U.S. to describe the shirt most commonly thought of as part of formal tennis attire. Indeed, tennis players often would refer to their shirt as a "polo shirt," notwithstanding the fact that their sport had used it before polo did.
In 1972, Ralph Lauren included his "polo shirt" as a prominent part of his original line called Polo, thereby helping furthering its already widespread popularity. While not specifically geared for use by polo players, Lauren's shirt imitated what by that time had become the normal attire for polo players.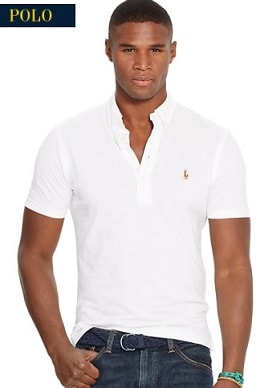 Over the latter half of the 20th century, as standard clothing in golf became more casual, the polo shirt was adopted nearly universally as standard golf attire. Many golf courses and country clubs require players to wear golf shirts as a part of their dress code.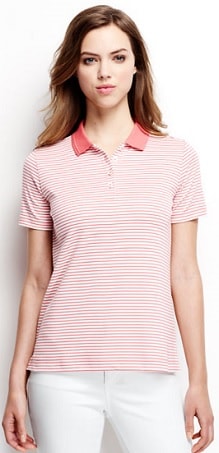 Here are a few places that you can often find nice polo shirts:
Fashion Products Fashion Products M-R Fashion Product P
---
Return to the Influence Fashion home page.

Copyright 1999-2017
Apparel Search Company. All Rights Reserved.