Leggings
Leggings are a type of skin-tight garment that covers the legs. That sounds a lot like pants. Pants are typically a type of outwear. Some leggings are worn as inner wear and others as outwear. In contemporary usage, leggings refers to tight, form-fitting trousers that extend from the waist to the ankles. Leggings are sometimes worn fully exposed, but are more traditionally worn partially covered by a garment such as a skirt, a large t-shirt, shorts, or fully covered by an outer garment, such as a full length skirt.

Leggings were historically used for practical purposes but became part of fashion (stylistic choices) in the 1960s, as trousers similar to the capris pant but much tighter.
Believe it or not, at one point in history leggings were two separate garments, one for each leg.
Modern leggings are typically made from a blend of lycra, spandex, nylon, cotton, polyester or blended combinations. Other fibers can also be used such as wool, silk, etc. There is a wide variety of legging styles, colors, and decorative design options.
Leggings are typically ankle-length (although some are shorter). Some are stirrupped or fully encase the feet.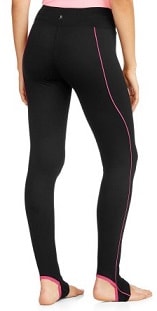 A stirrup is a light frame or ring that holds the foot of a horseback rider, attached to the saddle by a strap. The rider slips their foot into the stirrup. They greatly increase the rider's ability to stay in the saddle and control the mount. On leggings, the stirrup is a band of fabric or elastic that the foot slips thru to keep the pant leg from riding up the leg.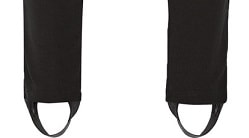 Leggings are worn to keep a person's legs warm, as protection from chafing during an activity such as exercise, or simply as a comfortable fashion garment. Leggings are worn by both men and women during exercise but historically mostly by women at other times. Leggings are often categorized as fitness pants.
Leggings come in various forms and under various names. They are sometimes referenced as hose, trews, jeggings, buckskins, pantalettes, etc.
The separate hose worn by men in Europe from the 13th to 16th centuries (the Renaissance period) were a form of leggings, as are the trews of the Scottish Highlands.
Leatherstockings or Buckskins: Separate leggings of buckskin leather were worn by some Native Americans. These were adopted by some Long Hunters, French fur trappers, and later by mountain men. Cowboys wore leggings of buckskin to protect from chapping caused by riding, wear and tear to their pants, and bites from animals, such as snakes or insects.
In colder climate regions or countries such as Russia or Korea, men and women may wear wool leggings as an additional outer layer for warmth.
The linen pantalettes worn by girls and women under crinolines in the mid-19th century were also a form of leggings, and were originally two separate garments.
Leggings in the form of skin-tight trousers, a tighter version of the capris ending at mid-calf or near ankle length, made its way into fashion in the 1960s and were worn with a large belt and slip-on high heels or ballet flat-styled shoes.
This type of garment comes in many different colors & print patterns. You can find animal print, paisleys, solid colors, color blocking, novelty graphics, etc. Some fashion designers have become very creative with the designs printed on leggings. However, the most popular may still be solid color black and some of the other solid colors.
Wearing black leggings under long, often diaphanous, skirts was part of a general fashion trend of wearing gym or dance clothes as street wear that evolved along with the fitness craze and under the influence of the movie Flashdance and the long-running Broadway show A Chorus Line. Another trend has been the wearing of black leggings with miniskirts.
Do men wear leggings?
This type of garment can be worn by both men and women for various reasons.
Men have begun to wear leggings more frequently in recent years as long underwear, and for more casual physical activities such as walking, hiking, running, cycling, yoga, and other fitness activities. For some men, leggings have become a replacement for sweatpants.
Men's leggings, dubbed "meggings" (a portmanteau of the words "men" and "leggings").
Leggings are often worn during sports and other vigorous activities by both men and women. Runners, dancers, and exercisers may wear them — particularly in cold weather under a sports uniform i.e. in soccer with shin guards and soccer socks over the leggings and under cheerleading uniforms.
This type of garment is often considered to be part of the fitness fashion category.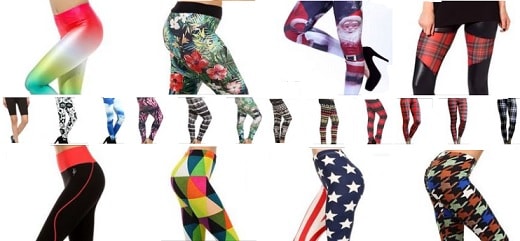 Different legging materials?
Leggings made from a nylon-lycra blend (usually 90% nylon, 10% lycra; but can vary) have traditionally been worn during exercise. Nylon lycra leggings are often referred to as bicycle or running tights, and are shinier in appearance than those made from cotton. Some have racing stripes or reflective patterns to further distinguish them as athletic wear and provide extra safety. However, beginning in the 1980s exercise-style leggings have also been worn for fashion, and as street wear.
Leggings made from cotton-lycra, or a cotton-polyester-lycra combination, are more typically worn for fashion, but are also worn as exercise wear. Cotton-lycra leggings are available in many colors, prints and designs; but black, navy and various shades of gray remain the most commonly worn. Opaque leggings are also common among women, and are sometimes worn without skirts.
Shiny leggings, sometimes called leather-look leggings have a shiny, metallic (lamé), or wet-like appearance. They emerged as a popular fashion trend in the late-2000s. These leggings are most often a blend of nylon and spandex and come in a variety of colors, although most commonly in black, silver, or gold. These types of leggings are notable for their leather, or even latex-like appearance and are most often worn as evening or clubwear.
Shiny leggings and other specialty fabric leggings have been featured at fashion runways shows and have been presented at retail to consumers.
Jeggings
Word combining the words "jeans" and "Leggings".
Essentially, they are leggings that are designed to look like jeans but have the stretch of leggings. Jeggings are a recent variant of leggings. They are leggings that take certain attributes from jeans, such as color and style and particularly a colored seam down the side, thus a mixture of the two and hence the adoption of the name "jeggings". Some styles have taken the jean-like look to such lengths as adding faux pockets and faux zip-flies to add to the look.
What is the difference between leggings, hosiery and tights?
You may want to also learn about yoga pants, and compression shorts.
Fashion Products Fashion Products G-L Fashion Products L
Return to the Influence Fashion home page.

Copyright 1999-2022 Apparel Search Company. All Rights Reserved.