Sleepwear
What if I fall asleep on the couch while wearing my sneakers, jeans, and sweater? Sorry, jeans, sweaters, and sneakers are not technically sleepwear even if you sleep in them.
The sleepwear category of fashion includes clothes such as pajamas, nightgown, sleep shirts, sleep pants, etc. In summary, sleepwear is clothing worn to bed. The category of apparel can also be referenced as nightclothes, nightdress, or nightwear. Technically, sleepwear is different than loungewear, but can be extremely similar. Sleepwear is clothes worn for sleeping and loungewear is clothing meant for lounging around the home or possibly going outside the home. Generally speaking, sleepwear would not be worn outside the home. We are not saying that it is never worn outside, but we are saying that is not the norm.
Sleepwear includes the following primary categories:
A babydoll a short, sometimes sleeveless, loose-fitting nightgown or negligee for women, generally designed to resemble a young girl's nightgown. A babydoll is a short, sometimes sleeveless, loose-fitting nightgown or negligee intended as nightwear for women. It sometimes has formed cups called a bralette for cleavage with an attached, loose-fitting skirt falling in length usually between the upper thigh and the belly button. The garment is often trimmed with lace, ruffles, appliques, marabou, bows, and ribbons, optionally with spaghetti straps. Sometimes it is made of sheer or translucent fabric such as nylon or chiffon or silk.
Blanket sleepers are a warm sleeping garment for infants and young children. The blanket sleeper or footie pajama (similar to onesies) is a type of especially warm sleeping garment worn primarily during the winter in cold weather locations. The garment is worn especially by infants and young children. Typically, but not always, the blanket sleeper consists of a loose-fitting, one-piece garment of blanket-like material, enclosing the entire body except for the head and hands. It represents an intermediate step between regular pajamas, and bag-like coverings for infants such as buntings or infant sleeping bags.
A chemise can be worn on other occasions or as sleepwear. When used in reference to sleepwear, it is a delicate, usually provocative, loose-fitting, sleeveless, shirt-like lingerie, similar to babydoll, but tighter at the hips. The term chemise or shift can refer to the classic smock, or else can refer to certain modern types of women's undergarments and dresses. In the classical use it is a simple garment worn next to the skin to protect clothing from sweat and body oils, the precursor to the modern shirts commonly worn in Western nations. Chemise is a French term (which today simply means shirt).
Negligee is loose, sensuous nightwear for women usually made of sheer or semi-translucent fabrics and trimmed with lace or other fine material, and bows. The negligee or négligée, from the French: négligé, literally meaning "neglected", known in French as déshabillé, is a form of see-through women's clothing consisting of a sheer usually long dressing gown. It is a form of nightgown intended for wear at night and in the bedroom. It was introduced in France in the 18th century, where it mimicked the heavy head-to-toe style of women's day dresses of the time.
Nightgowns are loose hanging nightwear for women, typically made from cotton, silk, satin, or nylon. A nightgown, nightie or nightdress is a loosely hanging item of nightwear, almost exclusively worn by women. A nightgown may be decorated with lace appliqués, embroidery or other embellishments at the bust and hem. A nightgown may have any neckline, and may have sleeves of any type, or be sleeveless, and any shoulder strap or back style. The length of a nightgown may vary from hip-length to floor-length. A short nightgown can be called a "shortie" or a "babydoll", depending on the style. The sweep (taper from top to bottom) of the night gown can vary from virtually straight, to full circle sweep. A slip nightgown may be used as a nightgown or as a full slip. Nightgowns may be worn with a matching outer garment, a robe, sheer chiffon peignoir or dressing gown, to make them appropriate for receiving guests.
A nightshirt is a garment intended for wear while sleeping. It is longer than most regular shirts, reaching down to the thighs or below the knees, leaving some of the legs uncovered. It is generally loose-fitting to avoid restricting the wearer's movement while sleeping. Nobles in the 16th century wore embroidered shirts or "wrought night-shirts". By the 19th century the night-shirt resembled a day-shirt with a loose, turned-down collar, or a loose, ankle-length nightgown was worn. Nightshirts are occassionally worn in the 20th and 21st centuries by women as well as men.
Nightcap is a warm cloth cap sometimes worn by women or men with pajamas or a nightgown (this is completely different than the night cap drink which is drinking alcohol at night). The nightcap is sleepwear for the head.
Onesies and other all-in-one footed sleepsuits worn by adults or children. A onesie is essentially a pajama that is made in one piece (not a separate top and bottom). They usually would have an attached sock like portion to cover the feet. They are often (but not always) made with some sort of gripping at the bottom of the feet to help reduce slippage when walking on wood floors or other slippery surfaces such as bathroom tiles. Onesies are also made for infants which would be a bit different than adult onesies.
Pajama or Pyjamas are loose fitting two-piece garments for women, men and children. They may be made from cotton, silk, satin or synthetic materials (or blended fibers). Often shortened to PJs, jimmies, jimjams or jammies. PJ's are loose-fitting, two-piece garments derived from the original garment and worn chiefly for sleeping, but sometimes also for lounging. More generally, pyjamas may refer to several garments, for both daywear and nightwear, derived from traditional pajamas and involving variations of style and material.
Peignoir a long outer garment for women usually sheer and made of chiffon. They are usually sold with a matching nightgown, negligee or panties.
Other types of clothing are commonly worn for sleeping, but not exclusively so, including t-shirts, tank tops, sweatpants and gym shorts as well as various types of underwear. Also, sleeping without any clothing is not totally uncommon. However, "no clothes" is technically not sleepwear.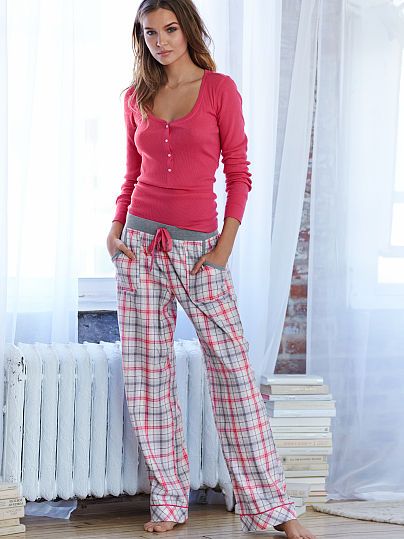 Seasonal considerations for sleepwear:
Nightwear which as discussed is also called sleepwear, nightclothes, or nightdress is clothing designed to be worn while sleeping. As you are most likely aware, some people in the world are going to bed tonight in cold weather and others are going to be in warm weather. The sleepwear that we wear to bed should take the climate into account. The style of nightwear worn may vary with the seasons. For example, short sleeves in the summer (warm climates) and long sleeves in the winter (cold climates). If someone is spending the winter in Alaska, they would most likely want to go to sleep in a warm garment. If you live in hot conditions, you may want to go to bed in a light weight tank top and a pair of panties (if you are a women) pair of briefs if you are a man.
In addition to changing silhouettes based on seasonal or regional conditions, it is important to carefully select an appropriate fiber and fabric weight. Different textile fibers and fabrics are selected based on their unique properties or weights. For example, wool is good in cold weather and silk or cotton is often comforting in hotter weather.
Warmer styles & fabrics can be worn in colder conditions and cooler fabrics and lighter weight fabrics worn in warmer climates. Although not always displayed on the runway at fashion week events, the sleepwear industry does often create a fall/winter & spring/summer collections.
The spring collections may contain light weight plain weave fabrics and the winter collection may contain flannel pajamas, waffle knits, fleece, etc.
Important considerations regarding children's sleepwear:
When it comes to children, safety is always very critical. The human condition is set to understand that taking extra care to make sure children are safe is of huge importance. Although we care for adults, a child's welfare is most critical in the minds of most adults. The U.S. Consumer Product Safety Commission has wisely created special rules for children's sleepwear.
On 22 December 2011, the U.S. Consumer Product Safety Commission (CPSC) issued a letter to manufacturers, distributors, importers and retailers reminding the apparel industry of the enforcement policy and their obligations associated with children's sleepwear and loungewear.
The Commission's regulations define the term children's sleepwear to include any product of wearing apparel (in sizes 0-14), such as nightgowns, pajamas, or similar or related items, such as robes, intended to be worn primarily for sleeping or activities related to sleeping, except: (1) diapers and underwear; (2) infant garments, sized for a child nine months of age or younger; and tight-fitting garments that meet specific maximum dimensions.
All children's sleepwear and loungewear sold in the US are required to comply with the Flammable Fabrics Act (FFA) using the standards for Flammability of Children's Sleepwear 16 C.F.R. Parts 1615 and 1616. Moreover, they have to comply with the Consumer Product Safety Improvement Act of 2008 (CPSIA) requirements including tracking labels, a certificate of compliance, meeting requirements for lead content and surface coatings, and meeting requirements for phthalates.
Visit the U.S. Consumer Product Safety Commission for the most recent rules, regulations and suggestions regard children's sleepwear.
Children's Sleepwear Regulations1, 16 C.F.R. Parts 1615 & 1616
The U.S. Consumer Product Safety Commission sets national flammability safety standards for children's sleepwear to protect children from burn injuries if they come in contact with ignition sources, such as a match or space heater. Under federal safety rules, all children's sleepwear garments sold in sizes larger than nine months must be flame resistant or tight-fitting.
Children's Sleepwear Safety (CPSC)
In addition to understanding the rules, if you plan to manufacture kids sleepwear, we strongly suggest you do the appropriate fabric & garment testing at qualified labs. Also, do NOT rely on the information that you find on our website or other websites. We suggest that you consult directly with the U.S. Consumer Product Safety Commission in case any information posted here is outdated.
What about sexy sleepwear?
Some styles or materials are selected to be visually appealing or erotic in addition to their functional purposes of being utilized for sleeping. Technically sleepwear is different than lingerie (underwear). There are clearly grey areas between the various categories.
What is the proper category?
Determining the difference between sleepwear, loungewear, and underwear can potentially be confusing.
Garments such as nightgowns or pajamas are worn for bedtime and sleeping so it makes sense that they are sleepwear. Lounge pants are worn for lounging around but are very often worn to sleep. Some may say that lingerie is worn for bedtime, but not necessarily for sleeping. Although lingerie and panties are often worn to sleep, they may technically fall into the category of underwear rather than sleepwear.
Sorry, this page was not written to explain the legal differences between these categories. If you wish to learn the HTS Codes and proper duty classifications, you unfortunately need to continue your research in the customs section of Apparel Search.
In the 1990s, a category of products called "loungewear" was introduced into the children's market. CPSC staff views children's "loungewear," or other similar garments marketed as comfort wear, as garments worn primarily for sleep-related activities. Therefore, "loungewear" must comply with the children's sleepwear standards.
Note: if you are a clothing importer and you are interested in the "category" in regard to customs clearance and duty rates, you should absolutely consult directly with a customs broker.
Learn about the difference between sleepwear & loungewear.
Learn more about robes & lingerie.
Find stores so you can shop for this amazing apparel category.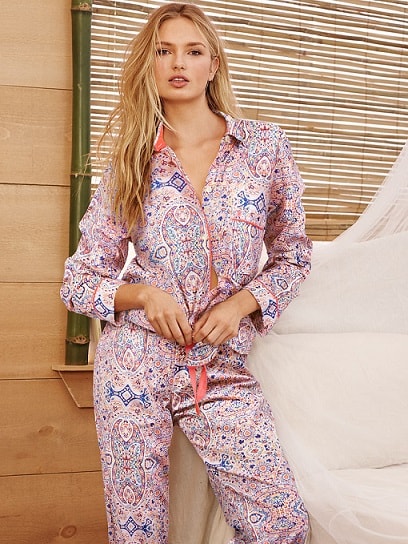 ---
Fashion Products Fashion Products S-Z Fashion Products S
---
Return to the Influence Fashion home page.

Copyright 1999-2022 Apparel Search Company. All Rights Reserved.