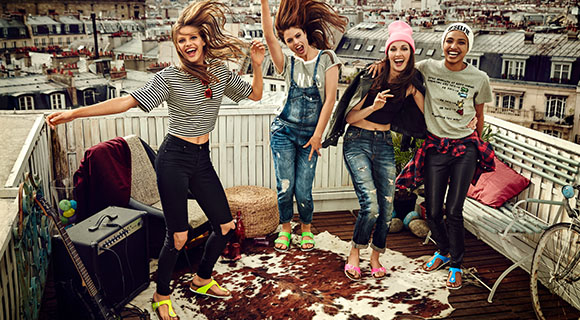 Birkenstock Orthopädie GmbH & Co. KG
Birkenstock is a shoe manufacturer headquartered in Neustadt (Wied), Germany. The company sells Birkenstock, a German brand of sandals and other shoes notable for their contoured cork and rubber footbeds, which conform somewhat to the shape of their wearers' feet. Representative products include the two-strap Arizona sandal and the Boston clog.
BIRKENSTOCK is the inventor of the world`s first ever flexible cork deep footbed. Only the best raw materials are used for genuine Birkenstock footbeds: light natural cork, jute yarn, and high-grade natural latex. The BIRKENSTOCK footbed is based around the anatomy of the foot in such a way that the body`s weight is spread evenly and naturally over the entire sole of the foot.
The leathers they use are especially thick. The leather is approximately three millimetres yet it is still soft. They are un-split and therefore retain all of their precious natural qualities (learn about grains of leather). They have continuously developed and improved their products performance and quality over the years for the benefit of healthy feet.
BIRKENSTOCK differs from other brands by its cut, which runs far towards the back of the shoe. Feet are held firmly into the footbed. The correct size and proper width of your BIRKENSTOCK sandals are the key to ensuring that your bodyweight is distributed properly across your feet.
With more than 230 years of experience in the fine art of shoemaking, and with the knowledge they have gathered in the traditional way from one generation to the next, they can guarantee to you that their shoes exhibit the finest workmanship and are of the utmost quality.
Since 1967 these shoes have been sold in the USA, as well as elsewhere. American Margot Fraser "discovered" Birkenstock sandals while on a holiday in Germany. She gained relief from a foot condition, and founded a trading company called Birkenstock Footprint Sandals, Inc., in Novato, California, based on her enthusiasm for the sandals. Renamed Birkenstock Distribution USA, Inc., in 2005, the company remained until 2007 the exclusive importer and distributor of Birkenstock name-brand products in the United States. In 2007 the owners of Birkenstock Orthopädie GmbH & Co. KG purchased their long-standing distribution partner Birkenstock Distribution USA, Inc. (BDUSA).
The Birkenstock shoes are often referred to as Birkenstocks.
Learn about other types of shoes in our footwear terms section.
Thank you for using the Apparel Search website.