Their business began in 1901 with a mission to serve the plus-size customer. More than 100 years later, they have stayed true to this mission and continue to provide quality plus-size products at affordable prices utilizing their plus-size expertise that is unparalleled in the industry.
Fullbeauty Brands™ is the most trusted, comprehensive resource for plus-size women and men seeking fashion inspiration, style advice, and clothing tailored to their individual needs. Proprietary brands under the FULLBEAUTY Brands umbrella include: Woman Within®, Roaman's®, Jessica London®, swimsuitsforall®, KingSize®, Brylane Home® and fullbeauty.com®, an online marketplace offering a curated collection of the finest brands and thousands of products – the premier fashion and lifestyle destination for women sizes 12+.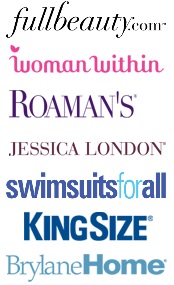 Recognizing beauty has no boundaries, FULLBEAUTY Brands inspires, engages and empowers full-figured women to live life to the fullest.
Company History:
Founded in New York in 1901.
1924 Launched first fashion catalog-start of mail order business (today, this catalog is known as Woman Within).
1941 Mail order part of the business moved to Indianapolis, Indiana.
1982 Company acquired Roaman's.
1995 Company acquired KingSize.
1997 Company acquired Jessica London.
1998 Launched BrylaneHome, home and lifestyles brand.
1999 Opened Customer Support & Sales Center in El Paso, Texas.
2001 Launched their first e-commerce websites.
2005 Launched Bargain Catalog Outlet (BCO).
2007 Launched fullbeauty.com, world's first and only webmall for plus-sizes (founded as OneStopPlus.com).
2011 Launched fullbeauty, revolutionary plus-size lingerie brand.
2014 Company acquired swimsuitsforall.
2015 Company changed the name to FULLBEAUTY Brands™.
Above is only a small portion of the company news and history.

Thank you for using the Apparel Search website.