As you already know, color is very important to the fashion industry. Therefore, learning about Pantone is important as well. Many companies in the apparel market communicate color by using pantone color numbers. For examples, fashion designers can tell a factory to following pantone number 592 and they would know what that means.
Pantone LLC, a wholly owned subsidiary of X-Rite, Incorporated, is the world-renowned authority on color and provider of color systems and leading technology for the selection and accurate communication of color across a variety of industries. The PANTONE® name is known worldwide as the standard language for color communication from designer to manufacturer to retailer to customer.
Learn about and shop for
Pantone Books
.
Here is a little history about the company:
In 1963, Lawrence Herbert, Pantone's founder, created an innovative system for identifying, matching and communicating colors to solve the problems associated with producing accurate color matches in the graphic arts community. His insight that the spectrum is seen and interpreted differently by each individual led to the innovation of the PANTONE® MATCHING SYSTEM®, a book of standardized color in fan format.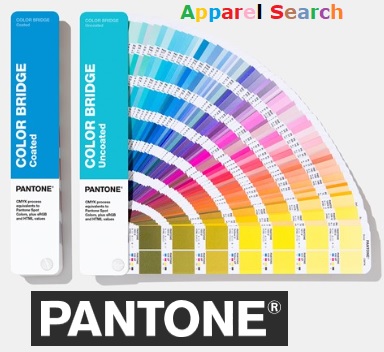 Pantone has since expanded its color matching system concept to other color-critical industries, including digital technology, fashion, home, plastics, architecture and contract interiors, and paint. Today, the PANTONE Name is known worldwide as the standard language for accurate color communication, from designer to manufacturer to retailer to customer, across a variety of industries. Pantone continues to develop color communication and inspirational tools, and aggressively adopts new digital technology to address the color needs of the creative community everywhere.
Pantone was acquired by X-Rite, Incorporated in October 2007.
Each year, innumerable products and services are sold by Pantone and its hundreds of licensees in over 100 countries in the graphic arts, fashion, home, interior, plastics, architectural, paint, industrial design and consumer markets.
Pantone services many industries, but who cares about other industries? The important thing is that the color system works for clothing, footwear, textiles, and fashion accessories.
FASHION, HOME + INTERIORS
The PANTONE FASHION, HOME + INTERIORS Color System is a vital tool for designers in the apparel, home furnishings and interior design industries for selecting and specifying color used in the manufacture of textiles and fashion. The System—consisting of 2,310 colors in cotton or paper format—is ideal for assembling creative palettes and conceptual color schemes, as well as for providing color communication and control in the manufacturing process.
Through a partnership with Archroma, one of the world's largest textile colorant and chemical producers, the PANTONE SMART Color Swatch Card System enables designers and manufacturers to expedite the color development cycle efficiently and accurately, dramatically increasing speed-to-market and reducing costs.
The PANTONE VIEW Colour Planner is a biannual trend forecasting tool that offers seasonal color direction and inspiration 24 months in advance for multiple usages, including menswear, women's wear, activewear, cosmetics and industrial design. Introduced in 2004, PANTONE VIEW Home is a comprehensive forecasting tool for the home furnishings industry.
You may want to also learn about Pantone Universe. PANTONE UNIVERSE is a collection of lifestyle products based on fashion color trends for the consumer. The collection, consisting of tabletop, stationery items, travel gear, accessories and rainwear, combines timeless designs and modern materials with current trend colors. More information is available at Pantone Lifestyle.
Pantone also offers services & has resources such as color management, lights & scales, research & development, custom color services, and the Pantone Color Institute.
Thank you for using the Apparel Search website.