Talon International Inc. profile presented by Apparel Search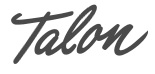 Talon International, Inc. is a major supplier of custom zippers, complete trim solutions and stretch technology products to manufacturers of fashion apparel, specialty retailers, mass merchandisers, brand licensees and major retailers worldwide. Talon develops, manufactures and distributes custom zippers exclusively under its Talon® brand ("The World's Original Zipper Since 1893"); designs, develops, manufactures, and distributes complete apparel trim solutions and products; and provides stretch technology for specialty waistbands, shirt collars, and other items all under its trademark and world renowned brands, Talon®, and TekFit® to major apparel brands and retailers. Leading retailers worldwide recognize and use Talon products including Abercrombie and Fitch, Polo Ralph Lauren, Kohl's, J.C. Penney, FatFace, Victoria's Secret, Wal-Mart, Tom Tailor, Levi Strauss & Co., Juicy Couture, and many others. The company is headquartered in the greater Los Angeles area, and has offices and facilities throughout the United States, United Kingdom, Hong Kong, China, Taiwan, India, Indonesia and Bangladesh.
Zippers

Labels

Heat Transfers

Patches

Taps & Cords

Paper Trims / Hang Tags

Creative Services

and more.
Learn more about Talon International at their website.
Learn more about apparel trim companies in our manufacturing section.
Thank you for using the Apparel Search website.